Welcome readers! Please subscribe through the buttons on the right.
(Read this series from the beginning at Part 1  and Part 2.)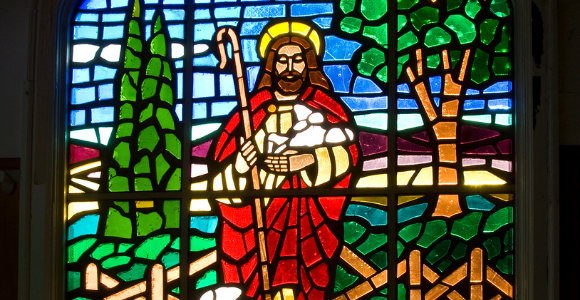 Today we need a new story of justice overcoming in the end. I don't believe justice inevitably overcomes injustice on its own. If the moral arc of the universe is to bend toward justice, we must choose to bend it that way.
In the wake of the outcome of the trial of Derek Chauvin for George Floyd's murder, I have to question if we will bend that arc systemically toward justice? As we daily witness Black lives cut down by police, we have a lot of work still to do.
If things are going to change, we are going to have to choose to change them.
Before we close, I will offer one word of caution concerning our reading this week. I see the image of the Shepherd in this passage held in contrast with the myth of redemptive suffering. The myth of the redemptive suffering teaches those who are abused and oppressed to be willing to suffer in order to change the heart or "redeem" their oppressors. As Brown and Parker rightly state, "The problem with this theology is that it asks people to suffer for the sake of helping evildoers see their evil ways. It puts concern for the evildoer ahead of concern for the victim of evil. It makes victims the servants of the evildoers' salvation." (Joanne Carlson Brown and Rebecca Parker, For God So Loved The World? p. 16)
There is a difference between the self-sacrifice of disempowered people and the self-sacrifice of empowered people for those they love. John's gospel is believed to be the latest written in our cannon. In John, Jesus has evolved in the story telling into an incarnate, cosmic figure, an empowered figure. The phrase, "No one takes it from me, but I lay it down of my own accord," indicates that John is placing Jesus in a position of empowerment not disempowerment.
In the synoptic gospels of Matthew, Mark and Luke, the story is different. Jesus belongs to the community of the disempowered. His death is an act of sanctioned, state violence. His life is taken from him and then his death is powerfully overturned in the symbol of the resurrection. It would be irresponsible and dangerous to hold up the self-sacrifice of Jesus in John's version of the Jesus story as an example to be followed by the community Jesus belongs to Matthew, Mark and Luke. In synoptic gospels, Jesus is a disempowered person. Jesus, unlike Paul, is not even a Roman citizen. As Howard Thurman so eloquently writes,
"Jesus was not a Roman citizen. He was not protected by the normal guarantees of citizenship—that quiet sense of security which comes from knowing that you belong and the general climate of confidence which it inspires. If a Roman soldier pushed Jesus into a ditch, he could not appeal to Caesar [as did Paul]; he would be just another Jew in the ditch. Standing always beyond the reach of citizen security, he was perpetually exposed to all the 'arrows of outrageous fortune,' and there was only a gratuitous refuge—if any—within the state."(Howard Thurman, Jesus and the Disinherited, p. 34)
In the synoptics, Jesus is a non-citizen, a marginalized person, who was in the end executed by the state for standing up to injustice. At minimum we need to perceive the difference between the synoptic's Jesus and John's Jesus. As a parent, I understand the imagery of John's gospel. I have sacrificed for my children throughout their lives. I know what that kind of sacrifice feels like. And that kind of sacrifice is a very different from asking survivors, the abused, the oppressed to sacrifice themselves to change the hearts and minds of their abusers or the laws and policies unjust systems.
However you interpret the shepherd's willingness to lay his life down for his sheep as contrasted with the commitment level of a "hired hand" here in John, what we don't read in this passage is a sheep being willing to lay down their life to change the heart of an oppressive shepherd. The self-sacrifice of victims and survivors, people whose self is already being sacrificed and whose humanity is already being denied, only causes further damage. Justice in this context would be achieved by taking hold of one's humanity, not sacrificing it.
And that leads me to my overall point this week.
Justice only wins in the end if we make it win.
We are in need of new stories of justice overcoming in the end in our context today. And I believe we can create those stories with our choices, here and now. When we choose to make justice ultimately win, not just in isolated occurrences but systemically, we are determining whether our ancient, cherished stories of justice overcoming ring true or are merely desperate, wishful fairytales.