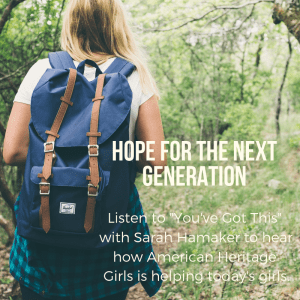 The following is an excerpt from my interview with Patti Garibay on my podcast, "You've Got This."
Patti Garibay is the founder and executive director of the national character development organization, American Heritage Girls (AHG). Over her tenure with American Heritage Girls, she has been featured in hundreds of nationally recognized media outlets, including Fox News, In the Market with Janet Parshall, Family Life Today, Up for Debate, Axis' Parenting Teen Summit, FamilyLife Radio, TIME Magazine, and The New York Times.
How does American Heritage Girls give girls hope in today's highly pressurized society?
Patti: The AHG girls who write me gives me hope for this upcoming generation of young women. Let me share some of their stories. Megan, a senior in high school from Texas writes this: "I have so many friends now that I cannot believe that I used to be lonely. I always had someone to talk to about the daily problems of being a teenager. In my time in AHG, my relationship with God has grown tremendously. I used to rarely pray because I wasn't sure about the benefits of prayer, but now, I realize that prayer is the best gift that God gave us and that he wants us to have a conversation with us. I also learned that, through God, everything's possible. AHG gave me the opportunity to gain confidence through leadership positions and to grow in my relationship with God."
I think that lonely feeling is so common in today's girls. You know, we're "connected more than ever," quote unquote, but our relationships are some thinner than ever. Our relationship with God helps us to want to reach out to others and to form deep relationships.
Here's another quick story from Caitlin, a senior in high school from Missouri: "I have been in AHG since I was in first grade. It is my backbone and I have found my love for service and leadership skills through this organization. God has developed those gifts through AHG and I believe he plans for me to use them in amazing ways in the future."
These girls have hope, and that's what we want for each and every one of our daughters.
We hear a lot about Generation Z. What are some things we should know about today's tweens and teens?
Patti: AHG studies Gen Z through a multitude of places, and here are some of the things we've learned.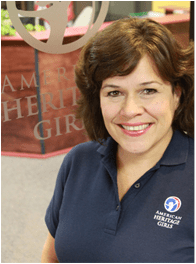 Gen Z is everywhere. These kids born between 1996 and 2014 (which is most of our kids today) make up 24.3% of the U.S. population. That's nearly a quarter of our population. What's happening to them is going to influence our country—and it already is, right?
They've always been wired. These kids know about the Internet and cellphones ever since they were little. 92% are online daily, according to Pew Research, so they are wired.
They've seen porn and maybe a lot of it. No other generation's had pornography so readily available. A survey of college students in New England found that 73% saw porn online before they turn 18, so this is a very big concern.
They're also more accepting of sexual fluidity. Gen Z supports gay marriage and transgender rights. And for them, this kind of stuff is part of everyday life because they have seen it on TV and they've heard about it so much throughout their short life.
They are racially diverse and multiracial. They have friends from a variety of ethnicities, and I think this is fantastic. About half of kids under the age of 5 in the U.S. are ethnic minorities, so this is a new reality too.
They're pretty independent. They don't like helicopter parents, and all the answers that they need to have, they can find it on the Internet—they don't need their parents to answer those questions anymore.
They're aware of a troubled planet. Most Gen Zs have grown up since 9/11, and they've only known a world where terrorist attacks are the norm. They are looking with their eyes wide open about what's around that next corner, and they are a bit full of fear and know that this planet is trouble.
They're very justice minded, partly because they want a better life for themselves and to make a difference in the world. Our AHG girls are so excited to make a difference.
They are post-Christian. Almost a quarter of America's adults and a third of millennials are nones claiming no religious identity at all. Many Gen Zs are growing up in those very homes. This is a huge opportunity for groups like AHG.
They are open to faith. Although only four in 10 kids attend religious services weekly, 78% of older Gen Zs say they believe in God. That's a swing up, and that's exciting.
Although many of these 10 things sound very scary, there's great opportunity and I think programs like American Heritage Girls can really be an antidote and help to these girls.
To hear more about how American Heritage Girls are guiding today's girls into tomorrow's leaders, listen to "Hope for the Next Generation" on the "You've Got This" podcast.