I'm reading through Jimmy Dunn's thick, beautiful, provocative book, Jesus and the Spirit. Enthralled, I've taken to making practical guidelines for the Perkins students who are in my class just now. I just can't resist.
I sent one of these wee practical guides to Scot Mcknight just yesterday. Scot studied with Jimmy–fortunate men, both of them–so I thought he'd be interested in the hay I've made of some of Jimmy's book.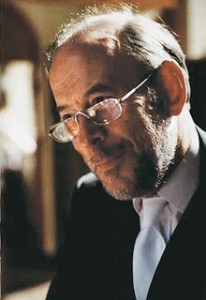 In fact, I  just finished another one moments ago and thought, "Everyone needs to do this!" Everyone! 
So here you go.
**********************
"The impact of Paul's message at a non-rational level was so over-whelming and compelling, so conscious were they of the power of God, that aesthetic distaste for Paul's style and logic counted for nothing" (Jimmy Dunn, Jesus and the Spirit, 227).
Think about this for a moment. How much of our notion of preaching is about style and logic? Traditional services. Contemporary services. Preachers in suits and ties or formal dresses. Preachers in albs or robes or collars. Preachers in t-shirts and jeans.
Style. Style. Style.
What if style doesn't matter?
What if the power of Paul's preaching lay elsewhere?
**********************
Paul is aware of this: power doesn't mean flamboyant or gifted speaking. No, notes Jimmy, "the combination of divine power and human deficiency and weakness is important for Paul; it is power in weakness, through weakness which distinguishes Paul's understanding of charisma from that of his Corinthian opponents" (227).
With this in mind, plan to spend a week of your devotional life meditating on the texts Dunn identifies on Paul's proclamation.
Begin by reading that first quote by Jimmy Dunn.
Then read the text-of-the-day slowly. They're short.
Next, write in a journal or pad what they mean for the kind of sermons you hear, the kind of sermons you deliver (if you do), and, most important of all, the kind of proclamation you offer to the world outside the church.
Then pray. Pray that your conception of power won't be a poor substitute for power-in-weakness. Pray that style won't trump compelling speech.
Then read the text-of-the-day again. Slowly.
Close your time by reading Jimmy Dunn's quote again.
I bet a week spent like this may change you, reshape your perspective, clear the air of clutter.
So here are the texts that Jimmy gives.
Sunday: 1 Thessalonians 1:5-6
Monday: 1 Corinthians 2:4-5
Tuesday: Romans 1:16-17
Wednesday: 2 Corinthians 4:4-6
Thursday: Ephesians 6:17
Friday: Colossians 4:2-4
Saturday: Ephesians 6:19
There you go. A free (yes, free!) snippet of a seminary education that I hope will change, not only you, but those around you.