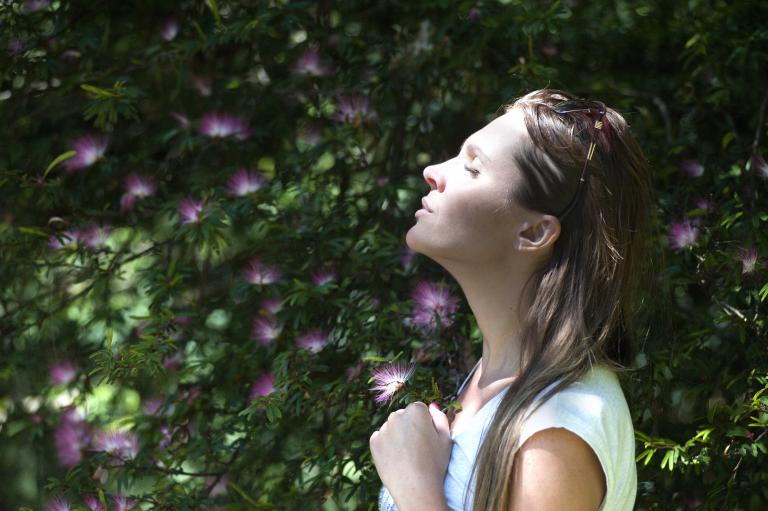 It is easy in our busy lives to begin to think that we "have" bodies rather than that we "are" bodies. All of our experience of God is filtered through some aspect of our bodies — usually involving our mind at some point. It makes perfect sense, then, to acknowledge and intentionally include our bodies in prayer. That includes breath.
In Jewish and Christian thought, breath is closely related to Spirit. The Hebrew word ruach means breath, spirit and wind, and we first encounter it in the Bible as the "wind of God that swept over the waters" as the earth was being formed (Genesis 1:1). This multi-faceted word points to breath as both a life sustaining action for humans and a God-infused action in creation. A breath prayer is one that moves in and out on the wind of your breath, as the Spirit of God intermingles with your own spirit. It reminds us of the time the resurrected Jesus breathed on his disciples saying, "Receive the Holy Spirit."
This is a wordless and image-less prayer that involves more "being" than "doing." You are simply observing and following your breath. As you breathe, your body, mind and spirit are enlivened by God's Spirit.
Intention: To follow breath as it leads to God.
The Exercise
Find a comfortable position to sit in for at least 20 minutes. Make sure you will not be distracted by telephones or interruptions during this time. If you think you are likely to lose track of time, set a timer or alarm clock to chime when your prayer time is up.
Express to God your longing to experience God in this prayer. Then, let go of expectations and simply breathe. Exhale slowly, allowing each breath to find its own rhythm. Breathe through your nose unless there is some reason you cannot do so.
Focus your attention either on your inhalation or exhalation. Feel the breath moving across your nostrils and entering your belly.
If your attention wanders, bring it back to your breath. Seek relaxed yet focused awareness.
When your time in prayer has come to a close, express your gratitude to God for the breath of life.
Tip
Much like centering prayer, the steps here are simple but the practice of them is not always easy. It may take some time before you find this prayer soothing. Over time, your ability to focus on your breath will most likely increase. But even when it is hard, know that God—who is Spirit–is with you in breath of the prayer.
---
Looking for More?
If you like this prayer and are looking for even more ways to pray, you might enjoy my book, "50 Ways to Pray," from Abingdon Press. You'll find this prayer and 49 others to experiment with.
Want to try spiritual direction? I have openings in my schedule for new directees — regardless of where you live. I can work by phone, Skype or if you live in the Phoenix metro area we can meet in person. Contact me at teresa@teresablythe.net or visit www.teresablythe.net.
Thank you for following this blog!