The fifth issue of Abraxas: International Journal of Esoteric Studies contains treasures. Its luscious pages encourage the reader to turn slowly, savoring each new discovery.
The breadth of content is impressive. Literary editor Christina Oakley Harrington points out that the contributors span Europe and America, and their essays touch on the ancient world as well as the modern. She did not point this out, but I was pleased to see that a significant number of contributors are women and one identifies as metagender, as so often esoteric conversation is dominated by men's conversation (and white men at that).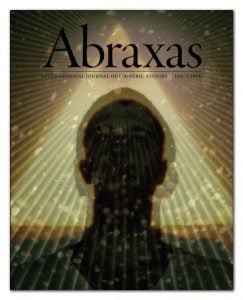 The issue begins with Caroline Wise's all too brief biography, "Olivia Robertson: A Visionary Life." Olivia Robertson was one of the founders of the Fellowship of Isis, a devotee of the Goddess and an inspiration to Pagan priestesses. Wise talks about traveling with Robertson to the 1993 Parliament of the World's Religions where Robertson represented "Earth Religions" at the opening plenary and shook the sistrum of Isis to invoke the Goddess, prompting several delegates to walk out. As a presenter at that conference I vividly remember that walkout. EarthSpirit and Covenant of the Goddess also represented contemporary Pagan religions; we had fought hard to be included in the gathering and were disappointed but unsurprised that there were objections to our presence. Wise told a story I hadn't heard about the Native Americans who swept into Robertson's suite and greeted her as a "Lady of the Rattle". The conference was like that, and Robertson was a shining star. The piece discusses Robertson's early life, contextualizing her later work as a priestess and teacher. Clearly Wise knows her subject – I hope she is considering writing a book-length biography.
Thelemites will be particularly interested in Ionnis Marathakis' piece "The (Not Entirely) Lost 'Art of the Apothecary': Abramelin Oil and Ancient Perfumery". As a priestess of Ecclesia Gnostica Catholica I not only anoint with abramelin oil, I cook with it, so I am very interested in what goes into the recipe. Marathakis delivers what has to be the definitive survey of the research, starting with Mather's translation of the Book of Abramelin the Mage and adding insights from two more recent translations of other manuscript versions. Marathakis notes that when Crowley tried the recipe as written the result was a brown paste. Crowley solved the problem by substituting oils for the dry ingredients and mixing those in the proportions called for by the recipe. Marathakis studied the techniques of apothecaries who made Jewish holy anointing oil to arrive at a method of extracting essences from the dry ingredients using water. He gives a complete formula and step by step instructions. I will be very interested to compare the results of this method with the examples on hand of Crowley's version.
Stephanie Spoto draws on both classical and medieval sources in "A Brief History of the Use of Spirits in European Occultism". She says "The use of spirits – whether of the natural, angelic or demonic persuasion – has been central to much occult thought since at least the third century CE, influencing how occult philosophers and practitioners have understood the human position in the cosmic hierarchies." In particular Spoto surveys the work of Pico della Mirandola, Marcilio Ficino and John Dee. This is an important contribution to the study of Neoplatonic hierarchy in early modern occult ritual.
The journal's text is interspersed with full color plates of original works by numerous artists, some created specifically for this issue. Max Razdow's stunning serpent series "De Vermis in Se" writhe straight out of dreams, Arrington de Dionyso's Fauve-bright "La Villa de Misteri" could serve as initiatory illustrations, Bea Kwan Lim's precise lines and swirls of color evoke the center of mystery. Randall Morris' interview with Lim, "Nihilalia", discusses Lim's experience of sacred silence, a glimpse into the process of art as an esoteric practice.
The book closes with a presentation by P. Sufenas Virius Lupus on the cults of the last gods of Rome, "Antinous and Glykon, the Gods of Good Hair in Late Antique Anatolia". His work exemplifies the best contemporary esoteric scholarship, grounded in meticulous research, informed by personal practice, illustrated with images from private altars, and challenging both academic and occultist prejudices with tongue-in-cheek flair.
There is much more. Between the pieces from Wise and Lupus the glossy pages contain musings and poetry, interviews and confessions, visionary art and esoteric craft. This is a book to be explored at leisure. The serpent runs throughout, and there is a surprise tucked in the pages. It is a rare pleasure. You can order it from Fulger Press.