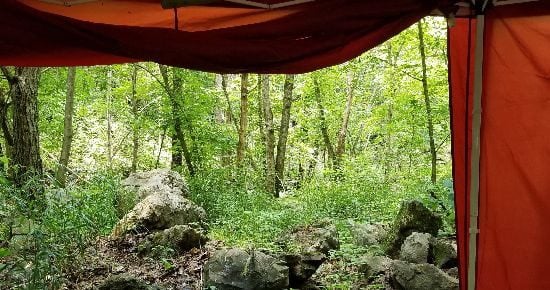 Babalon Rising manifests the freedom of Thelema. This is the second year I've attended, and I learned even more than the seven things I learned from Babalon Rising on my first trip. At a time when online rhetoric hardens positions and isolates communities, a four day camping festival in the rural Midwest brings a broad diversity of people together to live the freedom promised in Liber Oz.
Dress: This is the most visible sign of freedom. Babalon Rising is a chance to ditch society's dress codes and display the inner you. Everyone's clothing is so personally expressive, from pinup girl to Pan, kilts to gowns. It's clothing optional so you're free to wear only your skin. People morph throughout the event and switch personas with looks. What's your daytime self and who do you change into around the fire at night?
Live: In any grouping we only keep our freedom if we protect it. In particular our individual freedom should support, not infringe on, the freedom of others. The festival begins with a briefing about community values and a discussion of how to give and withhold consent. The organizing team keeps an eye on possible problems and responds to reported issues while encouraging individual responsibility.
Play: That sense of conscious choice makes a space for increased connection. Participants are encouraged to explore – you have to leave the comfortable to invite transformation. There are shenanigans, and magick, and shenanigans that are magick (looking at you, Qabbalah Bar).
Think: Within the framework of assured consent it's hard to be transgressive at Babalon Rising. Gender fluidity is normal. Go ahead and try to find a magickal mashup that hasn't already happened! No idea is out of bounds. Check out this list of past presentations. They include:
Talk about Crowley: Aleister Crowley and Modern Wicca, Aleister Crowley's Taoism, The Life and Magick of Aleister Crowley.
Magical primers: alchemy, enochian, the Lesser Banishing Ritual, Star Ruby, Maat Magick, Arabic Magick, Low Magick, theurgy.
Sex: Sacred Touch, Anal Sex Magick, Clearing the Paths to Sex Magick, An Evening of Kabbalistic Sex Magick.
The cycle of death and life: The Alchemical Key to the Zodiac and the Wheel of the Year, Moksha Ritual, Mass of Thanateros.
New magic: Gods of Kushiel's Dart, Emergent Magick.
And of course Babalon: Babalon and the Triple Goddess: a Thelemic Witchcraft of Maat, Babalon Confidential: The Role of Scarlet Women and Men Outside the Bedchamber, The Babalon Current in Magick, the Feast of Babalon.
Love
: The Midwest is the heartland of the sacred touch movement. Many priestesses and priests come out of the
Qadishti
community. Over the years there have been many discussions about how Qadishti do their work and many opportunities to interact ritually with Qadishti. I would love to see Ken Henson's talk "Fusing Paganism with High Magick: The History and Practice of Alchemical Sex Magick in the American Midwest" as a paper!
"Inclusive" doesn't begin cover what happens here. It's not a convention, it's not a competition, it's a celebration. Do you feel like a monster? Here you will find your tribe. At Babalon Rising there are Druids, witches, Satanists, kindred, and many kinds of magickians. The gods show up: Aphrodite, Pan, Seshat, Qadesh, Manman Brigette, Coatlicue Teteo'Inan. And in case you missed the point, the description of the Feast of the Beast prints the text of Liber Oz in full.
This is an ongoing triumph. The organizers of a medium sized primitive camping festival have managed to host a who's who of Thelemic authors and ritualists, hold safe space for sacred sexuality, and encourage innovation. It is an achievement whose influence reaches far beyond the weekend and the region. This is our future if we continue to support it – let's do that!
The word of Sin is Restriction (AL I:41). Babalon refuses to be bound. With this magical incubator spinning out life-changing experiences, Babalon rises in all of us and walks freely out into the world.