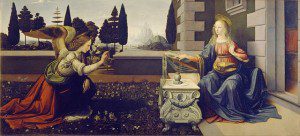 Today, according to my Byzantine calendar, is the Synaxis of the Archangel Gabriel. His principle commemoration is on March 26 but today we celebrate Archangel Gabriel for all his apparitions over the course of salvation history. I'm excited and you should be too.
Gabriel's name is usually translated as "Strength of God." I don't speak Hebrew, but that's what Strong's Concordance is for, and this way I can blame Strong's Concordance for any mistakes. I looked up the Hebrew word "Geber" in Strong's Concordance. There I found out that "Geber" is the Hebrew word for man, as in the masculine, different from the feminine, and it can also mean "warrior" or "one who is strong," "one who is able." So Gabriel's name can mean "Strength of God," but I think you could also render it "Ability of God," "God is a Warrior," "God is a Protector" or "God is Able." When Mary called God "He who is Mighty" in the Magnificat, she used the word "Geber" for His might. So, Gabriel can be translated "The Lord's Might."
Or, it seems to me, you might be able to translate Gabriel as "The Lord is a Man." Geber means "man" and El means "Lord." God is a man, you know, a man named Jesus Christ, and for all eternity after this mortal world has passed away He will remain a man with a body like ours. How awesome would it be if, long before men and women were created, there was an angel in Heaven named "The Lord is a Man?" I'm not certain about that one, but I don't think Gabriel will mind if I'm mistaken.
Gabriel is, after all, the angel of the Incarnation. According to the tradition of the Eastern Church, he appeared to Saint Anne to announce the conception of Mary. He is named as the angel who brought the Good News of the Incarnation to Mary, and frightened her in doing so, and told her not to be afraid. He's the one who hailed her as blessed and received her "yes." Gabriel is also the one who came with good news to Zechariah, and frightened him, and struck him mute for his unbelief. Gabriel is presumed to be the angel who appeared to Saint Joseph in his dreams and brought the Good News to the shepherds on Christmas, which means he's the angel who's represented in every cheap Nativity scene the world over, with a banner reading "Gloria." Many of our Protestant brothers and sisters who don't honor saints unwittingly have a statue honoring Saint Gabriel in their churches along with Mother Mary and Saint Joseph, every time they put up a Nativity display. I think that's fun. An angel called "The Lord's Might" sneaks into many Protestant churches every Christmas.
Gabriel is credited as the angel who appeared to Christ in Gethsemane, as well. When Christ said "Father, You can do all things," an angel called "The Lord is Able" appeared to Him; when Jesus said, "Not my will but Yours be done," an angel called "The Strength of God" appeared to strengthen Him. It works so beautifully. And that angel appeared to the myrrh-bearers, sitting on the stone that blocked the tomb, to tell them the good news of the resurrection. How about that? An angel called "God is Able" rolled the stone away from the tomb, and sat on it. Saint Michael whose name means "Who is like God?" stands on top of the Accuser, and Saint Gabriel whose name is "The Lord is Mighty" sits on the gate of death.
Saint Gabriel is also credited with dictating the first few lines of the Hymn to the Birth-Giver of God… and when I say "dictating," I mean that legend has it he appeared in a monk's cell near Karyes and carved the lyrics with his finger on a stone.
Here is the hymn to Birth-Giver of God, if anyone would like to hear it:
That miracle is said to have been worked on July 13th, which is why the Byzantine Catholic Church commemorates Saint Gabriel the Archangel today.
Today we celebrate an angel named "The Lord's Might" who writes songs on stones with his finger and sits on the stone of death. Today we celebrate an angel who is name "The Lord is Able" who first hailed the Virgin Mother of God and who comforted God in His agony. An angel who terrified priests and shepherds, and also told a carpenter not to be afraid; an angel who is represented in tacky plaster statues the world over at Christmas, even by people who don't pray to the angels.
I think this is a wonderful Church we have, with a wonderful cloud of witnesses interceding on high. Up in that cloud there is an archangel called "God is Able," and we are blessed to know his name.
(Image via pixabay)