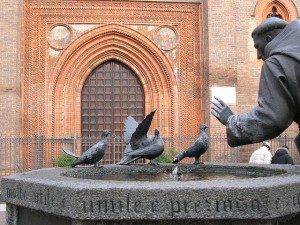 (image via Pixabay)
Great Grandmother was a Secular Franciscan.
"I could be buried in a nun suit if I wanted to," Great Grandmother said.
Great Grandmother lived alone in a quaintly decorated apartment, all blond wood and bubblegum-colored tiles with a pathway of clear plastic mats protecting the carpet in the hall. The living room had lamps with dangling glass prisms around the shades, and I wasn't allowed to bang them together to make them jangle. The kitchen had cherries and peaches printed on the wallpaper, and I wasn't allowed to lick them. Great Grandmother's bedroom had its own little attached bathroom, with a small terrarium of plastic ferns on the back of the toilet, but I wasn't allowed to play in her bedroom because she was mortally afraid that I'd climb on the nightstand and swallow her Tylenol.
In the guest bedroom there were twin beds with 70s-appropriate blue and green bed spreads, and a statue of Saint Francis holding a pineapple. My memory might be failing there; I was only a very little girl. It might not have been a pineapple– perhaps it was a pine cone or a fat fledgling or some kind of bizarrely shaped Medieval thurible. But to me, it looked like a pineapple. Great Grandmother had an enormous, shiny wood carved statue of a grinning Friar Minor with a tonsured head, proffering a pineapple in his hands as if he wanted you to take it. As if he were thrilled with that pineapple, but the only thing more thrilling would be if you'd take the pineapple from him and enjoy it yourself.
I wanted to take the pineapple from Saint Francis. I was a very little girl, and I wanted to rub the shiny wood surface of the pineapple and lick it. I was drawn to it, like a moth to a candle. But every time I got close, Great Grandmother's deep voice would call from the living room. "Are those kids in the guest room?" and my sibling and I would be banished to the basement sitting room to watch Underdog.
That was my first encounter with the seraphic madman of Assisi.
My second was when my little brother was born. There was another statue of Saint Francis in the waiting room in one part of the hospital my mother and brother were staying in. It was up on a pedestal and I was still very small, so I only came face to face with his feet. That was all I could see clearly of him: ten plaster spheres that were supposed to be toes.
The next was at my grandmother's house, Great Grandmother's daughter's house. She had that famous cartoon video of Saint Francis's hagiography, from which I learned that Saint Francis had a terrifying obese father, grew a beard overnight, and saved the Vatican by hugging a pillar during an earthquake. I was confused as to the details, and I wondered where the pineapple came in. I tried to remember the prayer Saint Francis said in the cartoon, about bringing light where there is darkness and faith where there is doubt, but I got it very wrong and turned it into a nonsensical litany of opposites that lasted a good five minutes. I'm sure God was pleased at my good intentions.
Later, I watched the inaccurate biographical movie Brother Sun, Sister Moon, with my parents. I watched Saint Francis defy his father's wishes and walk out of Assisi stark raving naked, which would be sinful for me to do but was a virtuous act for him. I learned that sometimes, people love God so much that gaping bloody holes appear in their feet and hands.
Much later, I moved to my current home, and found out that it's a done thing to bully people in the name of Saint Francis; to use the humble saint as a justification for clericalism, arrogance and bigotry, and I suffered a great deal. But Saint Francis is healing me.
Patron saints are strange things. Powerful and beautiful souls robed in unspeakable glory, yet so humble they permit themselves to be honored in sincerely ugly statues in kitschy little apartments where they might get licked by preschoolers just beginning their spiritual journey. They submit to well-meaning dramatizations and to misunderstanding of hagiographies. They remain silent as the Lord did before his false accusers, when misrepresented. They remain present, standing with the victim and suffering with her, when they are invoked to abuse someone. They intercede for her and for her abuser in like measure, praying for mercy, healing and justice for both.
They are in Heaven. They see as God sees, and they love as He loves. But they also know what it's like to see and love as fallen men do.
My Seraphic Father Francis knows what it's like to be in sin, to live for the things of this world because you think it will bring happiness. He knows what it's like to have the glorious light of God cast into the darkness of his heart. He knows what it's like to repent, to be abused, to walk out of the city naked. He knows what it's like to suffer and to rejoice in suffering, to die welcoming Sister Death as birth to eternal life. And now he knows what it's like to be one with Christ Himself; the father of a multitude of struggling fallen people including my Great Grandmother; and the patron of an irritating, inquisitive preschooler who grew up to be an eccentric woman and a writer.
May we all have the courage to reach up and take whatever mysterious thing he offers us. Through his intercession, may we all be born to eternal life.