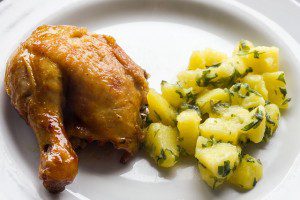 I did it.
I finally did it.
I successfully made and ate stew.
We almost never have pot roasts or stew beef in the house, because it rarely goes on sale until it's just about to go green, but Michael had gotten two beautiful discount pot roasts at buy one, get one free.  We almost never have potatoes in the house; we eat the dehydrated mashed potato flakes. And before anybody chides me for wasting money on dehydrated potato flakes, ask yourselves if you've ever carried a fifty-pound sack of russets home from Aldi on the bus. However, this month Aldi had a twenty-pound sack I managed to double-cloth-bag and get home without incident, even though the fifty-pound bag was cheaper by the ounce and had penitentially uglier potatoes. Aldi also had a little sack of baby carrots, and before anybody chides me for wasting money on pre-cut carrots instead of buying the giant icicle-shaped unpeeled variety… I have no defense against that. I bought the baby carrots because I'm a bad person.
My chronic fatigue was in that limbo stage where I could putter around the house a bit or run a short errand using the shopping cart as a walker, but didn't trust myself to stand over a sputtering skillet and brown a big chunk of beef, so I skipped that part. I threw two raw chunks of pot roast into the slow cooker. I added water, Worcestershire sauce and seasonings. I went about my business. A few hours later, I skinned potatoes, scandalously throwing the peels away instead of whatever poor people are supposed to do with potatoes. I threw them into the pot with the bag of carrots. I waited several hours more.
I made stew.
I did not absentmindedly unplug the pot of stew and leave the half-cooked ingredients to rot. I did not forget the leftovers. I left the slow cooker turned on on its lowest setting for days while we slowly ate our way through it. Even Rosie liked it– at least, she liked the broth, which she scooped over leftover rice, actually ingesting some protein in violation of the Kindergartner Code of Ethics.
At one point over the summer, I promised regular cooking and recipe posts, but it's been difficult. I've become increasingly strict with the grain-free high-animal-protein diet because it helps keep some of the fatigue and fibromyalgia under control. Stew with carrots and not very many potatoes is about the only "normal" food I've been able to eat lately. Still, in case this column reaches another solitary individual who's both low-income and on a grain-free diet, here's how I've been getting by.
I eat chicken leg quarters with the skin on. Salted chicken leg quarters with the skin on are delicious. They're just about the only food that
Austin Ruse
and I agree I should be eating. The trick is to roast them at 425 on the broiler pan so all the extra slime drips off and you're left with extremely brown, crisp skin on the outside while still having juicy meat inside. The other trick is to wear a bib and cover the floor in a tarp, because there is absolutely no way to eat a whole chicken leg quarter with the skin on without getting chicken grease over a thirty-foot radius. It's worth it, though. Rosie nibbles a few pieces of chicken and then goes back to her rice.
I eat canned salmon. It's really not that bad. The best way to eat canned salmon is to make it into a salmon loaf, with potato flakes instead of cracker crumbs. The second best way is to scramble it with eggs and a blob of sour cream. Rosie likes to eat salmon out of the can with a spoon, but she doesn't like my recipes.
I eat frozen green beans sauteed in a little butter, but I call them "Haricot vert" so they won't feel so boring. Rosie likes to nibble a few beans when they're still frozen stiff.