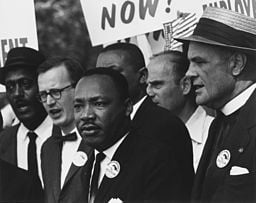 I just heard the voice of the famous anti-capitalist Martin Luther King, Jr, preaching on service, in order to sell automobiles.
I understand sportsball is to blame.
I don't watch the Super Bowl because I don't like football. I don't have anything against it or anybody who does; I just dislike sports. I like to watch the commercials, though, so I've been looking at them on YouTube. That's where I ran into this gem. Better watch it quick because I think it's going to go the way of that Black Lives Matter Pepsi ad before the night is out.
You can find it here
. I'll wait.
What you just heard was the voice of Martin Luther King, Junior, from his sermon entitled "The Drum Major Instinct." It's a homily based on the tenth chapter of Mark, adapted from an earlier work by J. Wallace Hamilton. You can read or listen to the whole thing
here.
In this beautiful sermon, King criticizes the unbridled desire to draw attention to oneself. He's got eloquent and harsh words for just about everybody– people who live above their means, as well as the United States military industrial complex. Nobody gets a pass. And he finishes it with a meditation on the words he wants to hear at his own funeral– which is chilling, when you consider that he was murdered two months later to the very day. He preached that sermon fifty years ago today, and he was gunned down fifty years ago this April, also on the fourth of the month.