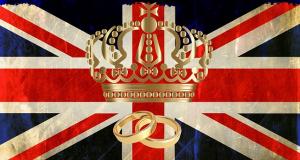 I don't care about the Royal Wedding.
I really don't. I tried. I know everyone there has intrinsic value as human persons and so I'm pleased there was a wedding and I hope everyone had a good time. But as far as getting excited over the Royal Wedding more than I would be over the wedding of any other two human beings anywhere on earth, I'm not. I hope that's not too callous.
I wish Prince What's-his-Name and that Megan person, and anyone else who is getting married today, a full life together. I wish anyone getting married today a happy marriage. I hope their wedding is tasteful and aesthetic and nothing goes so wrong it ends up a viral YouTube video. I hope their bridesmaid dresses look "vintage' instead of embarrassing as the years go by. I wish them many blissful days and plenty of days that are just okay. I pray that, when inevitable bad days occur, they pass quickly and the married couple can look back on them and laugh. I pray that if life breaks them, as most lives break most people, it's only a falling to the ground and dying with Christ in order to rise again.
I'm not going to say "I hope they never have too much money." Monsignor said that to Michael and me at our wedding rehearsal ten years ago. I still glare at his portrait in the parish hall and ask him to take it back, whenever I go to Adoration. I hope anyone getting married today has plenty of money, and always shares more than they think they can afford with those in need.
And for anyone who isn't getting married today, I wish you every happiness and blessing in whatever the Lord has in store for you too.
But the British Royal Family, whether they're married and who they get married to, just don't concern me. I think I'm pretty much on the record at this point as being totally unimpressed by monarchy. So much moreso when it's a monarchy with no real power that basically exists as a tourist attraction.
That said, this is adorable:

My grinchy heart melted. A relatively silly pop song arranged with great artistic skill, performed sublimely by a black Gospel choir. I love it. Karen Gibson and the Kingdom Choir made "Stand by Me" sound like a spiritual, and I absolutely love spirituals. The music was gorgeous and the video itself just took the cake: A Gospel choir dressed to the nines and performing beautifully in a church full of bemused white people in ugly hats. The prince and his beautiful bride holding hands, gazing into each other's eyes while the rest of the church waits. The congregation trying to look enchanted. Camilla and Charles, who are the only members of the royal family I can usually recognize by sight, shuffling in obvious discomfort. That woman in the white hat next to Camilla, asleep.
My wedding's music wasn't that unconventional, but we did bemuse the congregation ourselves. Everyone I talked to about wedding music was shocked that I didn't want standard Steubenville Praise and Worship for a wedding, but I kept telling them I wanted Irish hymns. No Marty Haugen for me. I wanted to process down the aisle to the Breastplate of Saint Patrick and leave the Church to "Be Thou my Vision." For the Offertory, I wanted to make the congregation sit awkwardly through a hymn that was a little more offbeat. I had the musicians play Canticle of the Turning:

Maybe this wouldn't seem controversial at your parish, but in Steubenville the Canticle of the Turning counts as commie pinko rat music. There are dangerous subversive lyrics about social justice in it. The person we got to play the music asked tactfully and with obvious disapproval in his voice if I wanted it, and I had to assure him that I did. And the song was played. They sang all the verses. Monsignor tried to look patient. The congregation tried to look enchanted. I assume somebody fell asleep like whoever that is sitting next to Camilla. But I got my all time favorite hymn, played beautifully, and it was sublime.
A marriage is an impossibly beautiful thing. Weddings themselves are usually kitschy, awkward affairs. My favorite kind of wedding is the kind that manages to seamlessly blend the beauty with the inevitable awkwardness and kitsch. I think the Royal Wedding and my own wedding were both of that kind.
May God grant the happy couple many happy and blessed years.
(image via Pixabay)