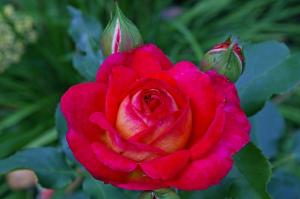 Hi everyone,
I haven't done one of these in awhile. This is your periodic reminder that Steel Magnificat is almost entirely reader-supported– meaning that Michael, Rosie and I live off the income from this blog and the vast majority of the income is in gratuities. Tips from satisfied readers keep the electricity on and keep AT&T happy so I can keep writing.
Some months we're quite comfortable, lately.  Some months I haven't known how we're going to live one day to the next. I've had both such months in the year 2018 so far. April and most of May we were barely able to get by; the beginning of June was astonishingly prosperous. Now we're coming into the hottest part of the year, the part with the highest utility bills in the rickety old rental house. As usual, I have no idea how this is going to turn out.
Michael and I are very grateful for all of our readers, and for those who support Steel Magnificat financially and with your prayers. We do pray for all of you.
So, I ask as usual, if you like what you read, give me a tip! Just go to the "Donate" tab under the Steel Magnificat banner at the top of this post. Click on the yellow button, and PayPal will walk you through everything else.
Thank you all once again for keeping the blog afloat. Now back to your regularly scheduled writing.
(image via Pixabay)