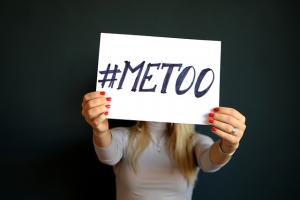 I received some news today which has me shaking with anger.
Besides being a strong and generous woman, my friend Jessica Mesman Griffith is a talented writer. Her book of meditations, Love and Salt, is a fine break from the standard fare marketed to Catholic women. Jessica is not a lightweight; she knows how to write challenging prose with edge and life.
I would have supposed that any publisher would have been glad to publish Jessica's manuscript about her conversion to Catholicism, but the publisher in question told her it needed something– specifically, it needed a "male voice."
That is how Jessica ended up co-authoring the book Strange Journey with Jonathan Ryan Weyer, and co-founding the blog Sick Pilgrim with him as well. She couldn't get published without a male voice. I met both Jessica and Jonathan through the blog; I became Jessica's good friend through the Sick Pilgrim facebook group. I met her in person at the beautiful "Trying to Say God" conference at Notre Dame in 2017– I've written about that conference before. Jessica is its co-founder.
What happened next is something Jessica has stated and Jonathan admitted in writing: one night, he made unwanted sexual advances to her. Soon after she found out that Jonathan had been having relationships she considered "predatory" with female members of Sick Pilgrim's online community.
Jessica immediately outed Jonathan, who quit the blog. She used my blog to do so because Patheos had temporarily shut down Sick Pilgrim in all the confusion, and using this one was the quicker way to inform people. She also posted a statement on Sick Pilgrim and anywhere else on Facebook she could manage. In addition, she informed the publishing company, which withdrew the book and destroyed the remaining copies– her half of the writing as well as Jonathan's.
There is no way that Jessica could have acted any more quickly or professionally after finding out that her coworker was allegedly a predator. She had done nothing wrong or shameful. She was both a victim and a textbook example of what to do if you find evidence your friends have been abused. I can only hope I would have acted so decisively.
The Sick Pilgrim blog has gone on, still under her direction.
Jessica was on the planning committee for the next meeting of the Trying to Say God Conference, scheduled to be held at Saint Michael's college in Toronto in 2019. Until today, when she was fired from her own conference, the conference she founded.
She received an email this morning from Professor Randy Boyagoda, who gave a talk I attended at the last conference but didn't work on the planning committee last year. He is new. He wrote:
Dear Jess,

I write this note with a heavy heart. The troubling allegations and developments associated with Sick Pilgrim and its founders, which were made public in Fall 2017, recently came to the attention of colleagues at St Michael's. I realize that the details of those developments are complex, but a perception has lodged in the minds of key constituents and partners that something is awry with Sick Pilgrim. That perception has decisively impeded support here for the 2019 TTSG.

In response, I have decided to discontinue the university's association with Sick Pilgrim and end our collaboration – formally and at the level of organizing and curating- for the TTSG 2019 conference that we are hosting on campus in Toronto, in June 2019. I have also informed Ken, cc'd, of this decision, given his capacity as the convenor of the 2017 TTSG event at Notre Dame and a collaborator in the 2019 event.

I appreciate that this news will be difficult to receive. If you are open to proposing a panel or participating as an attendee, we would welcome that. I hope and pray for you and yours for healing and better times ahead.

Best,

Randy
They're going to have Jessica's conference without her.
They stole the "Trying to Say God" conference, because Jessica spoke out about having been abused by a coworker and dealt with it immediately and professionally. They're going to plan it without her, and they were narcissistic enough to offer to allow her to come.
This is the most clear-cut example of blaming the victim I've ever heard. This is also a stark example of the kind of discrimination and nonsense female Catholic writers have to go through to have their voices heard. Jessica didn't need or want Jonathan as a co-author in the first place, and now she's being punished for his alleged behavior– or, what's worse, for her professionalism in handling his behavior. If she'd suffered in silence this never would have happened.
I will not be attending the Trying to Say God Conference at Saint Michael's next year. I encourage any of my fellow Catholic writers who were planning on attending the conference to refrain from going as well.
This horrendous misogyny has to be exposed, and it has to change.
We must all take a stand on behalf of women. There is no excuse not to.
(image via Pixabay)
7/4/2018 update: Several hours after this post was published, it appears that Saint Michael's has changed its mind and will cancel the conference altogether, which is NOT a solution to their misogyny and victim-blaming but better than their first plan of stealing it from Jessica. I will keep my readers posted with further updates.
If anyone would like to attend a literary conference that promises to be enlightening, please consider attending the Terra Incognita literary gathering to be held in Pittsburgh on November 9th through the 11th. Jessica Mesman Griffith will be there, as will Rebecca Bratten Weiss of suspended in her jar and I. I will be giving a lecture on children's books, and there will be no misogyny or victim-blaming at that conference.