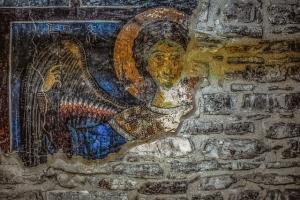 It's been a bit since I wrote.
My mini-Sabbatical away from the internet was not as refreshing as I thought. I didn't do anything interesting. There is rarely anything interesting to do.
Our move out of town is still up in the air, but it's closer than it used to be. I still have no definite plan, but when I say "I don't know when, but soon," I say it with more confidence this month.  I found someone who lets me drive her on errands so I can practice for my license and get a car, but I also don't know when that will finally happen.
The icon necklace I like to wear got its chain so tangled I just carry it in my pocket instead. Some of the enamel fell out of it from constant banging around in my pocket, so it looks like Christ Pantocrator is gazing at me with only one eye, like a pirate.
I have not been to a Divine Liturgy since Forgiveness Sunday.
I do not understand people who say "Well, at least there's an Extraordinary Form Latin Low Mass downtown. You can go to that if you want something traditional." I don't understand how anyone can think the two are alike. They're totally different. Their both beautiful in their way, but they're not the same. One is chant and incense and icons and mystery, the jangling of bells, the glory of Heaven; the other sounds like faint muttering for an hour. Of course, it's the same Christ in the muttering as the chant, but He's difficult for me to find. I was drawn to the Divine Liturgy because of the joy. I like joy. When I go to the Ordinary Form Mass I tend to find joy but little beauty or appreciation for the mystery; when I go to the Extraordinary form Mass I find aesthetics, but everyone is cross as if they're in a doctor's office. At the Eastern Divine Liturgy I found reverence and aesthetics mixed with joy. I miss joy.
I go to the Ordinary Form Mass in the church uptown with the cry room, when I can find anyone to take me. If I have to choose, I like to be around joy best of all. But I'm homesick, and I don't feel joyful.
Another friend of mine left the Church entirely today. It seems seeing Catholics demanding a supreme court justice under so much suspicion of such terrible misconduct in the hope that he might magic abortion away was the last straw, and I don't blame her for that. After the revelations this summer, all the sex abuse scandals and the show churches made of being sorry, it's quite a bit to take.  A lot of friends left the Church this year and I don't blame them, but I am still here.
I wonder how many times an uninteresting woman in the least beautiful part of Northern Appalachia can write about a particularly boring Long Dark Night of the Soul. John of the Cross could go on for multiple volumes, but he was a poet, and a saint. I'm just me.
If it's any consolation, I'm even more bored than I am boring. I suffer right along with anyone who reads me, lately.
On Friday I went downtown.
There was a sale on fruit, so I took some plums to The Friendship Room– they were plum jam by the time I got off the crowded bus, walked two blocks and presented my offering at the door. I browsed thrift stores and went to Adoration while I was downtown. I shuffled with the Bible and just sat there, for a time.
I had no particularly remarkable insights.
I prayed that verse from Esther, my favorite prayer lately. "Your servant has had no joy since the day that I was brought here until now, except in You, O Lord God of Abraham." There's that word again. Joy.
I still believe.
I believe in joy.
I believe in all the fruits of the Holy Ghost: love, joy, peace, patience, kindness, goodness, gentleness, faithfulness, self-control. I have not found those things to be in abundant supply lately– not in the Ohio Valley, not online, not in my interactions with fellow Catholics. But I believe.
I took the bus back, with that nasty bus driver who always talks about what a nice person she is; the one who says she likes to photograph passengers and send the photos to her children entitled "this is why you shouldn't do drugs." That should have been the last straw, but something in me changed halfway home. We drove up through LaBelle with that late Autumn sun filtering through trees that are green but won't be for long. It was pretty– so much so that I found I could like the ride, obnoxious driver and all.
I got off at my stop and felt a breeze that wasn't exactly cool, but the summer heat was well and truly broken. I came home to open windows instead of the noisy air conditioner.
I changed out of my church clothes and put my winking Christ Pantocrator icon on the bureau. I came downstairs and propped the door to let in a little more fresh air.
My husband and daughter came home– Rosie in that bright blue jacket that's too warm for early autumn, but she won't take it off because it's her favorite color.
Somehow, we got through another summer.
The seasons are changing.
For just a brief moment, there was joy.
(image via Pixabay)