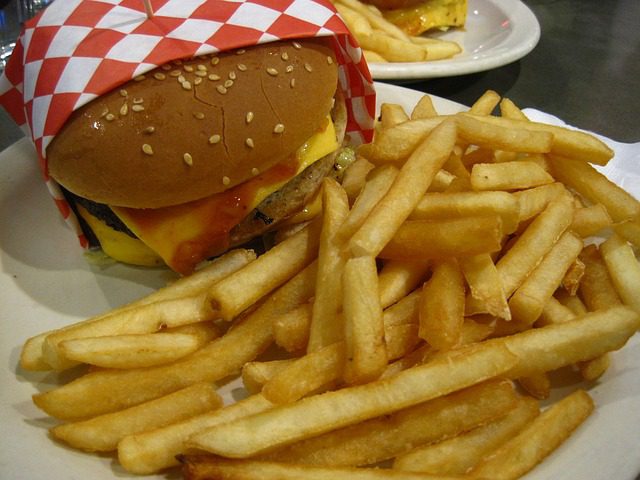 Yesterday I looked at how the government shutdown is hurting the nation's most vulnerable. Now, we need to take a look at how it's pinching the very richest– which, as you recall, is President Trump's claim to fame and was lauded as his major qualification for president. He's rich.
It may have come to your attention that last night, the president served the Clemson Tigers a giant stack of cold fast food in a dinner buffet. There were photos of him all over the news, grinning maniacally over artfully-stacked trays of hamburgers from at least two different fast food joints still in their wrappers. I'm told there was Domino's Pizza as well.
This morning, he tweeted about the event:
"Great being with the National Champion Clemson Tigers last night at the White House! Because of the shutdown I served them massive amounts of Fast Food (I paid) over 1000 hamberders etc. Within one hour, it was all gone. Great guys and big eaters!"
Hamberders.
Also, I see that our president went to the Taylor Marshall school of random capitalizations– "fast food" isn't a proper noun.
I think there are two possibilities as to the president's motive for buying a bunch of fast food for his guests, when he could have bought literally anything else he wanted: either he was trying to be cruel on purpose, or he actually thought that this was him showing off his ability to save money during a shutdown.
This is the very essence of the Trump presidency, when you think about it: not only cruel and crass, but fiscally moronic. As Austin Ruse and I both agree, fast food is expensive. I've argued that we shouldn't judge a poor man for occasionally buying his lunch at McDonald's and I stand by that, but a spread like this probably costs as much as hiring one of the cheaper caterers. That might be well over three thousand dollars for the "berders" alone, if there were really "over a thousand" of them. This food is not from the dollar menu. It's salads and everything. This is the kind of fast food meal you dream about purchasing, if you're pinching pennies and occasionally buy a 99 cent kiddie fry as a snack. And on top of it all, you know that a serving staff actually was involved at some level. Look at how the food is carefully arranged on those trays. A professional stacked the Big Macs that way and put the condiments in the bowls. Trump still involved either paid or unpaid waitstaff, for his extremely expensive money-saving feast. At least those people can now add "Hamberder Helper" to their resumes.
A person who really knows how to buy food on a budget can tell you: if you have to cater a party cheaply and on short notice, don't go to a fast food restaurant. Go to the grocery store and get one of those vegetable trays out of the cooler, and also a fruit tray. Maybe a tray of sliced apples with that caramel dip that sticks to everything as well. Get a box of fancy butter crackers and arrange it in a fan shape on one side of a tray, then slice up some cheese and arrange it in a fan shape on the other side. Wrap a brie in an unfolded tube of Poppin Fresh dough and bake it so it looks like brie en croute. A couple tins of fancy cookies for dessert, or a variety sampler cheesecake from the freezer section. Maybe get a gallon of vanilla ice cream and some Dixie cups and different toppings, make a make-your-own-Sundae table. Or bake a few casseroles, for mercy's sake. There's not really a cheap way to serve that many guests at once, but that would be less expensive, relatively tasty, and it doesn't involve some traumatized servant trying to artfully arrange dozens of burgers on a silver platter.
Or, since the president is so marvelously rich, he could have just ordered in something expensive and nice for his guests. There must be a fancy Indian restaurant that delivers, somewhere in DC.
I normally don't like to tease people for their favorite foods. And I would never lecture a poor person on how they spend their penury. But I feel I have a little room to harangue a man who constantly boasts of his wealth and ability to make deals on his foolish financial choices. Not to mention, this man is the mascot, figurehead and adored leader of a political party that prides itself on lean fiscal responsibility. They're the ones who want poor people to give up their smartphones in order to afford health insurance. And here he's triggered a shutdown which has already cost about five billion dollars for the sake of a wall he swore Mexico would pay for, and spent thousands on fast food when he might have stayed home and cooked.
In retrospect, I guess we should be relieved he didn't order tacos and then try to walk out of the taco restaurant with it without paying, and when that didn't work, deport or imprison the Mexican chefs. Or promise everyone tacos, deport the Mexican chefs, and then give the young athletes nothing at all for their dinner.
That would have been more his style than hamberders.
(image via Pixabay)