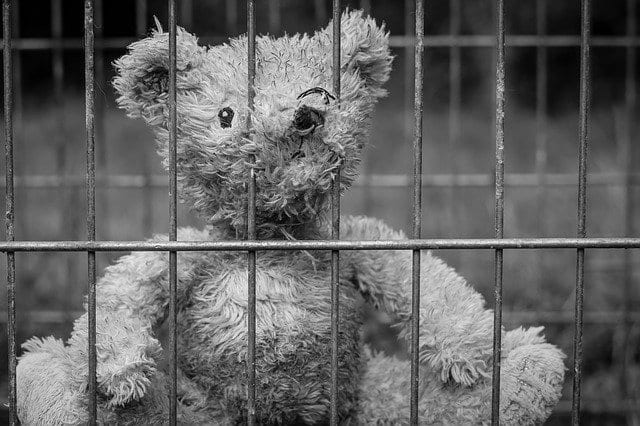 I hope you're all having a delightful Christmas so far, because I'm about to ruin it.
Today, the co-founder and director of the charity "Immigrant Families Together" tweeted:
Talking with detained folks at Winn in Louisiana. Among the many terrible things they told me, there's this simple but powerful one: Guards won't let them sing Christmas carols.
Remember that haunting scene in Dickens's A Christmas Carol, which isn't usually included in the films, where the Spirit of Christmas Present takes Scrooge all over the world and shows him how people are cheerful and doing their best to celebrate Christmas no matter the circumstances? The Spirit stood beside sick-beds, and they were cheerful; on foreign lands, and they were close at home; by struggling men, and they were patient in their greater hope; by poverty, and it was rich. In almshouse, hospital, and gaol, in misery's every refuge, where vain man in his little brief authority had not made fast the door, and barred the Spirit out, he left his blessing, and taught Scrooge his precepts.
This is one of those places where man in his little brief authority has made fast the door.
Detained migrants are not allowed to sing Christmas carols at Christmas in ICE prison.
We're worse than the almshouses and gaols in Charles Dickens right now. That is what we are doing to men, women, and little kids– some of whom came here illegally which is a misdemeanor and some of whom showed up perfectly legally according to our asylum laws.
Now you have something to tell your relatives if anyone gives you that line about being free to say "Merry Christmas" in Trump's America.
There is also a way you can help. No, you can't undo what was done. You can't make this never have happened. You can't un-traumatize a child; trauma is a permanent injury. But you can help post bail and get some of those people out of those horrendous prisons, into safe apartments with clothing and food and everything else they need while they await their hearing.
Immigrant Families Together is a charity that works as fast as possible to post bond for the immigrants in prisons; then they reunite the families and get them together into housing with everything they need. They just do that again and again, for one person after another, with whatever money and resources they get. Their staff are volunteers and their general fund is just a gofundme they can use for all of their projects– this is the most streamlined charity I've ever seen, which means everything you donate can actually go to their work instead of some ceo's salary. If you give a dollar, the immigrants get 100 cents. And Immigrant Families Together has so far used your donations to ransom 101 prisoners and counting.
No, this isn't a good situation. It's not even a neutral one; it's terrible. Our government is holding children hostage at Christmas and I'm asking you to pay the ransom to get them out. I shouldn't have to do that. We have to work in other ways to make this situation change: vote, call your congressperson, participate in marches and pickets and boycotts, anything.
But right now, at this moment, little kids are spending Christmas in a freezing cold prison where they can't sing carols or see their moms and dads.
Right now, just at the moment, your best chance to end somebody's misery is to bail them out.
This is something you can do to help.
We can think of something else later.
Please, for the love of God, give to Immigrant Families Together. You can't give these children their Christmas day back, but you could get them out by New Years or Epiphany. You could give them the chance at spending Valentine's Day in a safe house and going to a school.
Just donate whatever you can to their general fund. And keep sharing the general fund to get other people to help.
Okay, I'm done being a grinch. Try to go and enjoy the rest of your Christmas now.
(image via Pixabay)