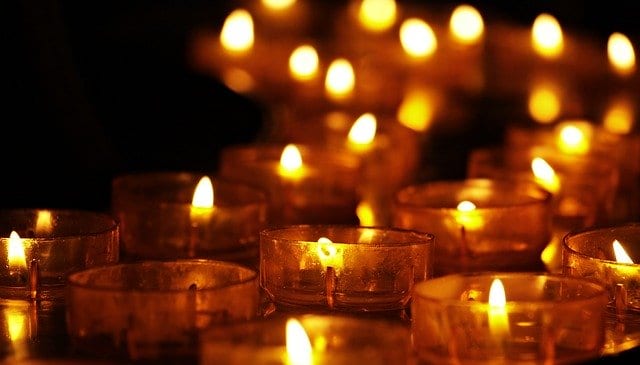 Did you know that I am in awe of you?
I have been so overwhelmed with sadness lately. I've had so many dreadful things to write about– so much suffering, so much injustice, so much pain that could have been stopped easily but wasn't. I've had to tell you about the devastating effects of spiritual abuse, crimes against humanity, people forgotten by their communities, the very worst things human beings can do and the things they neglect to do with terrible results.
I have told you about my own anxiety a bit, and you've listened.
I just want to take this second day of Christmas to tell you that you have filled me with light this dark Advent and throughout the year.
On the very first day of Advent, I cried because I saw that several people were not going to get the gifts they begged for on the parish giving tree, and within two hours you had spontaneously raised the money to buy presents for everyone.
Days later, I cried because I saw that the Friendship Room's little free pantry was empty and two people walked away with nothing. Within a day, one of you had sent money to me to fill it with groceries. When Michael got to the store there was a big sale on Progresso soups, and the next thing we knew we'd spent that small amount of money on enough simple but complete meals to fill the pantry twice– and then, when we got to the Friendship Room, a stranger had filled the pantry themselves, and the volunteers took our giant bags of cans inside so they could fill up the pantry themselves as it emptied over the next few days.
Days later, I met a woman who was in hiding from her abusive husband and I threw together a registry of the things she needed for Christmas– mostly toilet articles and groceries. I warned her that I didn't know what she'd get, but hopefully she'd get a little help. My readers responded to that blog post better than I could imagine. Within a day, you'd bought her every single thing and also sent me some money to buy her a gift certificate to a nearby grocery store she didn't think to request. She drove up to the safe location we'd set for her to pick up her packages and found the porch covered with twenty boxes, two months' worth of paper products and toilet articles, everything she and her children asked for.
Then it was Christmas, and I was heartbroken to hear of the horrific treatment of migrants in prison who weren't even allowed to sing carols. I begged my readers to help me ransom at least one of them through the charity "Immigrant Families Together" which works to pay bail and put the immigrants in safe housing while they await their hearing. And you have. I've looked back at their general fund's gofundme several times, and I see that you are responding. I see the names of people who read and comment on the blog, giving a hundred or two hundred or twenty. It could be that, right here from you responding to me, we could get a child out of the cage and back to her mother very soon.
You did all that. The Holy Ghost did it through you, and we give all glory back to the Father, the Son and the Holy Ghost. But the terrible, beautiful mystery is that the Holy Ghost is in you, breaking your heart where it needs to be broken and inspiring you to help. God dwells in you, in all of us, and is making us into what He is and drawing us up to where He is. This is the mystery of Christianity, the one that is so audacious to proclaim that is sounds like blasphemy: God became man so that man might become God.
So, be happy about what the grace of God has informed you to do. Don't commit the sin of pride, thinking you did it yourself, but go ahead and bask in that glowing feeling that is also called pride. You deserve that.
And set your resolution now for the new year– a resolution you're going to break a thousand times and I will too. This is a resolution that we're going to be repenting of not living up to as long as we're alive, but as long as we're alive we need to keep going back to it. I want you all to resolve to keep letting the Holy Ghost transform you, breaking everything that needs to be broken and healing everything that needs to be healed. Resolve to be a vessel pouring that Love which is the Holy Ghost into all the dark and evil places where there is no Love, and to do what the Holy Ghost inspires you to do. No matter how small, no matter how futile, no matter how silly, no matter how costly, just do it. Fill a pantry, buy a gift, donate a pair of socks. Write a letter, register to vote, comfort a suffering person, be patient with someone irritating, be patient with yourself when you're annoyed with yourself, stand up for a victim who doesn't have a defender.
God has already placed that desire in you.
The world is an exceedingly dark place. There is more evil than I can express, all around us, and that will continue to hurt for awhile yet. It will hurt all of us.
But the secret that darkness and evil don't want us to discover, is that darkness and evil don't really exist. At least, they don't exist in the way that you and I do. They're not things in themselves. They're voids where something else is supposed to be. They are a gap, a cavity, an abscess– the place where something else should be. All of this crushing and overwhelming dark that you feel right now, is really a nothing that cries out to be filled with something.
And we already know Who it is that fills the hungry with good things.
The wondrous message of Christmas is that the One Who fills the hungry with good things is Emmanuel, God-with-us.
And so I am in awe of you. Because in this past few weeks I've seen God-with-us when I've looked to you.
(image via Pixabay)
Steel Magnificat operates almost entirely on tips. To tip the author, visit our donate page.