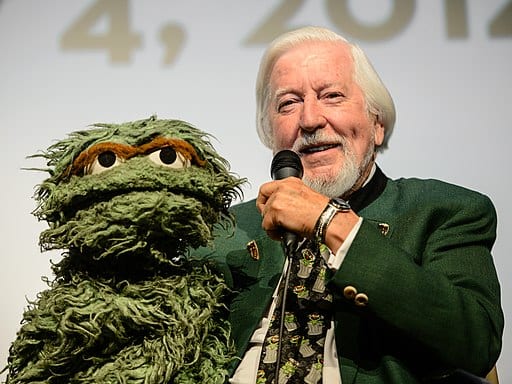 Today, we're all digesting the sad news that Sesame Street's legendary Caroll Spinney, the genius behind Big Bird and Oscar the Grouch, has passed away.
In one sense it's hard to be sad. He was eighty-five years old, after all; he lived a full life making people happy. On another– it's awfully sad and unsettling to think that, in a sense, Big Bird and Oscar are dead.
When I was at the age to be fascinated by Sesame Street, it aired at lunchtime. I would sit on the floor and watch it on my father's fuzzy television with the rabbit ears and dials, munching balogna sandwiches. I must admit that I was never taken in by Big Bird– when I was three and four and five, Big Bird's act as a perpetual wide-eyed six-year-old who didn't know what the alphabet was annoyed me because I though he was affected and unusually dumb. Oscar, on the other hand, I loved.
I still love Oscar.
I have been surprised, today, to see that the majority of the articles on Spinney's passing had photos of Big Bird on them. Oscar is by far his best character, an iconic Muppet.
I used to be particularly amused when Telly read letters for Oscar to answer on the "Ask Oscar" segments:
I will never not say "Cat got your last name?" when I hear the name "Billy Joel" because of this segment:
I blame my lifelong love of art history on the weird and fascinating special episode, Please Don't Eat the Pictures:
And then there was the time he tried ice skating:
It's so much fun to think now that when Oscar teased Big Bird, that was actually Caroll Spinney teasing his own self.
It's not that I don't have good memories of Big Bird as well; to this day I am fascinated by the time he went to China and met Sun Wukong.
My childhood would have been just that much less rich without Caroll Spinney.
And now I do feel sad.
I offer my condolences to his family and friends, and I pray for the repose of his soul. I don't claim any special knowledge of the hereafter, but I imagine that people who spend their entire lives using their talents to educate children and make them happy have a very blessed homecoming.
I will miss you, Oscar. And yes, even you, Big Bird. Thank you for everything.
(image via Wikimedia Commons, from the Montclair Film Festival.)
Steel Magnificat operates almost entirely on tips. To tip the author, visit our donate page.