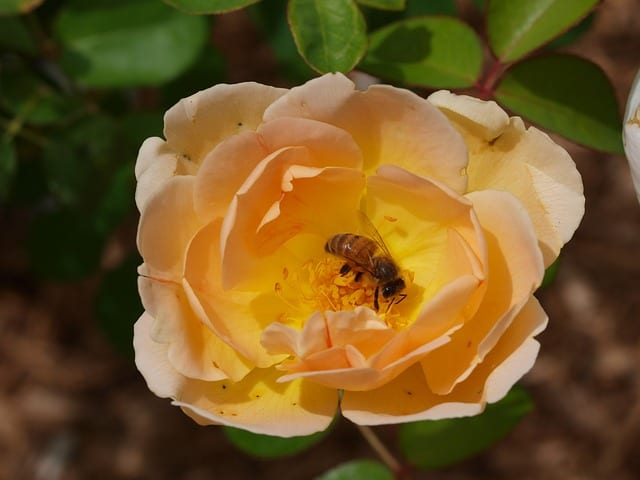 Today is Saint Valentine's Day, and I suppose you want me to write about love– or, perhaps, bees. I've been reminded that Saint Valentine is one of the patron saints of beekeepers, as well as of love. I like bees. Bees are easy to talk about. They live in highly regimented societies where each knows exactly what is expected of her and does it wholeheartedly until they day she dies. The queen is extra-large, and her job is to lay eggs while being fed Royal Jelly. The drones are large as well, though not as large as the queen. They never collect pollen or honey; their sole job is to fertilize the queen's eggs. The drones that don't die in the act of fertilization are pushed out of the hive to starve come autumn. The other bees are called workers– workers are normal bee size, and do everything we're taught a normal bee does. They collect nectar and pollen, and build combs. They eat and vomit the nectar inside the combs until it turns into honey, and then they seal the honey into the little hexagon for safekeeping. They are more or less harmless unless you threaten them or the hive, in which case they will sting you– which they can do a total of once before dying.
Bees rarely act unpredictably or do anything funny. Once in awhile they do. Once, down in Pocahontas County where everything is alive, I got a good laugh out of three very stupid bees that had landed on a flowered beach towel I left outside to dry. I think they were attracted to the bright color, but there was no nectar to be gotten there.
Humans are not bees. Humans do not live in highly regimented societies where everyone does exactly what is expected of her; humans live in families, which are far less predictable. In families, people rarely do what they're supposed to all of the time and hardly anyone does anything that is 100% wholehearted. In families, nobody comes out of the womb built for a certain highly specific predetermined vocation you can guess just by looking at them the way you can guess that a queen will eat royal jelly or a drone will fertilize eggs until he dies. In families, people are born human, boys and girls, each a little different, and what they'll end up doing with their lives is a mystery. The other family members can either embrace that mystery, or think they've got it all figured out and end up abusing people.
Bees are incapable of love. By the grace of God, humans can love.
You want me to write about love today.
Far more competent people than I have written far more lovely things than I could ever produce about love. There are poems about love that will make your hair stand on end with their beauty, and there are philosophical treatises on love that will bore you to tears. There are paintings, novels, plays and films about love, and most of these are terrible but a few are breathtakingly beautiful.
The Word of God tells us that love is everything. "If I speak in the tongues of men or of angels, but do not have love, I am only a resounding gong or a clanging cymbal. If I have the gift of prophecy and can fathom all mysteries and all knowledge, and if I have a faith that can move mountains, but do not have love, I am nothing. If I give all I possess to the poor and give over my body to hardship that I may boast, but do not have love, I gain nothing." Nothing we do merits us anything, if done without love. All the effort in the world is worthless without love. We might as well be a clashing cymbal, or a bee trying to get nectar from a towel.
"Love is patient, love is kind. It does not envy, it does not boast, it is not proud. It does not dishonor others, it is not self-seeking, it is not easily angered, it keeps no record of wrongs. Love does not delight in evil but rejoices with the truth. It always protects, always trusts, always hopes, always perseveres." No human except Christ and Mary has ever loved perfectly. But we know that insofar as we are patient, kind, protecting, trusting, hoping, persevering, rejoicing in the truth, we are loving. If we dishonor, seek ourselves to the exclusion of others' good, if we are easily angered, if we boast and envy and are proud– if we refuse to rejoice in the truth, then we know we are not loving, regardless of the merit there might be in what we do otherwise.
Love rejoices in the truth about people– not what we'd like them to be, but everything that is good about who they really are. Love is patient while that truth is being revealed. Love is kind, out of reverence for the glory of that truth. Love does not envy the beauty of that truth nor boast to one-up it, but merely stands in awe. Love would not dishonor that truth through selfishness, wondering how much personal gain can be gotten from marketing that truth. Love does not rage at people or define people by what wrongs they've done. Love takes no delight in destruction of that glorious truth. Love protects, trusts, hopes and perseveres. Everyone makes mistakes, but if a person isn't trying to do those things and repenting when they fail, a person isn't loving.
We know that God is love. When God beholds a thing– and God beholds everything; there is nothing in all of creation that God doesn't see– God loves that thing, perfectly. Everyone makes mistakes, but if someone comes to you claiming to act on the authority of God and isn't acting or trying to act loving, they are a liar.
When we ask God to be at the center of our relationships, we ask that love be at the center. Love, not gain. Not calculating how much honey you can get out of a comb or how many acres your hive can pollinate to make them worth your while, but resolving to have reverence for that truth hidden inside a human being– even if you don't feel loving, even if you can't see truth just at the moment. And if someone won't resolve to do that, they don't love you.
Once, quite awhile ago now, a person I met told me a secret. "I haven't said anything to anyone because of the stigma around here. But when I asked God to be at the center of my marriage, that's when I realized I had to have it annulled."
Any covenant claiming to be based on love that is, in fact, made of something other than love, is a lie and a blasphemy.
Bees can't have realizations like that. Bees perform their tasks and die. Humans love, seek love, make choices and realize they weren't choosing in honesty and then repent and choose something else. And the way that looks can be surprising and misunderstood by every bystander. The way that feels can hurt like hell.
Set me as a seal upon your heart,
as a seal upon your arm;
For Love is strong as Death,
longing is fierce as Sheol.
Its arrows are arrows of fire,
flames of the divine.
Deep waters cannot quench love,
nor rivers sweep it away.
Were one to offer all the wealth of his house for love,
he would be utterly despised.
I'm told that when a beehive gets overheated, the bees can beat their wings to make a breeze and cool it off so the wax won't melt and destroy their honey. No one teaches them to do this, they just do it.
Humans don't have wings. Try as we might, we melt into a puddle like wax and make fools of ourselves. We pour ourselves out again and again, we get it wrong, we call the darkest and most terrible things "love" in error and are a thousand times more foolish than bees landing on a towel. Our hearts break. We are stung not once but a thousand times. We are unpredictable and mysterious. We make foolish mistakes. We sometimes even do the wrong thing on purpose. By the grace of God, if we repent and resolve to do better, that wrong becomes a Felix Culpa and we are drawn even deeper into the Love Who is perfect, and we go on this way into eternity until one day we are in perfect Love.
Bees do what they are supposed to do.
Humans don't. Our gift is different. Humans are able to love.
Saint Valentine is a patron saint of both.
(image via Pixabay)
Steel Magnificat runs almost entirely on tips. To tip the author, visit our donate page.