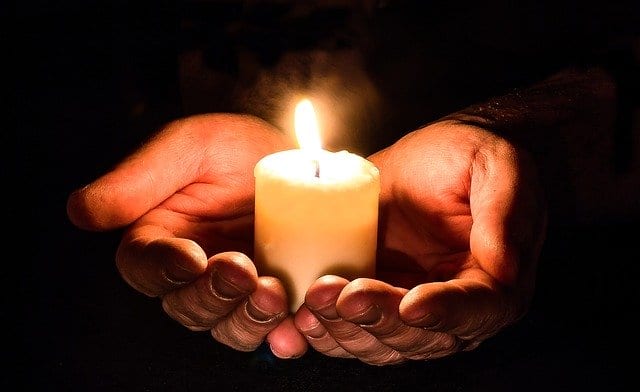 Our country is awash in chaos and suffering.
There is horror every time I read the news. Every time I check in with my friends online, another one is mourning a terrible loss. I can't even fathom the suffering going on all around me. On top of it all– no Mass except on video, no Holy Communion, no Adoration chapel to cry in.
I am trying to find hope wherever I can.
I am trying to find God where I can.
I had to leave my house yesterday, because something at the post office needed my signature. On the way home I stopped to wash and sanitize my hands at the Friendship Room's outdoor sink. I saw two young teenage girls standing at the bottom of the porch steps, while Molly handed them groceries with gloved hands. It turned out that they didn't have any meals in their house except the school lunch the cafeterias are still providing, and their father had nothing at all. Molly gave them boxes of snacks, plates of hot food, and toilet articles to take home.
I came home and saw a  short video on Twitter, put out by "Mattress Mack," the gentleman who let neighbors displaced by the catastrophic flooding in Houston two years ago sleep in his furniture warehouse on his floor model beds and sofas. Now, he's using the front of his warehouse to distribute grab-and-go lunches to anyone who comes: sandwiches, juice and milk, loaves of bread. He's also collecting non-perishable food and toilet articles to give away to elderly people and others who don't dare to go out. "We'll all get through this together," he says.
This morning I saw that Ms. Shirley Raines is still serving the homeless of Skid Row. Someone was concerned that she didn't have a real mask to wear when she goes out to distribute food and supplies, so they sent her a big box of masks to wear and to hand out. Someone else bought her all the tents she had on her Amazon wish list, so at least some homeless people can have a bit of shelter during shelter-in-place.
And I saw a grim but necessary work of mercy being offered by the Trappist Monks of New Melleray abbey— they are offering to give away the caskets they make, for only the cost of shipping, to anyone who has lost a relative to COVID-19 and can't afford a casket for burial.
I also came across a beautiful little video, a scene from an episode of Mr. Rogers, where Fred tells the television neighbor about the different kinds of food people need: food for the body, food for the ears, food for the eyes, food for the soul, food for the spirit.
This happens to be a scene from my very favorite story arc of Mr. Rogers ever, a story first aired in 1984. It concerns a goat by the name of "Old Goat" who speaks only in bleats, and who was caught sneaking into the Neighborhood of Make Believe to steal carrots from X the Owl's new garden. The neighbors question the goat, who bleats at them that he's from a neighborhood where no one has been able to grow crops to eat because, as the neighbors translate, "there hasn't been enough sunshine and water." Instead of punishing the goat, the neighbors immediately set to work, planting every inch of space in the neighborhood with magical "speedy seeds" that grow food to feed the goat and his friends until they can grow their own crops again. Daniel Striped Tiger tries to grow miniature cans of vegetable soup by planting a larger can in a flower pot. When this doesn't work, he's devastated that now he has no gift to bring his hungry neighbors. But then he decides to go to their neighborhood himself, and let his gift be friendship.
This is the world that I have come to believe in: not a world where bad things don't happen, but a world where every tragedy becomes an invitation to pour yourself out in love.
This is the God I believe in: not a vending machine who will grant the exact desired miracle if only we perform the right ritual, not a utilitarian tyrant who sends plagues to get his meaning across, but a God Who is present with us in everything, including in the worst suffering, bearing witness and calling us to be instruments of good.
This is the Communion in which we are always called to participate: the Communion of Saints, the unity and oneness of everyone who loves and is born of God. And now that I can't go to Mass or physically receive Holy Communion, I am drawing strength from meditating on this Communion.
There was a quote written on the wall of the library, when I went to Franciscan University: "In the midst of chaos, the Lord will strike."
I think about that all the time, now that we are in the midst of chaos.
This is the miracle that gives me hope.
It's not that everything evil will turn out to have been good. It isn't good, and nothing can make it good. A deity who would turn around the tapestry to show us that every evil thing we had to suffer was actually a useful thing inflicted by him on purpose for some greater good, would be a god of evil. Evil is evil is evil, and where it comes from, I can't understand. Why it doesn't just go away is another mystery to me.
The miracle is that in the midst of evil, the Holy Ghost is manifest.
The Holy Ghost is something like the opposite of a virus. A virus invades, but the Holy Ghost is already everywhere present and filling all things in the first place. A virus attacks and hijacks a healthy person's body forcing it to manufacture more viruses, and in the process, killing it. The Holy Ghost waits patiently.When we give permission, the Holy Ghost makes every person more fully what they really are. A virus brings death, but the Holy Ghost is the giver of life. A virus causes chaos, but the Holy Ghost brings harmony. A virus causes a pandemic and the Holy Ghost causes a chain reaction of charity and love wherever we allow.
In the midst of this chaos and death, the Holy Ghost calls us to be harmony and life.
Where Charity and Love are, there is God. That's the hymn for Holy Thursday which we won't hear in Mass this week, so we'll have to live it instead.
This is the Communion I am receiving daily– striving to be a part of that good contagion of charity and harmony in the midst of chaos, and trying to honor it where I see it in others.
This is where I've found God.
This is what gives me hope.
Image via Pixabay
Mary Pezzulo is the author of Meditations on the Way of the Cross. 
Steel Magnificat operates almost entirely on tips. To tip the author, visit our donate page.