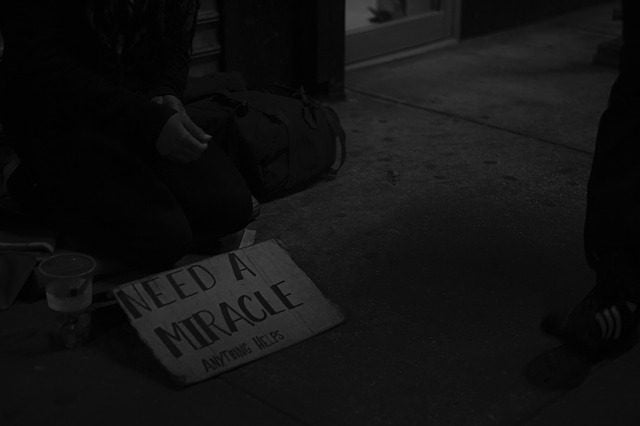 Hey guys, I have a quick request for the hands and feet of Christ, ahead of tonight's polar vortex.
In case you haven't seen the news, after a freakishly warm winter we're having a chilly month of May in the Eastern United States. Tonight and into tomorrow morning, it's supposed to be even worse. We're going to get a blast of wind from the north pole that will bring the temperatures way down below freezing, and it might even snow. I've got all my garden seedlings keeping cozy in the living room for the night, but we can't do that for people right now because of COVID-19.
Downtown at The Friendship Room, they still can't open the house to let people in because of the stay-at-home order. It's still illegal to have a gathering of more than ten people in the state of Ohio, to slow the spread of the virus. And this isn't an unfounded fear– there's been at least one outbreak in downtown Steubenville. They had to close the Jefferson County Department of Job and Family Services due to COVID a couple of weeks ago, and that's just a few blocks away. Under normal circumstances, in cold weather like this, the Friendship Room would be crammed from the front door to the back with people sheltering from the cold, not only the near homeless but those in inadequate slum housing without working furnaces as well.
This means that the Friendship Room is trying to keep people alive and healthy without having a house to put them in. They're entirely dependent on handing out blankets, hats and gloves, and hoping everybody makes it through the night.
The polar vortex is supposed to be over by late Saturday morning, but the chilly nights hovering close to freezing will go on for most of the next week.
So I'm asking my readers who are in the Steubenville area or can drive there, please dive bomb the Friendship Room with blankets, hats and gloves for them to hand out! They have been asking you to refrain from clothing donations during the COVID lockdown so they could limit the number of people coming up to the porch to sort through the clothes piles, but this is an exception. Gently used things are fine, as long as they're clean and from bug-free homes. They would probably also greatly appreciate those disposable pocket handwarmers if you've got any left over from the winter. The address is 419 Logan Street, Steubenville, Ohio, 43952. It's the duplex with the bright blue doors next to Saint Peter's church. They also always need shelf-stabled groceries to give away, easy-to-chew fresh produce like oranges, and bottled water. Maybe bring a family-friendly book for their little free library cupboard as well.
If you're not in the Steubenville area, they have a paypal button so you can donate some cash for them to buy their own supplies. And Steubenville does have InstaCart now, delivering from Aldi, Kroger and CVS, though I don't see that those stores still list winter clothing for sale. You can at least give them shelf-stable groceries for the free pantry and produce for the fresh vegetable bin they're trying to keep stocked. They could probably use canned soup, tea bags and hot chocolate mix to send home with the people who have working kitchens to get them through the night.
I consider this a personal favor because I have a bag of groceries I was going to bring to them, but I'm flared up from the erratic weather triggering my fibromyalgia and I can't really take the bus trip downtown and the walk back up today. You'll be helping me too.
Thank you very much for the way you always help me to respond to the needs of Christ!
Image via Pixabay
Mary Pezzulo is the author of Meditations on the Way of the Cross.
Steel Magnificat operates almost entirely on tips. To tip the author, visit our donate page.