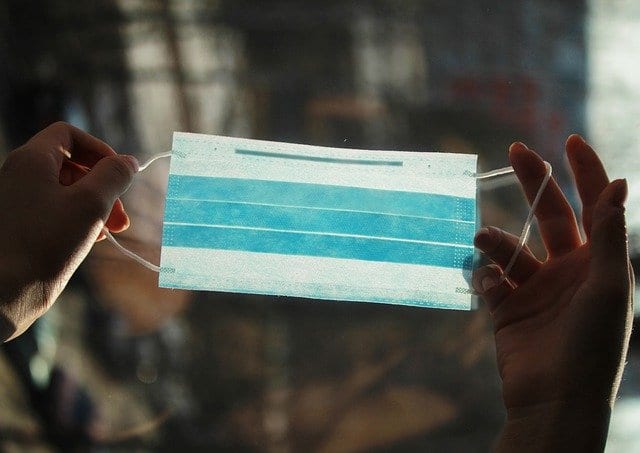 First Things editor R. R. Reno, who as far as I can tell from his writings has done nothing but sulk and complain since New York was placed under lockdown in March, is in an even worse mood than last month. This evening he tweeted, "By the way, the WWII vets did not wear masks. They're men, not cowards. Masks=enforced cowardice." He was apparently referring to President Trump's meeting with a group of World War Two veterans earlier.
He was reamed out for this declaration from all quarters; I couldn't find a single person who came to his defense. And that's no small wonder: hundreds of thousands have died from COVID, the number is only going to rise, and here's a grown man who thinks wearing a small piece of cloth on your mouth in case of a sneeze is an act of cowardice.
I have been thinking a lot about the difference between courage and cowardice, lately.
Courage is not the absence of fear, as many have pointed out. Cowardice is not the excess of fear. The measure of a person's courage and cowardice is specifically what they do when they are afraid.
I've seen two examples of tremendous courage in the past few weeks, acts which have nearly moved me to tears– and, in both examples, the hero was wearing a mask to protect others from COVID-19.
I am still following Ms. Shirley Raines on Twitter. She's the woman who, in happier times, washed and styled homeless women's hair with a foot-pump-operated beautician's sink on Skid Row in Los Angeles and then served them a home cooked meal. Skid Row is a formidable place to go at the best of times. The homeless community there have had outbreaks of leprosy and typhus. There are drugs. There's the kind of violence only hunger and desperation can fuel. And now, in addition, there's the ever-present danger of COVID-19. As Ms. Raines has pointed out, the homeless cannot practice social distancing. They're packed together in crowded tents at all times.
She has not abandoned them.
She and her team of volunteers still go out there every Saturday. They are all carefully masked– Ms. Raines herself has accessorized her trademark hoop earrings with a razzle dazzled rhinestone mask she wears overtop of a plain cloth mask. Instead of washing hair, the volunteers maintain social distance now: they pass out bottles of hand sanitizer, nutritious fruit and face masks by sliding them across a folding table. They can't prepare a home cooked meal for hundreds of people anymore, because none of the grocery stores in Los Angeles allow them to buy groceries in bulk due to shortages. So they take the financial donations they're given to McDonald's and buys hundreds of hamburgers to pass out– the McDonald's corporation donated a big stack of gift cards to help her along. Now that there are beef shortages in the fast food restaurants, Ms. Raines is looking for a different place to buy meals. If you happen to be a proprietor of a restaurant in Los Angeles and can help with this, please do get in touch with her! Everybody else who is able can give donations as well. Her charity accepts cash donations as well as donations of supplies.
One evening about a month ago, she posted a short video of herself at home. Every other time I've seen Ms. Raines, she's been in impeccable makeup– perfect contouring, gorgeous neon-colored eyeshadow and a big stack of false eyelashes. But in this video, she was bare-faced and wearing glasses, wrapped in a blanket. She trembled as she explained to all her followers that this was her normal state after visiting Skid Row during the COVID emergency: rolling anxiety attacks, unable to calm down. The Prozac she takes for her anxiety disorder doesn't touch this fear. She doesn't want to go to Skid Row and exposing herself to the risk. It terrifies her. But she won't abandon the people who depend on her to survive, no matter how afraid she gets.
That's courage. And being candid about your struggles in order to encourage other people is doubly courageous.
I'm also thinking about my friends down at The Friendship Room. Their hospitality house is still serving the poor in downtown Steubenville. They can't open up the building due to the stay-at-home order, but they keep the cupboard stocked. They keep the outdoor sink full of soap and water so there's a place to get clean. They distribute masks and plates of food to go. A cleaning company they've contracted comes in daily to blast the porch with some kind of germ-killing fluid.
The other night, when it was freezing cold out, someone came to The Friendship Room seeking help, completely naked. I don't know what was wrong with them. The Friendship Room respects the privacy of their guests and didn't say why. Maybe it was drugs or another mental illness. Maybe the person had just been sexually assaulted and run away, or maybe they were burning in pain from hypothermia– it was cold enough to do that to someone last week. A volunteer ran outside and wrapped the guest in clothing and blankets while another one called an ambulance.
We've had outbreaks of COVID-19 right there in downtown Steubenville. Ohio actually just had its worst daily death toll yet today, and the cases are expected to keep rising. There is a very real danger of death for anyone who doesn't follow the rules and keep away from people. The volunteers are already taking a huge risk just keeping the Friendship Room open in any capacity. And one of them ran outside, gloved and masked but not social distancing, touched a total stranger in a bad part of town, and save that person's life.
That's courage.
It's not lost on me that at least one of the examples of courage I've been meditating on lately is female, and a conventionally feminine-looking woman in bright makeup and jewelry at that. The other person might be male or female– there are both volunteering at The Friendship Room now. I only saw one still from security camera footage of their rescue the other night, and the volunteer was wrapped from head to toe in a big coat, so they could have been either one. Reno, judging from his tweet, thinks that courage is a masculine trait, and that cowardice the opposite of masculinity.
I don't know where that leaves him.
Courage is doing what you know you ought to do, even if you're scared out of your wits. Courage combined with prudence will take whatever precautions are possible and practical– a mask, a pair of rubber gloves, social distancing, a squirt of hand sanitizer. But where there's a risk that simply needs to be taken, a courageous person will overcome terror and take that risk anyway. Courageous people look at a difficult situation, see the good that they can do, and do it in spite of their fear.
Cowardice is the opposite of courage. Cowards looks at a difficult situation and chooses to let the difficulty, rather than the good that might be done, dictate their actions. They only seek to save their own skins, and usually fail in doing that as well. They don't spend pandemics doing heroic deeds; they're likely to sit around complaining instead.
And then there's bravado. A show of bravado means acting recklessly, ridiculing caution or praising recklessness in the abstract, without helping anyone or doing anything that needs to be done. Bravado has nothing to do with courage. But I've found it's often window dressing for extreme cowardice.
We all ought to be practicing courage as best we can in such difficult times, but first we have to be absolutely clear about what courage is.
I don't trust First Things to be able to tell us.
Image via Pixabay
Mary Pezzulo is the author of Meditations on the Way of the Cross.
Steel Magnificat operates almost entirely on tips. To tip the author, visit our donate page.