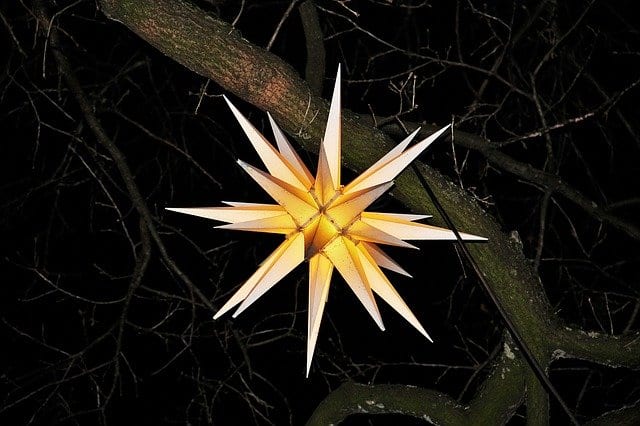 It was a good day.
Good as things can get in this year, I mean.
We actually got some homeschooling done. Rosie is finally, finally turning a corner in learning to read. She has been a whole year delayed in reading. Now, she can read through the easiest chapter books, a little haltingly, and she can write in the answers in her phonics and English. She knows her multiplication tables up to Times Five. We're learning about Salvation History in our catechism lessons, so she watches those odd Hannah Barbara cartoons where archeologists trapped in a time warp keep running into Patriarchs.
We made doughnuts by frying circles of biscuit dough in the cast iron skillet. I fried them and Rosie dredged them in spiced sugar. We plotted the long list of Christmas cookies we're going to make, to share with the Friendship Room and the Baker Street Irregulars.
This is the kind of day I imagined being a mother would be like, when I was pregnant with Rosie. Not the scary parts; not the birth rape, not the poverty and PTSD, not the uncertainty and fear. And I did hope there'd be more than just the one. But I daydreamed about happy days puttering around the house, and here I had one.
As it got dark, Rosie reminded me that I'd promised we could walk together to mail the Christmas cards and then go on a Christmas light walk. I got my coat, and we went out together.
It's pretty bleak in LaBelle this year.
Normally, northern Appalachian people like their tacky Christmas light displays. It's something people around here usually go whole hog on, the way they do with fireworks, and it's another thing I genuinely enjoy about living in LaBelle. I want to see messy unkempt tumbledown houses festooned with strand after strand of colored lights going all the way up to the roof. I want to see yards stuffed with inflatables, the more ridiculous the better. If you're going to have Christmas lights, there are no half measures.
This year there are few houses pushing the envelope. There are a handful of fun ones, so ornate they might be an outdoor museum of Christmas kitsch. There are some moderately beautiful houses, with a strand or two of lights over the door and one candy cane squiggle around the lamp post. But there are a lot of blocks that are very dark indeed.
I hope it's just because it's early. I hope things brighten up.
It doesn't exactly feel like Christmas this year. COVID-19 is hitting Jefferson County hard for the first time. We lost 6 people overnight earlier this week, and the numbers keep mushrooming up and up and up. A certain percentage of people are still in denial and always will be, but many who scoffed before are terrified now. We're tired and discouraged from nine months of lockdowns and precautions that didn't end up doing any good. Suddenly, we're one of the fastest deteriorating counties in the country.
We walked three blocks to the mailbox. Rosie asked if she could be the one to feed it, and I stood back– the first fifteen of our Christmas cards released into the wild. I always look forward to getting cards back from all the friends I've met online. I would like to hang them all on a garland that goes over my living room door.
Then we took the long way home, down a more affluent street and around a cul-de-sac.
It was still more sparse than usual on the affluent street, but a few houses were beautiful.
We walked past the former "House of Prayer and Peace," the headquarters of the dreadful Sister Angeline's so-called religious order. It is no longer being used as a convent. I pointed out the place, and Rosie asked to hear more stories of my childhood and of when she was a baby.
There were no lights on that house, just a "KAG" or "MAGA" or "TRUMP PENCE 2020" sign in every front window. I had to squint to see the signs because whole place was dark as a sepulcher.
We rounded the corner to a much less affluent street. That's the way streets work in LaBelle, somehow: one block luxurious, one block shabby, one block atrocious.
We walked past my old apartment building, the place we lived when Rosie was born: one shockingly shabby gray block, directly abutting a wealthy one. I used to be able to look up at the backyards of nice houses from my slum apartment porch. We'd planned to be out of Steubenville and financially independent before we had children. No child deserved to be subjected to that terrible house. And then, suddenly, Rosie was there, more welcome and cherished than I could express, but a total surprise.
"My only memory of that house," said Rosie, "Is that I had a nightmare a lawnmower was tearing it down."
I wish that was all I could remember of that house.
The window of the room I got raped in was visible from the street, dark as the windows at the House of Prayer and Peace. But the new tenants had put a full sized Christmas tree in the living room.
I walked a little faster. "This was where you used to play on the porch steps. This is where you'd watch the ice cream truck go by. You called it the garbage truck and I didn't correct you, but one day we came out at just the wrong moment and saw children coming out to buy ice cream. A lady saw us not buy anything and brought you a popsicle to eat. We went to play in her yard with her son. His name was Xavier. They lived right here."
The years we lived on that block there were a lot of Christmas lights adorning the ramshackle houses. This year, there was only one house twinkling with lights. But there were several TRUMP 2020 KAG MAGA signs, and one flag proclaiming the heretical American trinity of "GOD, GUNS and GUTS."
"Let's walk home by this other street," I said, steering her away from GOD, GUNS and GUTS as soon as we got to a crossroad.
But the other street was dark.
We walked home, in the dark.
We watched Mickey's Christmas Carol.
I got online and found that over three thousand people had died of COVID-19, a new record. And it's only going to get worse.
I made spaghetti sauce in the pressure cooker, and we ate dinner while watching Power Rangers.
We said our prayers, and went to bed, but I couldn't sleep until nearly dawn.
This isn't a fit world to bring children into. But they come anyway, like the bridegroom in the parable of the ten foolish versions, whether you're ready or not, demanding our undivided attention and our unconditional love. And we give it, and we are infinitely blessed for having given, and the world burns to ashes with our children in it again and again and again.
Madeline L'Engle once wrote:
This is no time for a child to be born,
With the earth betrayed by war & hate
And a comet slashing the sky to warn
That time runs out & the sun burns late.
That was no time for a child to be born,
In a land in the crushing grip of Rome;
Honor & truth were trampled to scorn—
Yet here did the Savior make His home.
When is the time for love to be born?
The inn is full on the planet earth,
And by a comet the sky is torn—
Yet Love still takes the risk of birth.
Love still takes the risk of birth, this most dreadful year and every other.
And we prepare our hearts to welcome the King Who comes, long expected but at a most surprising and inconvenient time, in a place where there is no room for Him. He comes in the dead of winter when the whole earth is dark, and we are infinitely blessed.
Image via Wikimedia Commons.
Mary Pezzulo is the author of Meditations on the Way of the Cross.
Steel Magnificat operates almost entirely on tips. To tip the author, visit our donate page.