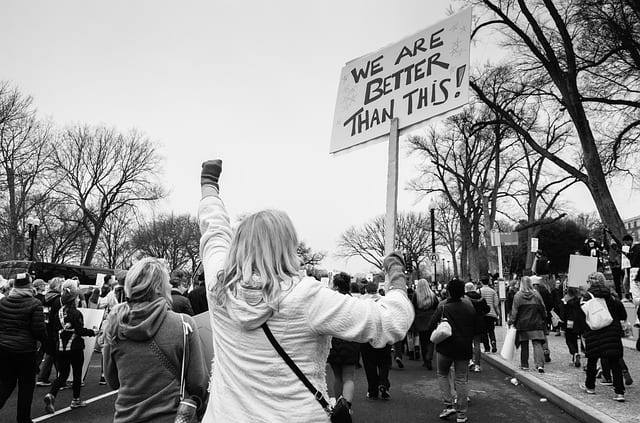 I didn't watch the entire "Jericho March" that took place in Washington yesterday. I read the news and watched clips online and that was enough for me.
I read about the March in more depth in, of all places, The American Conservative, where even Rod Dreher thought they'd gone a little too far. I can't believe I'm saying this, but his live tweet of the spectacle was pretty good as well. Dreher doesn't seem to understand that he's been a contributor to the bizarre heretical spectacle of Americanist Christianity, which almost makes his observations more poignant. He is a Pandora watching the demons fly out of the box, and he doesn't even realize he helped to open it.
But at any rate, as a Catholic Christian who has bizarrely been given a platform to shout at people here at Patheos, I feel I need to say a few words.
The Jericho March, for those of you who don't know, was a bizarre demonstration that an eclectic group of conservative Christians, including quite a few Catholics and one actual bishop, put on in protest of Biden's winning the presidential election. They insist that God told them there was some mistake and Trump was the real winner. They gave speeches and tooted on annoying horns. They prayed. They carried on. Alex Jones was there for some reason, and he dropped hints that sounded an awful lot like calling for Biden's assassination to me. Then they left, and the Proud Boys started acting up; there is still violence going on on the streets of the nation's capital last I checked.
The worst part of all this, for me, was during some kind of exorcism or "deliverance prayer" that a nutty Catholic priest said. I have never met a priest who practices "deliverance prayer" who wasn't an absolute lunatic or a con artist, or both. I don't know which this one was. The priest exorcized the whole United States of something or other, displaying a painting of Our Lady of Guadalupe on her feast day, all to win Donald Trump another term.
It would be wrong to use that sacred image to stump for any American politician. They are all terribly flawed; all support things that are against the Gospel. But to see La Guadalupana's miraculous self-portrait used in homage to Trump, who cares for no life except his own, who was fawned on by the pro-life movement but seems to have driven abortion rates up, and deliberately tortured Central American migrant children to punish and deter their parents– this is uniquely blasphemous.
I am at a loss for words as to how bizarre, sad and frightening this situation is. I'm not surprised that it's happening. American Christianity has been infested with heresies like nationalism for so many years that we all should have expected it would. And I'm not shocked or frightened because there is a handful of Christians who are obsessed with sketchy and heterodox "visions" God gave them that just happen to coincide with what they'd like to believe anyway. You'll find such people in any culture, in any faith. Nor am I worried because they're doing it in the name of Donald Trump. Trump is uniquely wicked and dangerous, but a lot of wicked and dangerous people become figureheads for this kind of religious fervor: think of Father Maciel.
I think I'm so alarmed because of how many ordinary people are going along with this nonsense. Not as many as they'd have us believe, of course; most people can see through this. They are a minority. But they're a large minority and a rather diverse cross-section of American Christians (though disproportionately white). There are Rosary-praying Grannies and Bible-thumping Protestant preachers who buy into it. There are earnest teenage geeks in neckties. There are fun jolly large Catholic families who look like they're auditioning for a revival of The Sound of Music. There are priests and religious. If the Catholic Church is "Here Comes Everybody," the Christian Alt Right is "Here Come Some of Each."
They're everywhere. And they really believe that THIS is Christianity. Not loving our neighbor as best we can even though we have to practice self-defense when necessary: but centering walls, guns, the death penalty and draconian punishments for migrants as wholesome Christian things. Not making our chief concern how we can serve Christ in the poor and the helpless, but hoarding all our resources and demanding that the poor be punished for their poverty. Not doing everything we can to help vulnerable mothers give birth and care for their children, but idolizing politicians who give lip service to punishing women who seek abortion and then actually govern in ways that drive abortion rates up. Not bearing persecution on earth with what dignity we can for the sake of the Gospel, but fawning on the secular leader who promises to give Christians earthly power. Not worshipping a God Whose kingdom is not of this world, but pinning their hopes on a secular leader who despises Christians and making him their savior.
There's a startling number of people who really do think that this ridiculous display is what it is to be a true follower of Christ, and that humbly serving God through our neighbor is some kind of communist plot to taint real Christianity.
Christ made it quite clear: Not every one who says to me, 'Lord, Lord,' shall enter the kingdom of heaven, but he who does the will of my Father who is in heaven. On that day many will say to me, 'Lord, Lord, did we not prophesy in your name, and cast out demons in your name, and do many mighty works in your name?' And then will I declare to them, 'I never knew you; depart from me, you evildoers.' And so it will be.
What is the will of the Father Who is in Heaven? We know this as well:
"Is not this the kind of fasting I have chosen:
to loose the chains of injustice
and untie the cords of the yoke,
to set the oppressed free
and break every yoke?
Is it not to share your food with the hungry
and to provide the poor wanderer with shelter—
when you see the naked, to clothe them,
and not to turn away from your own flesh and blood?
Then your light will break forth like the dawn,
and your healing will quickly appear;
then your righteousness will go before you,
and the glory of the Lord will be your rear guard.
Then you will call, and the Lord will answer;
you will cry for help, and he will say: Here am I.
"If you do away with the yoke of oppression,
with the pointing finger and malicious talk,
and if you spend yourselves in behalf of the hungry
and satisfy the needs of the oppressed,
then your light will rise in the darkness,
and your night will become like the noonday.
The Lord will guide you always;
he will satisfy your needs in a sun-scorched land
and will strengthen your frame."
Christ says: "By this everyone will know that you are my disciples, if you love one another." Nothing else matters very much. You can point to any bizarre secular practice and claim it's your Christianity, and you'll find other Christians doing the same thing, but Christ does not change. Christ is not a political party. He is nobody Who would fit comfortably into any political party. Christ is Christ. Him alone shall you serve.
When I look at the Jericho March, I see the sad and entirely predictable result of various heresies that are so omnipresent in our culture as American Christians, that it's hard to see them as against Christianity anymore, but they are. Christ remains Who He has always been, and He's the one we should be following. Not those weirdos. Let them go to their own place.
The season of Advent is a perfect time to turn away from whatever heresy you've embraced, and come back to Christ.
Image via Wikimedia Commons.
Mary Pezzulo is the author of Meditations on the Way of the Cross.
Steel Magnificat operates almost entirely on tips. To tip the author, visit our donate page.