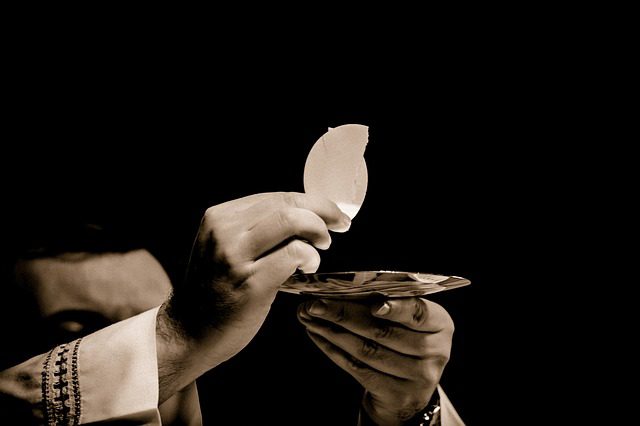 A lot went on in the past week or two that I wanted to write about, but I couldn't, because I couldn't hear myself think due to the neighbor's never-ending home repainting project. I'll be getting to most of it this week if I can.
First of all, I want to talk about the USCCB's plan to excommunicate President Joe Biden, unless of course that's not what they plan to do. At first it was boldly stated that they were going to stick it to every politician who was permissive on abortion, and then they seemed to walk it back and claim that all they wanted to do was write a document teaching us about how valuable the Eucharist is. I'll let my friend Rebecca Hamilton tell you all about that in her blog post.
People have accused me of being an enthusiastic fan of Joe Biden, because I've been public about despising his presidential predecessor. The fact is, I don't like Joe Biden for many reasons– yes, including his stance on abortion, but for several other reasons as well. I didn't vote for him in the primary, he will never be my first choice, and I have no opinion about whether or not he's a good Catholic. I only know that I am not a good Catholic and I pray for the grace to be better. But I am irritated about this business nonetheless.
This plan to excommunicate certain politicians to teach us a lesson about the Eucharist, or maybe to just write a document teaching us a lesson about the Eucharist, was one of the topics discussed at the USCCB's first big meeting after the 2020 COVID-19 pandemic. This was their big meeting after a year of unprecedented historic disaster wherein nearly four million people perished, countless more were disabled, the economy crashed, people lost everything they had, and it isn't even completely over yet.
During that pandemic, the USCCB didn't have a coherent plan, except to dispense the Sunday Obligation on a diocese-by-diocese basis, and to shut down Masses until about May. Beyond that, we were on our own. Some dioceses did a good job. Some did not. Mostly the response was scattershot, parish by parish and priest by priest. Some people had a regular outdoor Mass to go to, or a Mass where they could pull their cars up to a parking lot and listen to the liturgy on the radio and then wait for a masked EMHC to come out and give them Holy Communion. Many didn't have that luxury. Some people had a parish nearby offering socially distant parking lot confessions. Many didn't get to go to confession at all. Some dedicated priests read the prayers of last rites through nursing home windows, but many people died without a priest. Some parishes opened with strict enforcement of social distancing for safety, and some opened in a messy way that left parishioners with the choice of either endangering their safety and that of everyone around them, or never getting the sacraments at all. Personally, in my family, we were without the sacraments for over ten months and Rosie will be ten years old before she receives First Holy Communion. There was no organization from the top down helping us get through, sacramentally speaking. Everyone did as they saw fit.
And as for the corporal Works of Mercy, that was arguably even worse. So many people, Catholic and not Catholic, desperately needed material help. They lost their jobs and they needed food. They needed rent assistance. They needed clothing. They needed someone to help them with suddenly having to homeschool their children while working full time remotely. They needed a homeless shelter. And many brave and generous people stepped forward to help. But the Church didn't make a coherent effort as a group. The bishops didn't lead. As far as I can tell, they kicked back and watched everybody else do it for fifteen months.
Now, hopefully, most of us are back in church with access to confession at least sometimes– confession access is something that has never been fantastic, to be honest. Back when I had to rely on the bus to get around, I was annoyed at how local parishes never offered confessions during times when the buses were running and I would've had to walk miles. But there's something available, at least. And, for people who are vaccinated, there are Masses to go to where you don't run much of a risk of catching a lethal respiratory disease. It's great that we're nearly back to the old normal, though the old normal wasn't great.
And at their first big conference since the pandemic, the bishops are coming out of the gate ready to get to work.
And this is what they want to do.
This is how they're going to teach us to value the Eucharist, after a year separated from the Eucharist. They're going to stop some people from having it to embarrass them and to scare American Catholic voters out of voting. Or else they're just going to write up a document teaching us all a nice lesson about the Eucharist.
I wish I could grab the nearest bishop by the lapels and scream in his face, "Do you know how you could have taught us to value the Eucharist? You could have brought us the Eucharist. You could have decided, in early March last year when everything was going downhill so fast, that the Eucharist was so valuable, you were going to make an all-out effort to see to it that your flock was deprived of the Eucharist as rarely as possible during the pandemic. You could have sat down with experts of all stripes and mocked up a plan for socially distant fresh air outdoor Masses and parking lot Mass and parking lot confessions so we could receive Communion with a clean conscience, for porch visits all across the country for the homebound and the especially at risk, if not every Sunday then at least regularly. It didn't have to be this way. We didn't have to suffer the terrible exile we suffered. And while I have your attention, what is the Eucharist? The Eucharist is the Body of Christ. Christ is a Person Who poured out His whole Self for the good of His people. He healed them, He fed them, He preached to them, then He gave them His Body and Blood to drink, died for their sake, descended into Hell, rose from the dead and ascended back to the Father for us. You could have taught us to love the Eucharist by your example, by being the hands and feet of Christ for us. You could have shown us Christ. You could have taught us to love the Eucharist by loving us, by helping us when we needed help and leadership the most, by pouring yourself out for us in selfless love. You could have sat down with another team of experts and come up with an emergency plan to get emergency food and housing and other help to all the suffering people who needed it– no, not just the usual work the dioceses do but a bold new plan of action for an unprecedented time. We could have been the admiration of the whole country, if only you'd led us. But you didn't. You never do. The document you need to draft about the Eucharist needs to be exactly two words, and those words are 'we're sorry.' But I wouldn't believe you if you did write that. You are never sorry."
So I guess it's just as well that I don't have a bishop within arm's reach right now.
Image via Pixabay
Mary Pezzulo is the author of Meditations on the Way of the Cross and Stumbling into Grace: How We Meet God in Tiny Works of Mercy.
Steel Magnificat operates almost entirely on tips. To tip the author, visit our donate page.