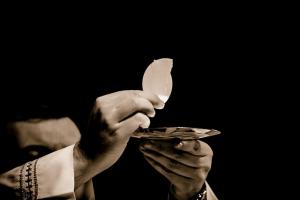 I've been going back to church.
You don't have to do what I do. At this point I don't care about anyone's idea of an "obligation." I think of the Catholic hierarchy as more of Christ's abusive boyfriend than Christ's vicar. I would never want a reader to think they had to do something traumatic just because I did. If you have found God somewhere else, good for you. If your experiences have led you to believe there's no God at all, I'm not better than you are. But for me, I still want to know Christ. And I have experienced the presence of Christ in Catholic rituals. So I've been going back to church.
For a few weeks I've been standing in the foyer, and going out to the church steps for long breaths of fresh air when I felt the panic coming on. I decided to try to sit in the congregation, at least for the Liturgy of the Word, and I did.
It did not feel good.
The Gospel was the one about the wheat and the tares, and I didn't like it. I am afraid that I am a tare. Why wouldn't I be? I have never done anything right. I am queer in both the literal and colloquial sense: an intrinsically disordered person, according to the late Pope Benedict. I am neuroatypical, the world's most difficult child; my mother used to intone "Of all the children I ever had, Mary, you hurt me the most."  I have no family to speak of now. Everything I try to do right blows up in my face. I am a created being who takes up space and nutrients while producing no fruit. I am a tare.
I have been trying to be wheat for so very long, but I always end up a tare.
I tried to excuse myself for a breath of air, but it was too hot outside. I pretended to need the restroom.
I washed my hands for a very long time.
Afterwards I stayed in the foyer, which was too hot and crowded with latecomers. A mother was walking her plump baby in the back– she set him down, and he toddled forward, barefoot, crouching to put his hand to the floor every time his feet touched a new surface. Step, step, feet on the rug, touch, step, step, step, step, feet on the tile, touch, step, feet on the threshold of the storage room, touch, turn around, return to Mother.
The glass separating the foyer and the main church is clear with white symbols etched on it. The glass on either side of the church's front door is colorful stained glass. At this time of day the light filters through, so when I saw my reflection in the clear glass, it looked like I was painted on the stained glass. It looked like the Passion of Christ, the crown of thorns and the scourge and the chalice that the Father didn't take away, was going on in the same room with me, with a baby toddling in front and the Mass going on somewhere else.
When they murdered Christ, they did it outside the Holy City. They took Him to the praetorium, and stayed outside the praetorium so they wouldn't be defiled by going into such a dirty place, and the occupying government beat him to a pulp and then dragged him outside to finish the job. God didn't die in the sanctuary, He died in the Place of the Skull.
Let's say that Christ was in the back of the church. He's supposed to be up front, on the altar, getting snapped in half by the hands of the priest, but let's say He made His way to the back with the baby who can't keep still and the people who came late.
Let's say He asked me, "why did you come?"
Let's say I had nothing to say for myself except, "I wanted to get as close to you as I could."
And then I closed my eyes and cringed because I am a tare. I am a weed. I am an interloper who showed up at the king's feast without a wedding garment.
"Behold the Lamb of God," said the priest, holding up the Victim that he himself broke a moment ago.
The Eucharist isn't called "The Host" because he invites you to his house, to a party he's hosting. "The Host" is short for the Latin "hostia,"  victim.
"Behold him who takes away the sins of the world. Blessed are those called to the supper of the Lamb."
"Lord, I am not worthy that you should enter under my roof."
Lord, I believe and profess that you entered under my roof. 
Lord, though no one around me believes it, and I myself am so worn out that I'm only repeating a story I used to believe with conviction, I declare that once upon a time you entered under my roof. And I would like to enter under yours. I came here because I want to get as close to you as I could. I'm sorry. Please don't hurt me. I only wanted to get as close to you as I could. 
And let's say that Jesus, there in the back, said to me, "I came from Heaven to Earth, to the cross and to hell and back up to earth and ascended to Heaven, all for the same reason: to get as close to you as I could."
And let's say that, for a minute, nothing hurt.