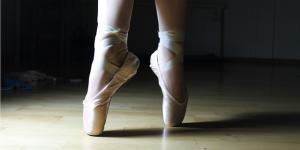 There was a bit of a kerfuffle on Twitter, which I refuse to call by its tacky new name of "X."
The kerfuffle was about Christmas, of course, because it's the week before Thanksgiving. But it was also about ballet, queer nutcrackers, and performative masculinity.
It all stared when the Reverend John Kalchik, a Catholic priest with whom I wasn't familiar before this weekend, posted a link to an article about a rainbow nutcracker holding a Pride flag which was for sale at Target. The priest called it "another reason not to shop at Target," and I prepared to roll my eyes and move on. But then it got weird.
Several hecklers commented on the thread to tease Reverend Kalchik. One commentator asked if he boycotted The Nutcracker itself, since its famous composer was a gay man.
In response, Kalchik exclaimed "Boycott the Nutcracker? By the way, straight men don't go to the Ballet. So, I will say it again. Who on God's green earth would want to buy a gay Nutcracker????" with four insistent question marks just like that. Twitter being the open sewer that Twitter is, the tweet was widely circulated and many people responded. Among the respondents were heterosexual men– even some traditional Catholic heterosexual men, in fact– who assured Kalchik that some heterosexual men do like going to see a ballet. Kalchik doubled down and proclaimed that they did not. The next day he was still at it, pontificating "And here I thought in America a straight man could say upfront that he did not like Ballet. Just saying, it was a torture to take my nieces to their ballet classes! I did penance for all the sins of my youth."
I'm sorry for his nieces, if their uncle had such an aversion to their hobby that driving them to a dance studio and dropping them off was torture for him.
There is nothing in the world so gossamer delicate as performative masculinity.
I cannot imagine anything half so exhausting as performative masculinity.
Imagine not only HAVING a gender, but having to PERFORM your gender at every moment so it doesn't fall off. And not performing by taking joy in your gender, mind you. Not by putting on a dress and twirling in front of a mirror because the dress makes you feel yourself in a way trousers don't. Not by dabbing on a little blush and taking a selfie so your friends can see how beautiful you are. Not by having a beer with the fellas and talking about your favorite football teams. But by constantly posturing to DEFEND your gender. Acting as though your gender is under attack. Treating people who express their gender differently with suspicion. Howling at the mere thought of things your gender isn't supposed to like.
Now, imagine going to all that trouble, and being BAD at performing your gender. Because, in fact, heterosexual men are as likely to enjoy ballet as not.
The ballet was invented in Europe for the same reason the opera was: to celebrate the (heterosexual) marriages of wealthy aristocrats. People of all ages, genders and sexual orientations have enjoyed going to the ballet ever since. I have never been a heterosexual man, but I would go so far as to say that heterosexual men might enjoy a beautiful young woman with fantastic definition dancing around in a short skirt. That sounds like their kind of thing.
Now, it turns out that the Reverend Kalchik is not normal. In 2018, he was in the paper for burning an old church banner with a rainbow on it and then going into hiding. You can see a photo of the banner in question in that article I linked. It's not a gay pride flag; it's just a tacky flag with a rainbow and a cross. Reverend Kalchik thought of the flag as blasphemous because it had "a cross with a gay flag interwoven in its very fibers," a phrase so exquisite I want to put it on my CV. He set it on fire while reciting a prayer of exorcism, and his bishop responded by removing him from the parish. After that, Kalchik fled to "an undisclosed location;" he told Church Militant that he was hiding from the bishop's deputies who were trying to have him interred in a mental health facility for a few months. In the same interview, he claimed he was in danger of being "tarred and feathered" by "rabid homosexualists" from Chicago.
I certainly hope that Reverend Kalchik calms down.
I certainly hope that Target hasn't sold out of those funny rainbow nutcrackers yet, because I want one for my dining room display. I want to collect as many eccentric nutcrackers as I can get.
And my wish for the holiday season, is that we could all just be secure in who we are– in our genders, in our sexuality, in our vocation, in our faith, in our adoption as children of God, and in every good and perfect gift that comes down from the Father of Lights. I like us all just the way we are, and so does the Father.
Speaking of people who like us just the way we are: I think the best way to combat toxic performative masculinity, is with wholesome masculinity. So here's a video of Mr. Rogers learning about ballet from the Pittsburgh Steeler and ballet student Lynn Swann. I trust a professional football player is masculine enough even for the good Reverend. I'll bet even the homosexualists in Chicago will like this:
Merry Christmas!