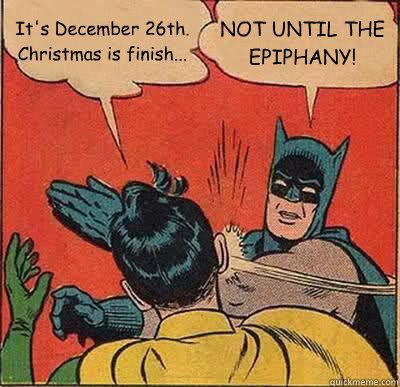 It's the most wonderful time of the year again — that charmingly counter-cultural period where we get to celebrate Christmas in all its glory despite the earnest (even desperate) efforts of department stores and advertisers to make us to think about Valentine's Day. Sorry, Mr. Retail-man; I've still got Twelve Days worth o'Christmas left in my system.
Keeping Christmastide suitably festive will be easy in the Susanka Household this year, thanks to the safe-and-sound arrival of the quickly-beloved Nathan Borromeo Susanka. For those of you unable to spend the next few days cuddling the latest model of the increasingly-popular Susanka Boy line, my sympathies. I wish I could share.
But be not afraid; there's plenty of great music to keep your Christmas merry, bright, …and long, starting with the charming "Ninna Nanna Al Bambino Gesù" — a lullaby alla Napoletana (in the Neopolitan style) sung as if by the Blessed Mother to her sleeping Child.
My recommendation? Listen to the ensuing clip before you watch it. 
Philippe Jaroussky's voice is amazing
, but seeing him sing can be a bit distracting. No one really 
expects the Counter Tenors
, do they? (
The entire "Via Crucis" CD
 from L'Arpeggiata and 
Christina Pluhar
 is spectacular, actually. But as the title would suggest, it's not all Christmas-y. Or at least not obviously so; there are always 
hints of tears amidst the celebrations
, I suppose.)