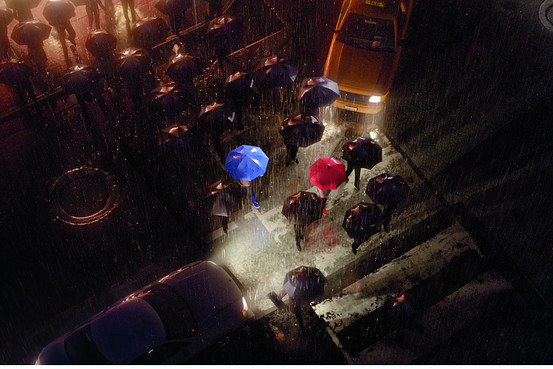 The following snippet from Pixar's "The Blue Umbrella" short might seem a bit desperate at first — a teaser short for a short? — but for a Pixar Short fanatic like me (or maybe Michał Oleszczyk), it's as exciting as a feature-length trailer.
The various online pieces I've seen so far focus either on the unusually "photorealistic" look (which is a bit of a Pixar first) or on the musical collaboration of Sarah Jaffe and Jon Brion — a creative component deemed particularly important by the short's (expected) lack of dialogue.
Myself, I am mostly slain by the cuteness. When I played the short² on my laptop, Cormac (Son #6) happened to be wandering past. Seeing the shiny, smiling faces, he put his two-year-old head to one side, and said "Awwwwwwww."
My sentiments exactly, though I'm not entirely sure which cuteness moved me the most.