The Story:
Young David Freeman vanishes late one evening in 1978. He reappears eight years later at the exact location of his initial disappearance, seemingly unharmed. Only he hasn't aged a single day. Meanwhile, NASA discovers a mysterious UFO tangled in high-tension power lines. Coincidence?
The Stars:
Joey Cramer, Paul Reubens, Howard Hesseman
Release Date:
1986
Rating:
PG
Our Take:
Another FMN assignment; another potentially-perilous journey through the nostalgic days of my youth. This time, I dove fearlessly — or is that recklessly? — into the rose-colored waves of my childhood, and came up with 1986's Flight of the Navigator.
David Scott Freeman (Joey Cramer) is a typical 12-year-old. He spends the majority of his time fighting with his younger brother, Jeff; roaming the neighborhoods of Fort Lauderdale with his friends; and alternately encouraging and frustrating his parents (Veronica Cartwright and Cliff De Young). Or at least he's a typical kid until the evening he heads out from a friend's house in 1978 …and arrives home in 1986. Also, he hasn't aged a second.
The shock and gratitude of his parents is matched only by David's frustration that no one can account for his absence. But when a series of medical tests reveal some new and highly unusual mental abilities, his mysterious 8-year "vacation" begins to attract some serious attention: the National Aeronautics and Space Administration. Unbeknownst to the boy and his family, a team of NASA's finest — lead by the relentless Dr. Faraday (Howard Hesseman) — have recently gotten their hands on a real-life UFO. But their efforts at communication have been thwarted by their inability to understand its advanced alien technology. When David's tests reveal a connection between his disappearance and their extraterrestrial vehicle, Faraday persuade his parents that the key to understanding their son's inexplicable absence can only be found in NASA's laboratories.
Guided by mysterious forces, David soon finds himself face-to-face with the ship's pilot: a calculating, emotionless robot named Max (Paul Reubens), who has traveled to Earth from from the planet Phaelon (560 light-years away), and who reveals not only that he holds the key to David's past, but that David holds the key to Max's future. Convincing his young "navigator" that David's head holds the key to both their problems, Max whisks the boy away from his parents (and NASA's anxious scientists) to perform a complicated and risky procedure of data extraction. But he gets just a bit too much David in the process, morphing from a cold-hearted machine into a goofy, unpredictable personality who wants to stay and explore almost as much as David wants to return to his own time.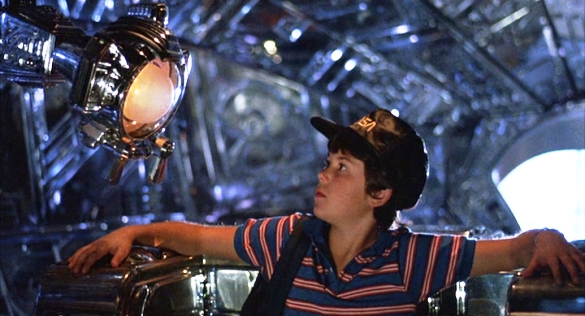 In my youthful days, Reubens' hilariously unbuttoned Max and the Beach Boys' "I Get Around" were the film's most memorable moments, by far. Now, many years and nearly as many viewings later (he proudly says), I've come to appreciate the film's treatment of the importance of familial shared memories, and of how lost David is without their connective tissue in his life. The young boy recognizes that his parents and brother are still "the same people" he left behind, and that their affections for him have endured throughout the years. But he also realizes that his "paused" existence has robbed him of the experiences and memories that were meant to go along with those eight missing years. He's still part of the family, but they're not really part of him. And with this realization comes a willingness — even an imperative — to risk everything in an attempt to return to his rightful place in the family.
The visual effects are astonishingly good, even for CGI-saturated-viewers like myself. And the script does a wonderful job of balancing some heavy topics with a light, humorous tone. And the sense of wide-eyed wonder that bathes both David and Max is almost as much fun to watch as their strangely satisfying friendship. It's a weird, wonderful little gem, and remains one of my fondest cinematic palete cleansers.
Be Aware:
The film is rated PG, though the rating is offered without explanation. There is some rude language, an unpleasantly combative relationship between David and his occasionally younger brother, and a number of tense sequences (particularly during David's discovery and infiltration of Max's space ship.) I've seen it described elsewhere as containing "a smattering of swear words and some scary situations." Sounds about right.
Appropriate for Ages:
"8-and-up" is how we're planning to roll in the Susanka household. (This review/post has convinced me that it's finally time for the three eldest to experience David and Max for themselves.) The first half can be a bit tense — partially because of the subject matter and partially because the director takes such great pleasure in filming ordinary, everyday objects as though they're extraterrestrial — and the scenes where young David struggles to come to grips with his lost past could be harrowing to a younger audience.
Related Material:
Alan Silvestri's alternately mysterious and boisterous score is astonishingly difficult to find. Silvestri's own site, for example, offers little more than a track listing, some 30-second samples, and a link to Amazon's third-party sellers. But nothing captures the film's mood (or brings my childhood rushing back) quite as perfectly as "The Ship Beckons," "Have to Help a Friend," "Ship Drop," or the aforementioned "I Get Around." Could we get a re release, Disney? Please?
The film itself is readily available for rental and purchase (either through streaming or traditional venues). Go ahead and start with the former. The latter won't be far behind. I promise.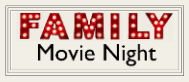 This is the latest in our Family Movie Night series, in which Patheos writers bring you weekly recommendations for a film to watch together as a family. All our recommendations can be found by visiting the Family Movie Night page.
Attribution(s): All posters, publicity images, and movie stills are the property of Walt Disney Pictures and other respective production studios and distributors, and are intended for editorial use only.