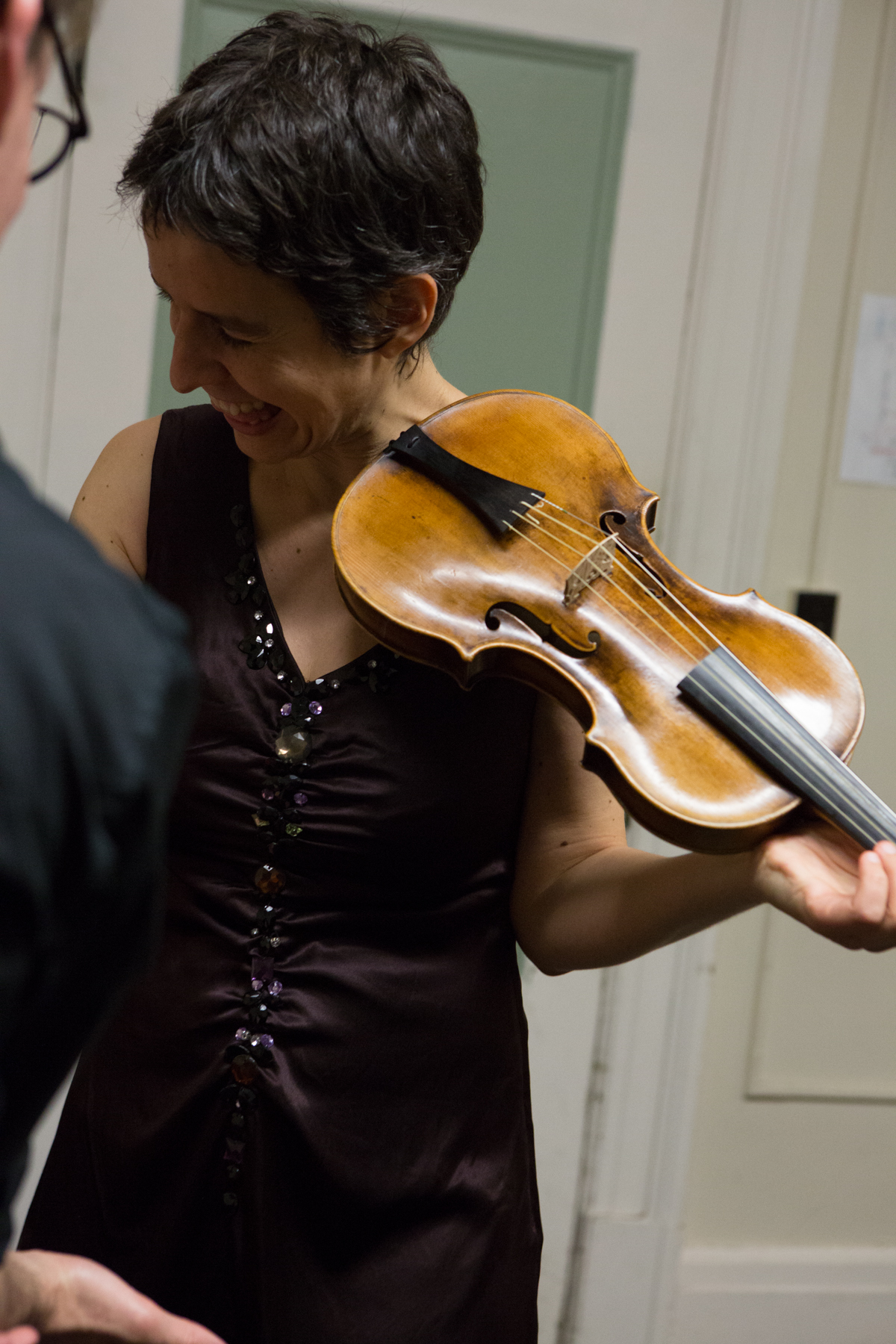 Earlier this year, the violin and viola that Wolfgang Amadeus Mozart himself used in his own concerts traveled to to the United States for the first time, giving performers and listeners everywhere goosebumps. NPR's Anastasia Tsioulcas filed a report in which she discusses touching the instrument for the first time:
I could feel my heart stop. My fingers were trembling. And I'm pretty sure I had a huge smile on my face as I tucked the violin under my chin. The instrument that Mozart used to perform his own concerts!
They're called "workhorse fiddles" because of their sturdy build and unobtrusive appearance. But the response they produced here in the States was far from subdued. (Look at that image of violinist Amandine Beyer. The expression on her face is priceless!)
For her part, violinist Amandine Beyer says she couldn't help but wonder if she was channeling some special spirit when using Mozart's fiddle in Boston. "I had all the time this question! But I tried to call this spirit, no? And to say, 'Are you there?'" Beyer says, laughing. "But I think you can do it with every instrument when you play the music of Mozart."

That's exactly the kind of reaction the Mozarteum is hoping for, says its head of research, Ulrich Leisinger. "We listen to the concert and if we close the eyes, we perhaps even think of Mozart playing the violin," he says. "There are typically two methods to deal with historic instruments. One would be to say that we lock it in a shrine and never let anybody touch it again. But we are entirely convinced that you need to play the instruments because these are the messengers of Mozart's music."
In addition to the initial piece, NPR's "Classics in Concert" has a great bit on the special concert put on by the Salzburg Mozarteum, the Boston Early Music Festival, and Classical New England — "Mozart Comes to America." There's a shortish video of musicians talking about the instruments' characteristics and tone, and then playing it with rapt, even reverent faces. But the real gem for me was the audio recording of the concert, featuring the two instruments in a mostly Mozartian program.
(Image by Kathy Wittman, courtesy of the Boston Early Music Festival, via NPR)