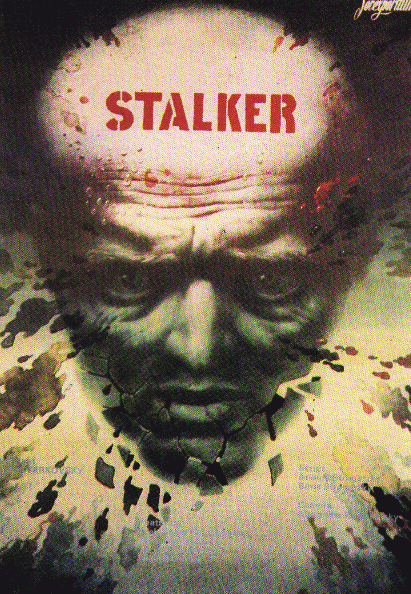 A few days ago, a friend and I watched Andrei Tarkovsky's Stalker for the first time.
As I've remarked in the past, I love Tarkovsky. I find him brutally, brutally difficult — almost hopelessly obscure, undeniably challenging, deeply metaphysical. And Stalker is certainly no exception. I have thousands of ideas about what it means, and exactly ZERO confidence that any of them are correct.
I'll be mulling it over for days. Or forever. But my understanding (or lack ) of the film's obvious allegorical and philosophical complexities wasn't the first impression I took away from our viewing.
No, my most powerful response was far more visceral than intellectual: I was simply overwhelmed by the images.
And it wasn't just their composition and content, though that was as amazing as I've come to expect from Tarkovsky. The film was shot on two very different film stocks (corresponding to the story's two very different locations…maybe): on a then-experimental color stock (Kodak 5247, perhaps), and on an incredibly high-contrast, sepia monochromatic stock. The effect is stunning, both because Tarkovsky makes such wonderful use of the contrast (both within the individual stocks and between them), and because of the complexity of environments in which he places his characters. (The film also features some of the best "fog work" I can remember.)
The film "relies on long takes with slow, subtle camera movement, rejecting the use of rapid montage, and contains 142 shots in 163 minutes, with an average shot length of more than one minute and many shots lasting for more than four minutes." So, a) some people will hate it, and b) if you don't hate it, you'll have a lot of time to look around in each shot. And what you'll discover is that the details in each scene are astonishing. Look at these shots, and at the incredible richness and complexity of the backdrops. I've never seen anything like it.
OK, that last one doesn't have amazing details in the background, and more properly belongs in a post entitled "The Stunning ImageRY of Tarkovky's Stalker." But I'm trying to get folks a little bit intrigued, at the same time. Hard to recommend it without knowing quite a bit more about the particular viewing tendencies and habits of y'all, and I'm very comfortable saying it …and all Tarkovsky are not for everyone. "Almost hopelessly obscure, undeniably challenging, and deeply metaphysical," remember? But I found it amazingly rewarding, at the same time. If you can make it all the way through, fantastic!
It's actually available in two parts through Mosfilm's official YouTube channel, HERE and HERE. I'm not sure that would be my recommended viewing experience, but it'll give you a flavor. (I'd post the trailer, but I can't. Because it contains one of the most bone-headed, horrific spoilers I've even seen. STAY. AWAY!)
Attribution(s): All posters, publicity images, and movie stills are the property of Kino Lorber and other respective production studios and distributors, and are intended for editorial use only.