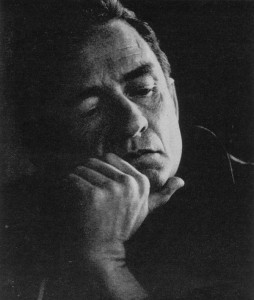 Every time I begin to despair of the InterWebs and their ability to offer anything of legitimate value, they come along with something that changes my mind.
The latest example, courtesy of the Blank on Blank folks? A wonderfully animated (in several senses) interview with the legendary Man in Black, Johnny Cash (put together from an interview recorded some time back in 2006).
Really, really great stuff. A man of tremendous talent, a man who's been chastened and humbled time-and-again — often as a result of his own actions — and has learned from that chastisement. A man who knows and understands himself and his weaknesses well. A clear-eyed man, and an inspirational one. (The pain-killer line, for example, is fantastic. Sort of throw-away, as he delivers it. But dead-on. And profoundly self-aware.)
At first, I found the video a little distracting — perhaps because it only sort-of-looks like Cash. And because it's full of visual flourishes and tricks. So here's the "straight-audio," if you prefer. Or if you're as heavily visual as I am.
And here, since the clip "teased" one of my favorite of Cash's "American Recording" songs for a coupe of seconds, is "Why Me Lord:"
Attribution(s):" Johnny Cash" by Joel Baldwin is licensed under Public Domain via Wikimedia Commons.