This one's not really a documentary. At least not according to The Academy. (In fairness, I'm sort of inclined to agree. We're not talking "partial" reenactment; this is full-on reconstruction. The "emphasis is on fact and not on fiction" bit certainly applies, though.)
But whatever it is — "Docudrama" seems as (un)fair a (non)descriptor as any — Touching the Void's a pretty amazing film. And it's streaming on NETFLIX INSTANT, as well as on AMAZON INSTANT($)
, SUNDANCE NOW($), and ITUNES($$$).
This gripping docudrama retells the mountaineering trek gone awry of Simon Yates and Joe Simpson, who breaks his leg during a disastrous climb of the remote and treacherous Siula Grande in the Andes of Peru. An incredible account of tragedy, friendship and human endurance.
Just in case the trailer doesn't do the trick, I'll add a warning. It's incredibly — almost impossibly — intense, so be prepared for a demanding viewing experience.
But it's also very much worth it.
This review from The Guardian's Philip French highlights one of the things that makes it so intense: the visceral physicality of the film. But he also touches on one of the stranger juxtapositions that it offers: the astonishing, stark beauty of the surroundings against which we watch this wrenching ordeal unfold.
Touching the Void is a very physical film. We experience the effort, the exhaustion, the pain, the triumph without triumphalism – and it is a breathtakingly beautiful film as we watch these small figures crossing glaciers and climbing rock faces in the majestic mountains.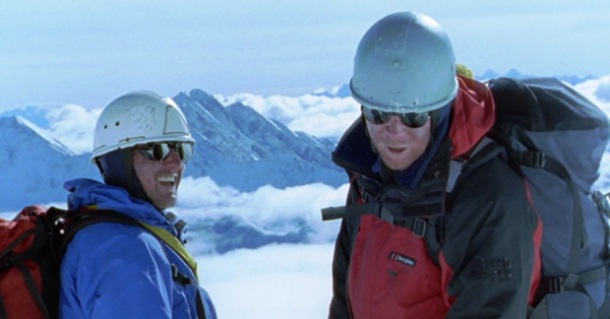 Also, my "full-on reenactment" comment from before isn't entirely fair. French again:
This story has been on moviemakers' minds for some years and in a new epilogue to his book Simpson talks of how it nearly became a vehicle for Tom Cruise, thus promoting the joke among the climbing community that Nicole Kidman would play Simon Yates. Fortunately the book then came into the hands of Macdonald, who had won an Oscar for One Day in September, his documentary about the massacre at the 1972 Munich Olympics. Macdonald had the brilliant idea of shooting the movie using actors to play Simpson, Yates and Richard Leaming, a young English adventurer they met in Lima and brought along to mind their base camp, and to have the real Simpson, Yates and Leaming talking both to camera and over the action as a form of commentary. The actors hardly say a word.
Despite the wonderful work done by Macdonald's performers, the most memorable moments (for me) involve the two subjects, not their cinematic stand-ins. Most fascinating of all is their body-language when they're together. It speaks volumes (and in this particular case, might even contradict the words being spoken).
So maybe it is a documentary after all.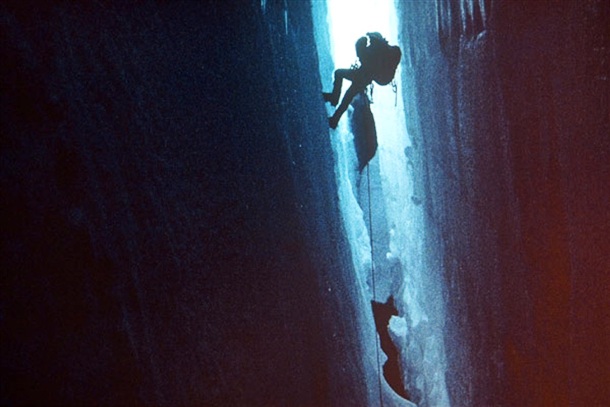 Attribution(s): All poster, publicity images, and film stills are the property of IFC Films and other respective production studios and distributors, and are intended for editorial use only.