"The bees and I have an understanding. I take care of them, and they take care of me. We both just have to work a little harder, that's all."
Intrigued by a line in this relatively muted endorsement from Jonathan Rosenbaum — "Leisurely pacing of this kind is likely to register as a form of respect for the viewer's intelligence and observation." — I watched Ulee's Gold this week. It's wonderful. And it's on NETFLIX INSTANT. And AMAZON PRIME
. And can even be rented from AMAZON INSTANT($).
Ulee Jackson (Peter Fonda) a widowed Vietnam vet and Florida beekeeper whose son is in prison following a botched robbery, goes in search of his daughter-in-law, who abandoned their two daughters with Ulee many years ago in the wake of the death of Ulee's wife. Slowly and painfully, the reclusive Ulee struggles to pull his dysfunctional family back together, but not before first having to confront his son's dastardly co-conspirators.
I pulled that plot summary together from a couple of others, actually. But I still don't really like it, because it sounds too much like Ulee is the instrument of change for his "dysfunctional family." And while that's true, the fact of the matter is that they are working just as profound a transformation on him.
Also, I'm with Ebert. This is
the role of a lifetime
for Peter Fonda; not in spite of its near-invisibleness, but because of it. He never feels bland or uninetersting; he feels inscrutable (even, often, to himself). Spectacular stuff.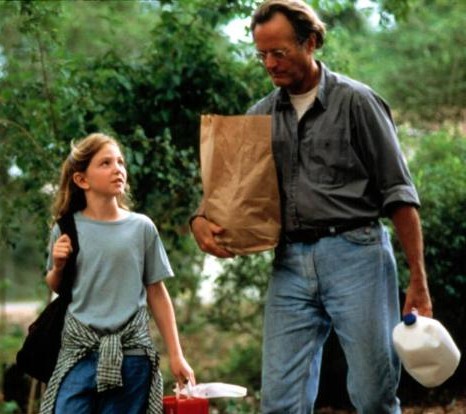 I love the way Victor Nunez (the film's director) threads the difficult needle between giving us way too much beekeeping to match its narrative role and giving us too far too little to really understand how it has impacted Ulee over the years. It's just there, always lurking around the corner; always impacting Ulee's life and the lives of those under his care, even in the midst of their turmoil.
And it's the bees and their care that serves as the film's central metaphor. In the way patience and hard work (and flexibility) are shown not just as a way of keeping and tending for bees, but as a way of cultivating and reinvigorating and healing our often-damaged friendships. In the way Penny gentle guides her mother back to the family by reminding her that stinging (lashing out) is often a sign of pain and fear, not of anger, and that those who love one another must remember that in spite of the hurt. And in the way Ulee realizes that life's true sweetness comes from relying on one's friends and family and having them rely on you in turn, rather than through complete self-sufficiency or independence from human brokenness.
Oh, and "Ulee" is short for "Ulysses." There's got to be an entire post (or book) in that.
"There's all kinds of weakness in the world, but not all of it is evil. I forget that from time to time."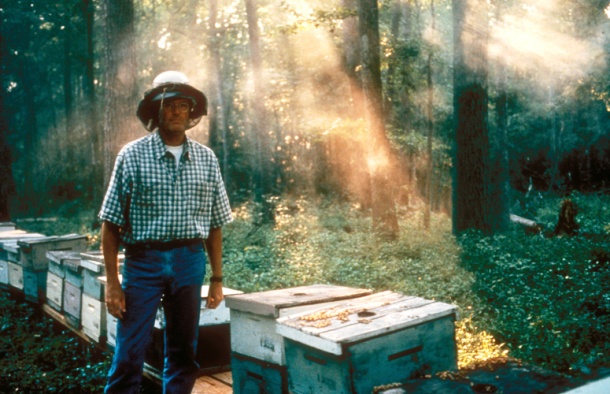 Attribution(s): All posters, publicity images, and stills are the property of Orion Pictures/MGM and other respective production studios and distributors, and are intended for editorial use only.