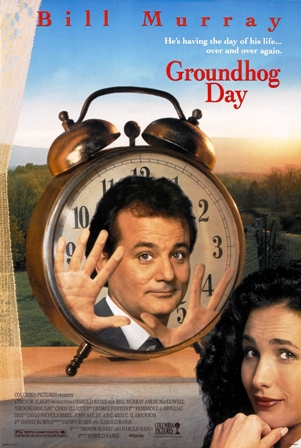 Little League Season (aka, Full-On Parental Insanity) is upon me, which means my Instinct for Self-Preservation (aka, Cut Down On Everything But Baseball-inct) is about to kick into high gear. So I might be sort-of mailing these Streaming Video Suggestions (SVS) in for a bit. Going straight for the low-hanging streaming fruit, so to speak; swingin' at the softballs instead of for the fences.
Here's the thing, though: I'm lazy, for sure. But I'm not mean. So I'm recommending Groundhog Day. Which is available at almost every possible place, including NETFLIX INSTANT, HULU+, AMAZON PRIME INSTANT
, CRACKLE (free, with ads), DIRECT TV($), AMAZON INSTANT VIDEO($)
, VUDU($), and SOME OTHERS.
Misanthropic TV meteorologist Phil Conners travels to Punxsutawney, PA to cover the annual emergence of the groundhog from its hole. Caught in a blizzard that he didn't predict, he finds himself trapped in a time warp, where he is doomed to relive the same day over and over again until he gets it right.
This one's fantastic. And also surprisingly re-watchable. I'd happily watch it again. And again. And again and again and… …OK, I'll stop now. I'm sorry.
But nowhere near as sorry as I am about this GD factoid.
Much in the same way Phil Connors relives February 2 over and over again, we may be able to relive Groundhog Day all over again in the not-too-distant future. A Groundhog Day musical is officially in the works, with plans to hit Broadway in 2017.
I'm with Stephen Sondheim: "To make a musical of Groundhog Day would be to gild the lily. It cannot be improved; it's perfect the way it is." (A couple of the more recent sci-fi cinematic homages aren't bad, though.)
A quick  personal note: The first Bill Murray film I remember watching was Rushmore. Next, What About Bob? So I wasn't expecting to enjoy (or appreciate) him as much in this film as I did. I think I was just expecting something a lot more sarcastic. Something a lot…I don't know…weirder. But this film was much kinder towards its characters than I was expecting. Much lighter on its feet. Much sweeter.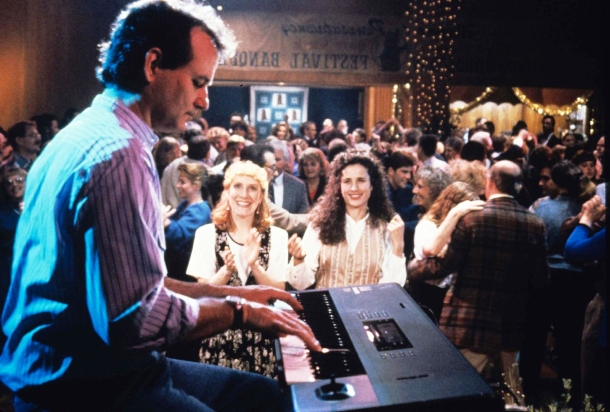 Attribution(s): All posters, publicity images, and stills are the property of Columbia/Sony Pictures and other respective production studios and distributors, and are intended for editorial use only.