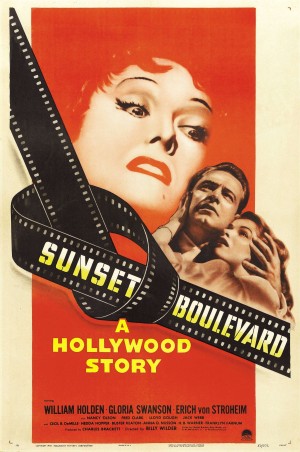 A murder has been reported from one of those great big houses in the ten thousand block. You'll read all about it in the late editions, I'm sure. You'll get it over your radio, and see it on television — because an old-time star is involved. One of the biggest. But before you hear it all distorted and blown out of proportion, before those Hollywood columnists get their hands on it, maybe you'd like to hear the facts. The whole truth…
Today, a classic. A legend. And a true masterpiece.
Billy Wilder's Sunset Boulevard: A Hollywood Story. It's on NETFLIX INSTANT and AMAZON PRIME INSTANT
. And can be rented from a host of places, including AMAZON INSTANT($)
, YOUTUBE($), and SOME OTHERS($). (Or you could just just buy it already. You won't be sorry.)
When a struggling screenwriter stumbles upon the crumbling mansion of washed-up actress Norma Desmond, she persuades him to help her mount a comeback.
Described by Roger Ebert as "the best drama ever made about the movies , this was a film so famous that when I finally sat down to watch it for the first time, I did so with the (cynical) assumption that it couldn't possibly be as good as its hype.
But I was wrong. From the first frame of its unusual (and brilliantly-scored) title sequence all the way through to Swanson's final, horrifying descent — "Alright, Mr. DeMille. I'm ready for my close-up." — I was riveted. And that's despite our knowing where things are going to go from pretty much the get-go. (It reminds me particularly of Wilder's Double Indemnity in that way. And reminds me that a predictable story in the hands of a master can be as captivating as an unpredictable one.)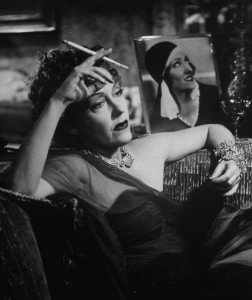 Wilder's
script is brilliant
(as was so often/always the case with his films), but this one's particularly brilliant, even for him — a viscous skewering of Hollywood matched only (in my estimation) by Evelyn Waugh's "
thoroughly horrible and fiendishly entertaining
" book, "
The Loved One: An Anglo-American Tragedy.
"
The acting is superb (as was so often/always the case with Wilder's films). Gloria Swanson's the headliner, of course, with what the trailer accurately describes as "the role of a lifetime." But one of the things that makes this film work so, so well is that all the "little people" are so carefully drawn and so wonderfully acted. Oh, and William Holden, who is absolutely capable of going toe-to-toe with Swanson. And Erich von Stroheim, whose own back-story is nearly as fascinating as the film itself. (And also, who can forget "The Waxworks?")
There once was a time in this business when I had the eyes of the whole world! But that wasn't good enough for them, oh no! They had to have the ears of the whole world too. So they opened their big mouths and out came talk. Talk! TALK!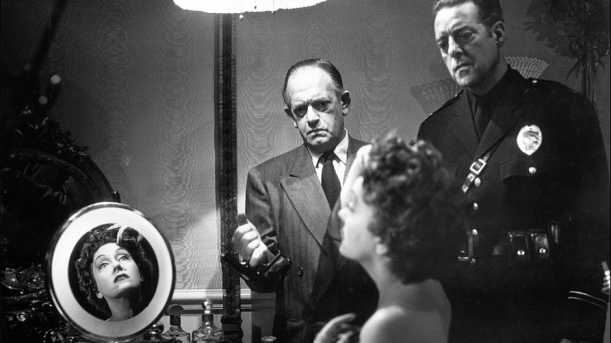 Attribution(s): All posters, publicity images, and stills are the property of Paramount Pictures and other respective production studios and distributors, and are intended for editorial use only.