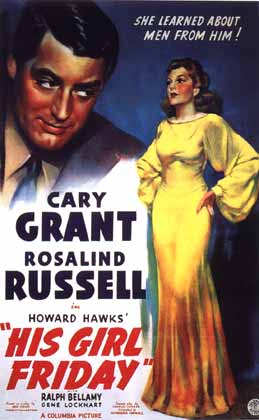 WHEREAS it's been over a year since I recommended a Cary Grant film (which is far too long); and
WHEREAS  screwball comedies are pretty much the Best Friday Flicks Ever (as long as you're not too tired to keep up with the banter); and
WHEREAS the wonderfully-successful transposition of one of its leads has always fascinated me (as has the legend behind it); and
WHEREAS no one who has seen it can actually forget THAT. HAT (just to make sure I don't bury that lede); therefore be it
RESOLVED, His Girl Friday would be an excellent selection for tonight, and it's on NETFLIX INSTANT, HULU (with ads and without, depending on if you've got Plus), SNAGFILMS (with ads), AMAZON PRIME
, and YOUTUBE($). In fact, thanks to a lapsed copyright or two, there are (somewhat lo-res but perfectly public domain) versions floating around ALL OVER THE PLACE.
Hildy Johnson (Rosalind Russell) is about to get hitched to dull insurance agent Bruce Baldwin (Ralph Bellamy) — that's if her ex-husband, ruthless newspaper publisher Walter Burns (Cary Grant), doesn't succeed in winning her back.
If you've got a spare minute or two, head on over to RogerEbert.com for Jim Emmerson's analysis of the film's opening shot(s):
This is a snappy, invigorating hardboiled ballet that leaves your head spinning (and the movie keeps you lightheaded for the next hour and a half). It's intended to feel like one shot, even though it technically isn't.
Next, try out the original NY Times' review:
Under Howard Hawk's direction, the cast has acknowledged the clamoring script with performances that are hard, brittle and strained to the breaking point, if not somewhat beyond, as though they were waiting for the camera to look the other way so they could collapse with honor.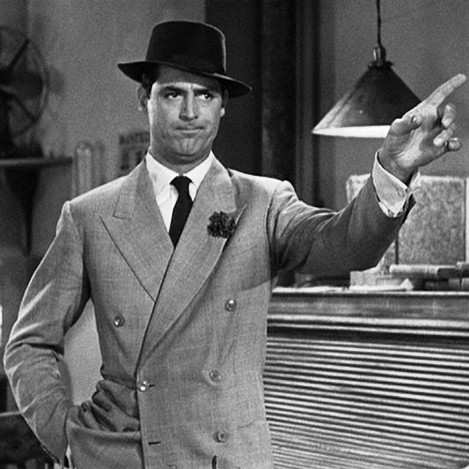 Looking for more on the highly-specialized sub-genre of "Comedies Where Cary Grant Battles To Save His Marriage?"
I've got more
.
Also, this was an actual thing, apparently:
Many critics in 1940 felt that Cary Grant was badly miscast as Walter Burns, and that Clark Gable would have been much better in the part.
I don't even know what else to say. (Except maybe to add that the film's poster is actually pretty creepy. Yipes!)
OK, fine. One more thing. 1931's The Front Page, a (prior) film with the same source material and produced by Howard Hughes, is streaming on AMAZON PRIME
. (Unfortunately, the 1974 version
 — with Jack Lemmon and Walter Matthau — is not streaming anywhere that I've found. Yet.)
A big fat lummox like you hiring an airplane to write: "Hildy, don't be hasty. Remember my dimple. Walter." Delayed our divorce 20 minutes while the judge went out and watched it.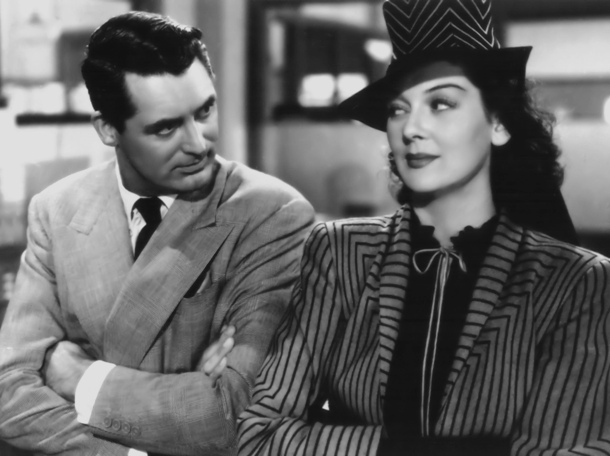 Attribution(s): All posters, publicity images, and stills are the property of Columbia/Sony Pictures and other respective production studios and distributors, and are intended for editorial use only.