I launched an investigation into the trend of Christian adoptions, which seems strange to call a trend, since it involves children and parents. Over the next several weeks, I'll be periodically sharing perspectives from parents and children from adopted families. You can find the entire series here.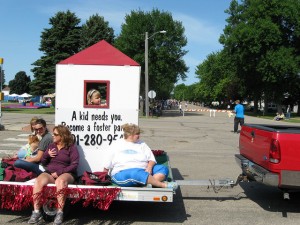 This week, I'm talking with Joanna, a foster mother, about her family's struggles with the foster care system in the US. Joanna and her husband, Carl, are trying to adopt their foster daughter, Dana. (Because the family is in the midst of a court case with Dana's biological family, their names and identifying details have been changed.) Joanna's family attends an evangelical church in the Midwest.
Alicia: Tell me the story of how you and Carl came to take care of Dana. (And to clarify, is Dana your foster daughter?)
Joanna: We are Dana's legal guardians. But it didn't start out that way. Seven years ago, a friend of mine told me about a young woman that started working with her. This young woman had a young child that was being neglected and mistreated. We stepped in to help and started getting Dana three days each week, usually on the weekends. Each time she would come to us filthy and smelling of urine, marijuana, beer and cigarette smoke. She would frequently come back to us with lice, as well. Her biological mother was partying and leaving Dana home alone. We had no idea what to do, but knew that we needed to do something. The state had already been called numerous times and had not found enough evidence to remove Dana from the home.
After having Dana for three weekends in a row, we went to drop Dana off and there was no one there. We did not hear from Dana's biological mother, "Bio-Mom," for a couple of days. When we did, she told us that she "totally forgot about Dana." We offered to keep Dana with us until she got her feet on the ground.  A few months later, Bio-Mom was arrested halfway across the country.
By the time that Dana was in first grade, her mother had limited contact with her, seeing/calling her only a handful of times. Then Bio-Mom basically disappeared, leaving us with a piece of paper that said that we had Power of Attorney and the right to tend to Dana's schooling and other basic needs.
Dana's biological father, "BF," had been in jail most of Dana's life and had had limited contact with her. And her mother was on the run from a warrant for her arrest, which did eventually catch up with, placing her in jail for several years.
The courts have now granted us legal guardianship of Dana, but have refused to allow us to adopt her.
Alicia: How was fostering Dana connected to your faith/motivated by your faith?
Joanna: Carl and I always knew that we would adopt or take in foster children. The Bible places a strong emphasis on caring for the orphan and the widow:
Isaiah 1:17 Learn to do good. Seek justice.  Help the oppressed. Defend the cause of orphans. Fight for the rights of widows.

James 1:27 Pure and genuine religion in the sight of God the Father means caring for orphans and widows in their distress.

Psalm 82:3-4 Give justice to the poor and the orphan; uphold the rights of the oppressed and the destitute.  Rescue the poor and helpless; deliver them from the grasp of evil people.

Psalm 68:5 Father to the fatherless, defender of widows—this is God, whose dwelling is holy.
I believe that God has placed a special love and concern in our hearts for children and teens in need of a parental figure. I have always said that if I had a superpower it would be to care for all the kids in the world that need parents and love.  We want them to know that God loves them, cherishes them and will be there for them; however, a hurt child cannot always grasp the "abstract" idea of God. Therefore, we attempt to show God's love to them through our behavior, love and concern for them. We did this as youth pastors and children's ministry workers before we found Dana and continue to do so through various church ministries.
Alicia: What has been difficult about raising a foster daughter? What has been rewarding or positive?
Joanna: Dana came to us as a little girl with big hurts. She had seen, heard and experienced too much in her little life. We soon discovered that we could not parent her like a "typical" child. While we look like a normal family from the outside, we are far from it. We are parenting a child who has attachment issues and post-traumatic stress disorder. Raising her has been a challenge, but it has also been incredibly rewarding. We have watched her go from being a child that had no attachments and no natural bonds to a child who has connected with us as a child should to her parents. We have watched her develop socially, mentally, emotionally and physically into an amazingly strong and intelligent young lady. Even wading through the difficult things has been a remarkable experience.
Alicia: What is happening now with Dana's biological family?
Joanna: Two and a half years ago, BF was released from jail and given six years probation. He contacted us demanding to see Dana. By this point, Dana had bonded with us and viewed us as her parents. She wanted nothing to do with BF. She barely remembered him at all and what she did remember wasn't positive.
For the past two years, BF has dragged us in and out of court attempting to get Dana removed from our custody; however, the judge will not remove her because it would be psychologically devastating to do so.
Dana's biological mother is out of jail now, but is still using drugs. She has shown no interest in having a relationship with Dana, other than to show up at court appointments.
Dana has no desire to be in contact with any of her biological family. She views them as the enemy that is trying to take her away from her home, her family, her friends, her school, her church and her life in order to once again neglect and abuse her. We hope and pray that someday they will see the damage that they have done and are continuing to do to her. Once they understand this, perhaps they will then do what is necessary to aid in her healing so that one day she can have a more healthy relationship with them.
Stay tuned–Part 2 of my conversation with Joanna will be up next week. If you're interested in reading more about the adoption movement, check out the other posts in this series.