By Deborah Heneghan, author of Closer than You Think, now featured at the Patheos Book Club.
Guidance, guidance and more guidance!  We all receive it, but sometimes we don't see it, or we choose to ignore it.  I will tell you that after going through the remarkable process of writing my book, Closer Than You Think: The Easy Guide to Connecting with Loved Ones on the Other Side, I will always check out any lead that I receive because it proves to be wonderful every time.
And so I'd like to share the importance of following our guidance/leads because the act of doing so, and being open to what's coming while letting go of the control of the outcome, is miraculous. There are no mistakes in life and most certainly the guidance we receive prepares us for what's coming next. I know; I've experienced it with the writing of my book.
I'm not one for reading books much, let alone writing books, but in 2009 I started receiving messages that I should write a book, and these messages were indeed from above.  The signs came in the form of ideas that popped into my head out of nowhere; my sister above telling me to write; people saying to me 'you should write a book'; and even advertisements discussing writing books.  It was everywhere I turned.
So as the idea of writing a book settled into my bones, I asked for validation that this was indeed the next step for me to take in my life.  I had already been in the realization, since 2007 when my first son was born, that something was shifting in my life path. Sure enough, I received every single confirmation and then some.  I had no idea how to start the process, but I did want to move forward since this was clearly the direction for me.
So I said a prayer one evening before going to sleep asking for guidance on what I needed to get started. The next morning, which was a weekend morning, I felt compelled to check my email as soon as I woke up (something I never do) and the first email in my inbox had a subject of "You Should Write a Book; I'm Glad I Did."  The email provided me the exact steps to get started.  It was from that point forward that I literally was provided absolutely everything I needed to write the book, including figuring out the topic to write about!  It was the most remarkable and miraculous experience in my life (next to having my children).  And it was all inspired and guided by my beautiful sister, Kathy, who passed away in 1987.  She popped in and out continuously providing messages, guidance, ideas for the book, and even the strength and courage to do it. I must admit that writing a book was very new and a bit scary for me, but knowing Kathy was cheering me on and leading me gave me exactly what I needed to do it.
Some of the synchronicities and blessings I experienced as I followed those spiritual breadcrumbs (a phrase a good friend of mine always says) included being brought the perfectly talented ghostwriter, Linda Sivertsen, to help me write my book proposal and actual book.  We were brought together by my sister and her parents on the other side.  I couldn't have done it without her and the fabulous stories and people she brought to the table.  In addition, when I submitted my book proposal to a few publishers the timeline for their response was 6 to 8 months or longer.  This just did not feel right in my heart.  It was only 1 ½ weeks after submission that I seriously considered self-publishing because I felt an urgency to get this book going (more guidance via my intuition).  So I said a prayer on a Monday that if I am supposed to self-publish that I will sign up with a self-publisher on Friday, and if I'm supposed to get a book deal I will receive it before then.  Low and behold, I got a book deal that Wednesday; exactly two weeks after I submitted my proposal. I couldn't believe it.  At this point, having a book deal meant meeting deadlines, no excuses. The idea of working full-time with a newborn and a 21 month old just did not sit right with me (nor was it even possible). I was off on an extended maternity leave and requested to work part-time. My request happened to fall at a time when the company had just laid off 16,000 employees in North America, so the odds were against me.  However, deep in my heart I knew what felt right and so I asked anyway.  Miraculously, a part-time position was not only created for me, it was approved.  This allowed me the extra time to write my book and to have the balance I desired between my work and personal life as a new mom.
I could go on and on with amazing stories of how everything literally just fell into place perfectly, but there isn't enough room. J  So what I want to get across to everyone is the importance of listening and paying attention to the messages whirling all around you right now.  If something doesn't feel right in your heart, then pay attention.  Your body will speak to you when you should be considering something else.  Don't allow your mind (and its crazy chatter) to keep you from following your heart in any area of your life (relationships, jobs, finances, beliefs, etc.).  Do not allow fear to hold you back. Do not allow beliefs or the world around you make you feel as though you can't do something that you believe you can. Make a choice to live your life on truth and on following your heart.  Love yourself enough to do what feels right to you.  Stop following the majority just because that's what everyone else is doing.  Be a leader in your own life.  When you do this, you will be abundant in every area of life.
Ever since my book was finished and published, my world has opened up more than I could've thought possible.  I've grown so much as an individual and have learned so much about myself and my 40 years of living (routines, patterns, beliefs, etc.).  It's amazing to me by how much my sister's passing has affected me in so many (positive) ways.  I'm open to guidance, to growth, to learning from others, to sharing my experiences, and most importantly to following my heart.  My heart knows Truth, as does yours.  I leave you with the request to please follow your heart, your intuition, your guidance, and be open to what's next without controlling the outcome.  When you let go of control, open your heart, and have faith in the process, the rest will miraculously fall into place. This is fact. I know. I'm living it right now.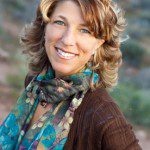 Deborah Heneghan is a working mother who has been communicating with her dead sister for over 20  years. She is the founder of Closer Than You Think, a national resource for after-death communications, grief management and learning how to live a more spiritually fulfilled life. She has her own weekly radio show, and has appeared on Lifetime TV, and programs on ABC, CBS, NBC, and Fox.  Visit her website at http://closerthanyouthinkthebook.com/about.html