Spiritual practices have always been central to the Catholic identity and they should still be, keeping our eyes set on what is central to our faith – and living it.
–Colleen Griffith and Thomas Groome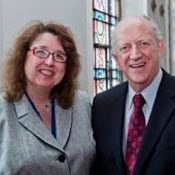 This month at the Patheos Book Club, we're featuring a lovely new book edited by renowned scholars Colleen M. Griffith and Thomas H. Groome called Catholic Spiritual Practices: A Treasury of Old and New. This collection by today's most respected Catholic writers offers a compendium of spiritual practices, traditional and contemporary, that can enable us to sustain and grow a vibrant spiritual life. Griffith and Groome both teach at Boston College's School of Theology and Ministry. Groome is also the bestselling author of many books, including Will There Be Faith? and What Makes Us Catholic.
We invited Griffith and Groome to share a bit more about why they decided to write this book, now; why spiritual practices are so important to our everyday faith; how to choose a practice; and what their own personal favorite spiritual practices are.
Why are spiritual practices important for people of faith?
Spiritual practices help to sustain our "God-consciousness" in the midst of daily life. Our spirituality amounts to how we put our faith to work in the everyday. So, strictly speaking, our spiritual practices do not amount to our spirituality but they help to sustain it in the ordinary of life – where it should be most at work. In fact, without some good spiritual practices, it is hard to imagine a person living their faith in the day-to-day.
Why was this the right time for a book on Catholic Spiritual Practices? How did the idea for this book come about?
The book originated from an edition of C21 Resources, a publication of the Church in the 21st Century Center at Boston College, edited by Griffith. It turned out to be the most popular issue of C21 Resources thus far, with copious requests for reprints. This signaled that Catholics were hungry again to revisit what has been a distinctive aspect of Catholic Christian faith, namely spiritual practices. In the aftermath of Vatican II, many backed off of an emphasis on older practices, refocusing, as Vatican II directed, on the centrality of Jesus, on the Bible, the Eucharist, and so on. Now, however, we may be ready to return to our older spiritual practices – refurbished – along with new ones and not lose sight of what is central. Spiritual practices have always been central to the Catholic identity in faith and they should still be, keeping our eyes set on what is central to our faith – and living it.
You've broken the book into three sections: Practices of Prayer, Practices of Care, and Practices of Spiritual Growth. What does each section offer and why are all three important?
They reflect our understanding of spirituality as holistic. When you look at the entries under each heading, you realize that they all constitute one's spirituality. So, intentional prayer practices, and likewise care for the environment, and taking time for retreat or spiritual mentoring, are all valid and enriching spiritual practices.
Practices of prayer should lead to practices of care. Works of justice and compassion should turn us naturally and prayerfully toward the God of compassion and justice. And practices of growth help us all move toward a greater spiritual maturity.
What is distinctly Catholic about this book? Does this book only speak to a Catholic audience, or will a Protestant find meaning from this book as well?
A number of very prominent Protestant authors have essays here – including N.T. Wright and Ann and Barry Ulanov. The Reformation polemics caused Protestants to de-emphasize spiritual practices – that salvation is entirely by God's grace – but hopefully we are moving beyond such Reformation stereotypes. Protestants need spiritual practices as much as Catholics, and one finds growing interest in them in Protestant denominations because spiritual practices are so valuable for a lived faith.
The writers who have contributed to the book are some of the most well-known and respected in the field of spirituality today. Why did you choose to have each chapter/practice written by a different author? What do you think the variety of voices adds to your book?
We wanted to find the best possible essays that reviewed each practice, giving something of its history and intent. We picked essays that provided concise, content and practical advice, informative ones written by notable authors who were also experienced practitioners. The fact that all the essays are written by prominent scholars assures people that engaging these practices is not a regression back into a simplistic piety, but rather a reclaiming of a deep Christian spirituality grounded in solid theology.
What is your primary spiritual practice, personally? Which practices do your find most challenging … and most life-giving?
Tom: I have two that are particularly life-giving. The first is an abbreviated version of Lectio Divina that I do each morning, around the assigned scripture readings of the day in the common lectionary. The second is the "examen of consciousness" at the end of each day, looking back over the day to discern where I was or was not responsive to the movements of God's Spirit in my life this day.
Colleen: I am drawn to utilizing visual images as part of my prayer practice. And I find centering prayer a wonderful way to come into a deep silence that is restorative. The corporal and spiritual works of mercy are huge practices of care that I find challenging and transformative. And the practices of growth that have been most formative in my life have been spiritual direction and retreat times.
If you could suggest just one practice to someone, what would be one of the most important and formative of them all?
Tom: I can't really say. So much depends on one's life-story and present context. For myself, I find that there are days when I happily do centering prayer and other times when I just want to say the Rosary and be consoled by its mantra-like simplicity and tune-out.
Colleen: Choosing spiritual practices that become part of one's rule of life is itself a discernment process. One way of deciding about a practice is to ask a few basic questions: "Is this a practice that can serve to foster more awareness of God, others and the created world around me? Is it something that might enable me to be more inclusive in my ways of thinking and loving? Is this something that could prove restorative in my life, allowing me to move to deeper places of truth? These sorts of questions can be helpful when choosing spiritual practices.
Do you have a favorite chapter in the book?
Tom: Colleen's introductory chapter is very inspiring and sets the tone for the whole collection.
Colleen: And Tom's closing essay "hits the nail on the head!" In addition, I am engaged by Elizabeth Johnson's piece on Communion of Saints and her sense of what this looks like in practice. The Ulanov's classic contribution on "Intercessory Prayer" is also one to which I return often.
Who do you hope you reach with your book, and what, ultimately, do you hope people take away from it?
Tom: I think this book is for Grandparents and Grandchildren, and everyone in-between- "kids from one to ninety two." So many of the spiritual practices that our parents took for granted were simply an aspect of their inculturation – now need to be intentionally retrieved and reclaimed. And this is the intent of our book, not to regress or return to old pious ways, but to reclaim old treasures and to imagine new ones. As such, they can all to be contemporary for our time and place, in this post modern world.
Colleen: I think that this book is for everyone who wants to move deeper spiritually in Christian lived faith. We all benefit from engagement with an assortment of rich spiritual practices that orient us toward wisdom and provide vision. Those who choose to use this little book will find here resources that prove steadying in troubled waters and ones that make possible a creative fidelity in challenging times. Here are spiritual practices that serve to foster community as well, as they continually point outward in directions bigger than ourselves.
To read an excerpt from Catholic Spiritual Practices, and to hear what our bloggers are saying about this new book, visit the Patheos Book Club here.