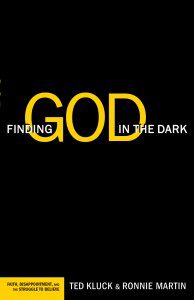 It's good to know when we're in a place where we can lose our soul. If we don't, it can happen, most often coming quietly and in small doses. It will be in a place of the heart we most likely will know well. Ted Kluck and Ronnie Martin, two guys most of us would like to hang out with, learned this the only way it comes – knuckles to the jaw, spiritually speaking. Ted earns his Doritos as a writer and conference speaker, a good one. He specializes in faith and sports-related books mostly, but his Dallas and the Spitfire describes his reaching out to a troubled young man and the car they worked on together. Ronnie Martin travels as a musician in the genre of electronic synthesizing known by the performing name of Joy Electric. Both are road warriors who pound the highways and pile up air miles as Christians pursuing their callings from God. The Klucks also parent two adopted children from Ukraine which puts another brick on the pile of their story.
What happens when, as Christians, our lives take serious hits? I mean "four torpedoes at the waterline" kind of hit. Ted and Ronnie's honesty throughout their new book, Finding God in the Dark, will quickly draw the reader in and make him/her feel as if they walk that fine line separating privilege from intrusion as they tell their stories. Ted first. He and his wife find themselves in Ukraine to meet and bring their second child home. While there, they learn he has a sister whom they also briefly meet. They can't handle the thought of separating the siblings but, as those who try it know, overseas adoptions bristle with complications like political red tape and corruption. It would take another year to work everything out but they sign all the paperwork that will guarantee that, in the meantime, no one else will adopt the little girl. Returning stateside the months pass and the Klucks initially didn't allow much room for excitement since they knew how sticky these things are but began to prepare a girl's room, buying girl things. And then the letter came saying someone else adopted the little girl. No apologies or explanations made as to why the Kluck's paperwork was utterly disregarded. Bribes probably loomed large.
At about the same time, Ted thought he stood on the brink of a huge contract. He thought, with good reason, that he would be writing the life story of one of the most popular athletes today. This book would pay for a lot of Doritos. Not only did it fall through but Ted had to dig around to find this out. Ambushed by both the adoption unfairly falling through and being unceremoniously dumped after being led on in a huge publishing deal, Ted and his wife bottom out and try to make sense of a lot of Scripture they knew that didn't add up at that moment.
Ronnie Martin knew the crowds were falling off. He'd done this for years; it was all he'd ever done or wanted to do. Sitting down for contract renewal, Ronnie expected cuts – some of the fringe perks and plusses scaled back. What he got was no contract at all. Zero. Nothing. Not even a bag of cheese doodles as a lovely departing gift and a family to support. The unexpected death of his father pancaked on top of this to stack Ronnie's life for a tumble.
What happened to both men as a result came down to more than "how do I pull my life back together?" and intertwines their stories in this book. God used these externals to do some deep internal work. Both men talk with candor and humor about God revealing how much of their lives ran on pride and performance, behaviour patterns in place for years wearing Christian masks. Spiritual brokenness comes as some of God's strongest medicine but nothing less would do for these men. And in an American church deeply soaked in narcissism and addicted to comfort, convenience, material acquisition and consumer consumption, nothing less will do for many of us. Psalm 51 gives us a snapshot of this. This means simply getting real with God down deep no matter where it goes, no matter where it costs. Ted's chapter 5, "…Killing the Big T", and Ronnie's chapter 6, "Blue Monday; Reflections On Doubt" stand out as highlights — but no skipping. They only make sense after reading through the first four.
The book is packed with goodies. My favorite is the Christian "hate letter" Ted writes after the adoption falls through. This letter can be adapted to many situations where forgiveness runs slow or maybe even hasn't started at all (and that's okay, especially in deep hurts). Both men talk about something that will shock more than a few readers; it's hard to be Christian and be involved in Christian media – publishing, music, radio and TV. Jesus can be reduced to a product and those involved become shills for the product. Selling units and gaining market share usurp Kingdom concerns eroding genuine ministry. Much behind-the-scenes motivation rivals secular entertainment. Ted discusses ways that his church didn't help him much (including different types of people who shouldn't be church greeters but are anyway) and ways that they did. Good stuff for comforters who really want to comfort. Chapter 7 gives good hand holds on getting started from guys who have lost their own grip on occasion. They also use Scripture well. A dirty little secret about people who read religious/spiritual/inspirational books; they often skip Scripture when they come to it since they've heard that already. They want to move on to hear something new. But Ted and Ronnie know the "ketchup" rule of writing; if it needs it to bring out the flavor, put it on there. If not, don't dump the whole bottle.
This engaging read quickly pulls the reader from the front cover to the back. But more than just good writing telling human stories well, Ted Kluck and Ronnie Martin speak of answers we yearn for to questions we avoid when we can. They let us look over their shoulder as they peer into some dark stuff inside and find life. They leave footprints easy and true for us to follow for when things yank the rug out from under our faith without so much as leaving us a lovely departing gift of a bag of cheese doodles.
For more conversation on Finding God in the Dark, visit the Patheos Book Club here.
David Swartz pastors Bethel Baptist Church in Roseville, Michigan. He thinks that jazz is sacred music, that books are better company than most people, and that university towns rock. He blogs at geezeronthequad.com.