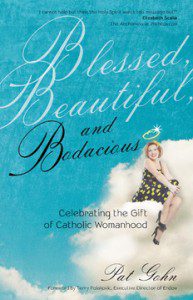 Popular Catholic author and podcast host Pat Gohn has delivered a loving tribute to the feminine in her new book Blessed, Beautiful, and Bodacious: Celebrating the Gift of Catholic Womanhood.  With praise pouring in from a host of important bloggers, the book seems destined to be a timely and inspired resource for what it means to fully claim and live out our unique expression as women in the Church.
Pat took a few minutes out of her busy writing and speaking schedule to answer some questions for our Book Club this month.
What inspired you to write this book?
The opportunity to pass on what I've received! It's a synthesis of my years of reading, countless cups of coffee and conversation with women, and a faith in Jesus that has truly benefitted from a deepening relationship with Mary.
For years I have been inspired by the writings of Blessed Pope John Paul especially about the feminine genius and theology of the body, and the role women have in God's plan to build a culture of life. The more I read and prayed over these ideas, the bigger they grew for me. They helped me discover and accept my own dignity, gifts and mission as a woman. My church work in women's ministry sparked the development of the Among Women podcast as a place to discuss themes that affect a woman's spiritual life.
When an editor at Ave Maria Press reached out to me inquiring about my interests, I was ready to share what I had learned. And I was very excited that the publisher was able to release the book during the Year of Faith.
You talk about your relationship with Mary, the mother of Jesus, as central to your identity as a beloved woman of God.  But that wasn't always the case… your fondness for Mary came later. What held you back from loving Mary earlier in your life, and how did that come to be transformed?
In the beginning, I ignored Mary out of my own ignorance. Marian devotion was not popular when I was growing up. I only encountered Mary in the scriptures now and again, and in the Christmas crèche, but I treated her largely as a historical or biblical character, not someone who was "alive" to me. Then there were other people I knew who dissed Mary and criticized Catholic belief – but I did not know enough to defend Mary. I also had trouble relating to Mary – wondering what a women from first century could possible say to a modern woman? It was a form of snobbery on my part, and as I look back, I embraced other people's misguided opinions about Mary as my own – instead of trying to discover what God's opinion of Mary might be.
The transformation occurred in my early mothering years. I was struggling with my role and identity as a new mother and really needed some "spiritual" mothering. That came in the form of some wise women friends who pointed me in Mary's direction. I began to pray and meditate on the life of Jesus and Mary in the mysteries of the Rosary more and more, and things slowly started to change. Those scripture verses that relate to the mysteries or events recounted in the rosary began to work on my heart. I realized that if I really loved Jesus, I must learn to love the woman he loved. If we call ourselves Christian, it is because we are trying to be more Christ-like. Jesus loved Mary. And no human person loved Jesus more than Mary.
I started to see Mary as more of a friend and mentor in my role as a wife and mother. She was much more than a character in a story, she was a real living member of the communion of saints, and enjoyed God's favor.
Years later now, I look to Mary as a mother for me. She rescued me from trying to survive motherhood on my own, with my own strength. Her guidance brought a deeper meaning to the way I lived my marriage and family life. Mary taught me how to say yes to the love of God and to others.
So — blessed, beautiful and bodacious – that's quite a feminine trinity!  Can you spell out what those three words mean to you in your book, and can mean for us as women of God? 
These three adjectives – blessed, beautiful, and bodacious –are words that describe certain aspects of the feminine genius – or the genius of women. Specifically, they describe our blessed dignity, our beautiful gifts, and our bodacious mission as women in the world today.
We are blessed. Two things that form the basis for our human dignity. The first is knowing the blessing of our unique creation by God. The first blessing in the bible comes after the creation of man and woman. God creates man and woman and it is very good, and then he blesses them. The second blessing, is the gift of our baptism that brings us into the family of God, makes us beloved daughters of God, and offers us an eternal destiny.
We are beautiful. There are four universal gifts that women have in and through their femininity: receptivity, generosity, sensitivity, and maternity. There are relational gifts that open us up to love and service. Paired with the graces of baptism and the Christian life, these inherent gifts help equip us to bring love and life into to the world.
We are bodacious. That is, we have a most excellent, remarkable mission. A bodacious woman lives her dignity and her gifts in tandem and brings life to the world. Indeed, the particular gifts of qualities of womanhood dispose women toward either physical or spiritual motherhood. Sometimes, it is both.
Claiming our bodaciousness, in particular, strikes me as quite wonderful.  How can we live into our bodaciousness?
Stay close to Jesus. Pray and ask him how he wants you to serve best. Say yes to love, and stay receptive, open.
Seek to be better physical and spiritual mothers. This doesn't mean a woman cannot or should not work outside the home. It means that she brings her gifts – and, in particular, her maternal gift — to everyday situations.
Strive to build a culture of life, and work toward a new Christian feminism:  Value complimentarity, and do no harm to men as it seeks to uphold women, build a strong sisterhood woman to woman, and respect all human life, from conception to natural death.
What are the particular gifts of Catholic womanhood, say, versus Evangelical womanhood, or Protestant womanhood? Is this book only for Catholic women?
I trust this message of the feminine genius can resonate with all women. Yet the book is written from a Catholic perspective, and that is why the word "Catholic" is in the subtitle.  You'll find that Catholicism is the lens through which I share my stories and faith. I reference Mary in each chapter as the feminine genius par excellence. I reference the sacraments, the Catechism of the Catholic Church, saints, and church documents.
Your book offers a lovely and important message about the God-given gifts of femininity – that as women we are created equally as men in the image of God, yet different in expression.  What are the central characteristics of the feminine that are particularly God-given and blessed?
Every part of a woman, body and soul, are created and given to her by God, and therefore, blessed, in the general sense. And the graces of baptism flood her entire being and can never be erased. Baptism carries us through a lifetime, until eternity.
Women share the same human nature as men, yet their gender is distinct, and that most obvious gift of maternity – the ability to bring forth a life into the world is a particular privilege of women.
I imagine there are many women – especially in the Church where we have so often heard a different message about our "place" – who need to hear this biblical message of blessed femininity.  What suggestions or advice would you pass on to women who have yet to believe that they are indeed blessed, beautiful, bodacious  – and most importantly, beloved by God?
You mean, besides read this book?
Take it to Jesus. He's a big God and he can handle our misgivings. Not only that, He's the God of Love. And he came to us – came to earth in human form — through the gift of womanhood, through Mary's maternity. That alone should be a place to start, God loves us in such a way – even to come through the gift of maternity
What was the hardest thing about writing this book? 
On the technical side of writing, the hardest thing was choosing what, in the end, belonged in each chapter. I think I wrote a book and a half prior to submitting my final manuscript for review. Most of writing is pre-writing and rewriting. On the personal side, choosing what stories best illustrated the ideas of the book, making the themes practical, was tough. On that score, putting my own life experience into the book was probably the hardest part. But like most people, I have had my fair share of blessings, and good times, but also heartache, and struggles. On-going conversion is not always easy, but faith and love often grows best in those situations that test them.
What came easiest?
Writing about Mary. I feel like I owe her a debt of love that was easy to pay.
What is your greatest hope for this book?
That women will see that God, and the Church, has a very high opinion of them. They are esteemed and valued, and they are equipped to live a life worthy of the calling they have.
Visit the Patheos Book Club for more conversation on Blessed, Beautiful, and Bodacious.