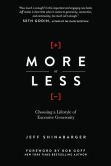 A fresh approach to a familiar topic is very welcome in my library, and the new book More or Less, subtitled "Choosing a Life of Excessive Generosity" is very welcome. Author Jeff Shinabarger writes from an experiential location about his call to be a steward of his possessions, time and gifts for the good of the world that God loves without using religious or church language as a prompt or mandate. His viewpoint is organically Christian, a belief which he makes clear half way though the book; however, his initial motivation comes from a homeless man named Clarence in his neighborhood, someone who is a constant presence in his life. That holy encounter begins a wide and multi-layered reflection on how the author himself lives in relationship to what he has and what he is willing to share with others who need those things.
His experience, and thus his reflection are based in a community, one that is open to plumbing the depths of ownership, entrepreneurial business and faith sharing in action. He is media savvy, and adds links to video clips where members of his community and other speak about their own journey of awareness and openness of heart. He also makes goof use of exercises and charts, so that a willing reader can accompany him in their own exploration as they read.
Some of the suggestions and areas for consideration seem site and demographic specific. Also, I was less engaged when he directed me to specific projects of his own involvement. However, I valued his challenge to become mindful to what I have, how I treat it, how I share it, and what anyone on a journey of Spirit must be aware of to move in the outward direction of her journey of faith and action.
I am grateful for the widening of the angle of the lens of my heart to see the world more holistically and to prompt me to more deliberate and ample generosity. I will hang on to this book!