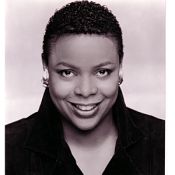 Just in time for Mother's Day, the Patheos Book Club presents a special mother-daughter story, In the Presence of Angels: Reflections on Mattie Pearl and Emanuel Swedenborg. In this meditative memoir, author Andrea Garrison shares her journey with her Mom in the final weeks leading up to her death, during which her mother experienced and shared glimpses of the "other side."  Garrison's book is a meditation on life, love and the journey beyond, as she weaves her own reflections with the writings and work of Emanuel Swedenborg whom she found to be a kindred spirit in her own spiritual journey.
Garrison is the host and producer of the internet radio program, Online with Andrea, where she interviews authors, artists, musicians and others in an effort to connect "heart to heart." I spoke with Andrea this week about her book and her spiritual connection to the 18th Century Swedish mystic, Emanuel Swedenborg.
In your book you say "angels are all around us." What is your definition of an angel?
My definition is very simple actually. Angels are beautiful, blessed souls who have been designated to do divine work. And I believe they're all around us, whether we are aware of them or not …  and they're always near, always present, and they're here to help us whenever we need it.
They can come to you in dreams … I believe you can call on an angel for help and if you need them, they'll be there for you.
How did angels play a part in the story of your Mother's "crossing over"?
I really felt the angels were very close to my mom and guiding her through the process, the last four weeks of her life.  The angels were with her and with me and with my sister. They were there, guiding us and helping us to be strong. And they they were there for my Mom, helping her to cross over.
Your Mom was not afraid of dying — indeed you say she seemed to get spiritually stronger as she got closer to her death. Why do you think that was?
My mom always had a strong spirit. She was a very strong woman from the time that I was a child.  She became stronger, I think, during those last four weeks because she could clearly see the beauty of the other side, and she was delighted by what she saw and heard. She talked about seeing beautiful flowers like she had never seen before, hearing incredible sounds, and the most enchangint music. She was happy. Happy about seeing and hearing such beauty.  She was so excited in her face, she really couldn't express it.  She was so happy to see familiar faces waiting to connect with her on the other side. She could see there was nothing to be afraid of.
The thing that I learned most about the journey that we're constantly on is that we're always evolving, we're always growing, and developing our spirits and souls. My mom was even, at that time, developing and growing and being prepped for the other side.  She said to me, before you cross over, there's preparation now and preparation after.  She was being prepped for her journey to the other side.  She was actually between here and there, going back and forth.
I wonder what the "preparation after" was?  I imagine we all want to know – what happens after we cross over? 
The journey continues, certainly our souls and spirits are alive and on a different plane of existence.  We're cont to grow and develop as souls. We've become detached from this physical body, but it just continues on a much higher level. My mom didn't get into the details, but I think it's because she was trying to absorb where she was going.
As an adult, you were drawn to the Swedenborgian Church, and speak in your book of your amusement that a modern woman would have so much in common with an 18th Century Swedish mystic and visionary. What was it about Swedenborg that resonated with you?
Well, I never really attended a Swedenborg Church service, so I'm not really familiar with the Swedenborg Church. But many years ago I encountered the writings of of Emanuel Swedenborg purely by accident … but it wasn't really an accident, because I was meant to discover his works. I would walk past the Swedenborg Center and ask, who is this person?  So one day, I went in to see what it was …  It was more like a library or a book store than a church. When I walked in, I met this wonderful man, Ray, who was so warm and friendly, just a wonderful soul. He welcomed me in and began to tell me about Emanuel Swedenborg. And then he started sharing Swedenborg's writings with me. He gave me a book, called Heaven and Hell, and I loved this book. So, while Swedenborg seems so far from me in terms of time and space, he seemed so close to me in heart and spirit.  I just started reading and I couldn't stop.
From the time that I was a child, I never really believed in death or dying. I don't know if this is normal for children or not, but I always though there was more.  I remember even looking up at the stars and thinking how infinite the universe was, and knowing that there was so much more out there.  And then of course when I was younger and my mother told me the story of my grandfather, I thought that was amazing!
The story of your grandfather you tell in the book is that he predicted the timing of his own death…
Yes, he was only 27 years old when he sat my grandmother and his five children down at the table and told them that he had seen his mom and dad on the other side and that they needed him to help them do some work on the other side and that he had to go.  He didn't want to leave his family on earth, but  he had a higher calling, and it was his time to go. And of course a lot of people thought he was talking out of his head…. But he did die one month from the time he sat his family down.
So for me, Swedenborg's writing were a confirmation that there really is more, just like I thought!
You actually were raised in quite an ecumenical spirit.  You had a home church, which was Baptist, but your Mother would take you to different churches growing up and encouraged your spiritual exploration. What do you think she enjoyed about visiting other churches, and what effect did this have on you?
My mom gave us a lot of spiritual freedom. I think my Mom just enjoyed a good church service, regardless of the denomination. It had a positive effect on me, because I felt comfortable visiting different churches. I also learned that the real temple is within, regardless of what church you go to, it's connecting with the divine on an inner level. When you feel the love for the divine within your heart it's special regardless of what church you belong to.
It sounds like your Mother was quite an inspirational woman and taught you a lot in life.  I just wanted to end with one question:  What do you hope people will take away from your book?  
The experiences I had with my mom were given to me because I was meant to share them.  So many people are afraid of dying, so much so that they do not truly enjoy life. When I was doing home hospice care with my mom, it was never about death and dying. It was always about loving, giving, living and embracing life to the fullest at every single moment.  And it was because of this that my mom was able to share with us very openly about her experience.  And I don't think she shared it for me to keep it.  I'm hoping my book will help someone who is grieving for a loved one, or help a caretaker who's dealing with someone in hospice care, or help someone who is terminally ill trying to find the inner peace that they seek so they can let go and move on.
The thing to remember is that these are my experiences in this book… and I share this so that others can open their hearts and tap into their own special experience and learn from them as well.  There's so much to learn and I belive we learn best by our own experiences. This journey goes so far beyond what we can see and hear, so far beyond this physical earth and words. As my mom said, it's about spirit, heart and love, and I hope that all who read this true story will truly enjoy reading it and that it helps them connect with the angels that surround them as well.
Visit the Patheos Book Club for more conversation on In the Presence of Angels here.