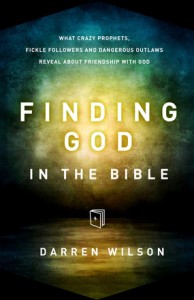 This month at the Book Club, we're featuring the new book Finding God in the Bible: What Crazy Prophets, Fickle Followers and Dangerous Outlaws Reveal About Friendship with God, by filmmaker and author Darren Wilson. The following interview is excerpted from our longer Skype conversation, which you can watch at the bottom of this post.
Darren, tell us about your new book. I'm intrigued first of all, by the title — Finding God in the Bible. Of course God's in the Bible! What do you mean exactly?
It's a funny story. I never planned on writing this book. I was picking my kids up from some Sunday School thing and I had 15 minutes to wait, and I heard the Lord say "Pull out your iPad." So I did, and then I heard him say "Start typing." And then this flood poured into my head – all these chapters and a couple of sentences on each chapter – half of the stuff I had never even thought of before in my life. I finished and looked at it and said 'Wow, this is incredible!" And then I heard God say, "You go fill in the rest."
But it was all about the Bible! And I'm not a Bible teacher or professor. I mean, I like the Bible, but I'm a story-teller, not a scholar. So what I did with this was go after the Bible as a story-teller would, not a Bible scholar. If God wrote a book, then He's telling a story. And if He's telling a story, He must use basic story-telling principles as all authors would. So I wanted to find out God's character and His personality especially by looking at how He interacts with His characters in his story. And as I started exploring it, I started to realize that this whole book was about friendship – friendship with God.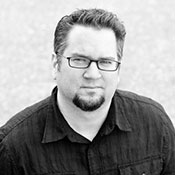 So this notion of God as friend … had that been your relationship to God prior to writing this book, or is it something you discovered while looking at the Bible in this new way?
Sort of. I had become friends with God through making my films. At the end of the last one, Father of Lights, I feel like I stepped into true friendship with God. How I define friendship is: Your best friend is the person you trust the most. I fully believe God loves everybody, but He doesn't trust everybody. Trust has to be earned. But it's a two-way street. We have to trust Him, which most people can't do, and He has to trust us. He trusts us by us trusting Him.
In fact, you take one of the most difficult stories in the Bible – Abraham being asked to sacrifice his own son to please God – as one of the stories that best embodies this trust issue. And it's a story you've never liked.
Most of the stories I write about are the ones I had big problems with growing up. They were the stories that made me afraid of God and not want to trust God. The ones that showed that if you get too close to God, he was going to ask really horrible things of you. You're going to have to sacrifice things to prove that you love him. So I spent most of my life trying to find the "sweet spot" of Christianity: "How little do I have to do to still call myself a good Christian, but keep God at bay?"
I thought it was funny the Lord told to me focus on these particular stories, because they're the ones that kept me from him. And now I realize He just flipped the script on me and I realized these stories aren't stories about sacrifice. They're stories about love.
You're mostly known for your films you produce with Wanderlust Productions. And you have a new movie out called Father of Lights. Tell us about it. Who's it for?
All of my movies are really for the Church. I feel like my job is to poke the sleeping giant … wake up the church. With this one, I really wanted to get to: "Who is the Father?" I think He's gotten a really bad rap over the years. Everybody's cool with Jesus but when you start talking about the Father, people get really antsy and nervous. So I wanted to make a movie finding out who He is, what His personality is, what His character really is.
In all my films, they're like documentaries. I travel the world and try to find different things about what God is doing around the world. They're big and outrageous and audacious, but people seem to really like them.
Did you grow up in the Charismatic church?
No. I grew up American Baptist, about as mainline Evangelical as you can get. People call me Charismatic because of my movies, but I don't consider myself a Charismatic person. I like things quiet and normal. And then God takes me to these churches where people are bouncing off the walls. I'm comfortable with everything, from High Church to the crazy churches in the mud huts of Africa. I'm cool with it all, as long as you're going after Jesus, I don't really care how you express it.
Who did you write your book for?
I make all my stuff for the "old me." The "old me" was fed up with church, didn't trust God, and felt that there was more than just going to church and being a good person, but didn't know what that "more" was. So I really wanted to reach people who were just dissatisfied with normal Christianity and "playing the game" of church. I wanted to show everybody, hey, it's not about Church, it's about relationship.
What I see around the world, is when people truly encounter the Father and the Father's heart for them, that's when crazy stuff happens, and change happens, and your heart gets turned on fire for Him. It's not about doing more stuff and even being a better person, it's about figuring out who you are as a son or as a daughter.
What are some of your favorite stories in the Bible that capture best this idea of God as trusted friend?
Well, I cover a dozen different people in the book. But Moses is a stud. I love Moses. He's interesting because when we first see him, he's a murderer. He's this guy with this rage issue who goes Martin Scorsese on people. He kills a guy for really no good reason. In the book I try to get into his psychology. Like, who does that? Who sees an injustice and goes and kills the person? This is the guy that God pegged to be his best friend? This doesn't make any sense! But God always chooses these people who are weird, and have so many flaws. The crackpots. But those are the ones … God doesn't hang with the cool crowd.
My favorite chapter is the last chapter on Jesus.You know, that's the best glimpse we get of the Lord's character and His personality. And he's a lot different than the Sunday School version I grew up with. He not super-serious. He's not like a meek little lamb, which is what I always thought that he was.
I just love the patience that God has and the characters he chooses to hang out with. It gives me hope. If He's willing to call these guys His friends, then doggone it, I think I got a chance.
For more conversation on Finding God in the Bible — and to read an excerpt — visit the Patheos Book Club here.
Darren Wilson is the founder of Wanderlust Productions. He has an MFA in screenwriting from Regent University. Wilson is currently the artist-in-residence at Judson University, and he speaks at churches and conferences with increasing regularity. He is the director of the feature films Finger of God, Furious Love, and the newly released Father of Lights and The Greatest Flight.
Wilson has been interviewed on It's Supernatural! with Sid Roth, and he was recently named one of the "21 Emerging Leaders of Tomorrow's Church" by Charisma magazine. He and his wife, Jenell, have three children and live near Chicago, Illinois. Learn more at www.wpfilm.com.