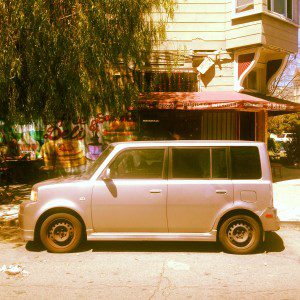 By Mark Scandrette
Author, Free: Spending Your Time and Money on What Matters Most
Lisa and I and our daughter are all of average height, but my sons, who are 6'3" and 6'7", make me feel like a little man. We look like clowns piling out of a clown car as the five of us emerge from our well-used 2005 Scion XB, or what we affectionately call "the little toaster." It's a vehicle that is roomier on the inside than it looks on the outside. It gets great gas mileage and we've learned to pack light.
This summer we traveled 2,300 miles together in the toaster on an epic 14-day summer vacation that cost us just $750. To pursue our life dreams we live on one modest income. We are helping two kids through college and this year we've had to spend $12,000 on home repairs. So our vacation this summer needed to be simple and economical.
During a family meeting earlier this year we brainstormed about what was important to us about family vacation: connecting with one another, enjoying time with our extended family and friends, relaxing, seeing new places and enjoying the great outdoors. We also made a list of specific activities each person wanted to do like swimming, hiking, seeing a movie and hanging out in neighborhoods around Portland.
Our family road trip plans began to take form when my sister invited us to her new home in Couer D' Alene, Idaho. I also happened to get booked to teach for a night on the North Coast of California, so we decided to coordinate my paid work travel with our vacation and a couple of book release events. You might be curious about how a family of five can take a 14-day vacation across three states for $750 including all expenses (lodging, food, gas and fun). Here's how:
Lodging. We host overnight guests at our flat in San Francisco 30 or 40 nights a year. When we travel we love to stay with friends when they invite us. On this trip we were hosted by family and friends in Portland, Coeur D'Alene and Eureka. We brought along sleeping bags and a tent for the boys to sleep in where indoor space was limited.
Food. In each place we visited we shopped at local grocery stores and bought food to cook and enjoy with our hosts. We packed picnics for most of our road meals and lunches. Before we left I roasted two pounds of Bolivian direct trade coffee that I prepared each morning in our portable Aeropress. I enjoy a well-made Manahttan, so I bought a good stock of inexpensive ingredients so I could play bartender at evening dinners. Of course, our hosts were also very generous and shared food with us. Even with the little daily treats we allowed ourselves, like an Idaho huckleberry shake, a cup of Stumptown coffee or a trip to the Waffle Window, we didn't spend much more on food than we usually do at home.
Fun. Our friend Scott took us to an amazing natural hot spring along an Oregon river and then gave us an amazing tasting tour of the food carts in downtown Portland. We also enjoyed going to Powell's books and browsing the vintage shops on East Hawthorne. The week we were in Idaho we lounged around or went hiking in the mornings and went swimming at a lake every afternoon. One day we watched The Great Gatsby at the local two dollar theater and shared a jumbo bag of $3 movie popcorn. In the evenings we grilled out and ate al fresco, had corn hole tournaments, played games at the table or roasted s'mores and told stories around the fire pit in my sister's back yard.
Get Creative. One practice that helps us spend within our means is to seek creative solutions. The first day we went swimming we found out that our son Isaiah had grown out of his swimsuit and that our daughter needed a pair of flip flops. We were able to find these items for just a few dollars at a local thrift shop. When I saw how huge the country fried steak breakfast was at a quaint country diner, we decided that we could split two orders between four of us.
Kill the fattened calf. Another strategy that helps us have fun without spending beyond our limits is to spend where it counts. We try to be mindful of what is truly enjoyable and special to us. One day my sister took us to see an upscale resort in Coeur d' Alene famous for their $9 chocolate sundaes. I offered to buy them for my kids, but they said, "we'd rather have goobers with our cousins." Later that day they went to the store, had their cousins pick out their favorite candy bars, bought a gallon of ice cream and carried on one of our family traditions by feasting on "cousin goobers" –a massive pile of chopped candy bars with ice cream covered in whipped cream eaten out of one bowl together.
Sometimes it's important to really celebrate and mark a moment with a splurge, so one night I spent $80 on tri tip and fixings to grill for the twelve of us. Staying with friends and family is great, but on the way home we decided we needed some alone time and solitude as a family, so we booked two rooms at the Edgefield Spa and Resort. It was luxurious and deeply relaxing to walk the gardens and soak in the spa– and Lisa and I had a romantic night out together while the kids got some space in their room.
When we travel, we are often aware of all that we could buy or experience: boat tours, parasailing, candy and trinkets in souvenir shops. We try to remember that more isn't always better and that we can enjoy what we already have at this moment and be grateful and satisfied. And, besides, we can't really pack anything more into the little toaster car for the trip home.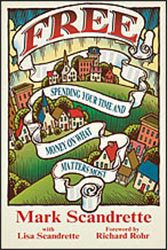 For more conversation on Free: Spending Your Time and Money on What Matters Most, visit the Patheos Book Club here.