The following is pretty personal . . . it's one of those entries you probably don't want to read if you like to think the pastor is all shiny and perfect.  But if you're okay with the preacher as a human being, well, then, you might be okay reading this.  It's comforting that I'm not the only one out there who struggles with this.  I know this time of year is hard for a lot of people.  So, I offer this as my own reflection.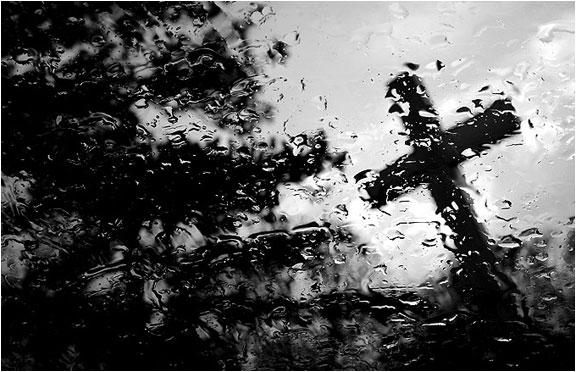 Some people think that life moves along at a pretty happy pace, pockets of sadness here and there, a swift dunking under cold water from time to time . . . then inevitable resurfacing and eventual acclamation to the water temperature. Then, life continues, like that horrible song they made us sing in elementary school choir . . . "we're moving along, singing our song, side by side."
Give me a break.
It's never quite been that way for me. And it's not that my life doesn't have a lot of happy things in it.  But along for the ride is someone I never invited who insists on jumping in from time to time.  I don't always know when he's coming but at this point along the journey I've learned to recognize when he comes knocking at the door. By "he" I mean . . . well, whatever you want to call the personification of the feeling of a heavy, water-soaked woolen blanket thrown over your head, making breathing just about all you can muster.
Elizabeth Gilbert says she has two: twin goons called depression and loneliness, which I maintain could be just one really, really big one. At least in my experience. But she's ahead of me, as I've just learned to recognize him . . . I do everything I can to keep him at bay but I haven't gotten around to naming him yet.
Name or no, there he is, knocking at the door, turning life situations that would ordinarily merit one determined burst into "we're moving along, singing our song, side by side" into desperate squeezes of the heart, panting moments of pain where taking the next breath seems like the hardest task I could ever hope to master.
Is this just me, or does anybody else know what I am talking about?
I had an experience recently where that guy was knocking on my door and, even when I refused to answer he came right in and made himself at home.
When this happens I know it's going to be hard to breathe.  See, when he's around he sits right next to me all the time. He plants doubt where hope was just about to bloom. He makes my heart squeeze . . . I mean, like really, really contract in a way that hurts, hurts, hurts.  And so I think about what it will take to breathe, knowing in the best part of who I am that the world he creates in his whispers is not a world I recognize at all . . . that the heavy draping of his presence might just be hiding something really, really wonderful.
These were my thoughts the other day when I came upon a scene that broke through my reverie.  I watched a shaft of sunlight fall on the face of one of my sleeping children. His eyes were closed, long eyelashes laying against a cheek that has not lived long enough to know about the hope-sucking darkness. 
Yet. 
And I notice on that beautiful cheek not just the light but also a shadow . . . darkness falling into the light, life in relief.
Is that what he's going to have to learn about life?  Light and darkness?  Contrast and opposing realities?  Light and dark?
Life in relief?
I'm afraid so. 
But, please, make the life in relief my children live a little softer than mine, would you? Gray, fuzzy edges instead of stark, cutting black lines?  Gradual transitions instead of large, intimidating musclemen breaking down doors? 
So that soft little cheek won't have to bear so many tears?
Please?