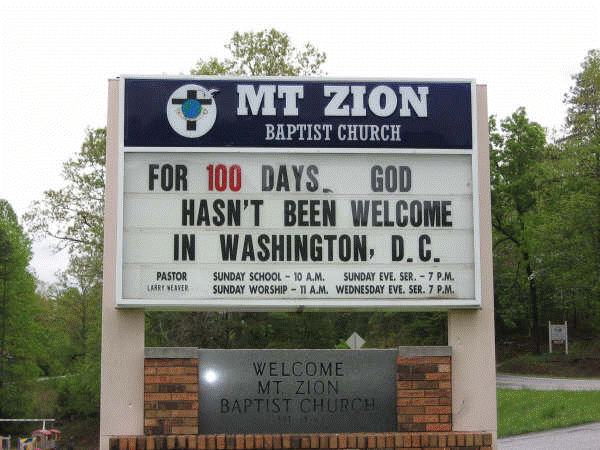 Rev. Larry Weaver Mount Zion Baptist Church 5178 Nottely Dam Road Blairsville, GA. 30512
Dear Rev. Weaver,
Recently the enclosed picture of a sign in front of your church was emailed to me by a neighbor of yours in Blairsville, Georgia. As your colleague in pastoral ministry I felt it was my professional duty to write and let you know that your sign is in error. I personally would hate for our church sign to be incorrect, so as a fellow pastor I wanted to make you aware of this mistake! I do hope you will change it as soon as possible.
I live and work in the greater D.C. Metro area and the last time I checked God was, indeed, most welcome in our fine city. In fact, the community of faith at Calvary Baptist Church on the corner of H and 8th St., NW gathered in worship just last night and does every single Sunday to celebrate God's presence and ongoing work in our lives, in this city, in the world.
So please don't worry—God is, most certainly welcome here. As your colleague in pastoral ministry I assure you, with first-hand experience, of this fact.
Please be sure to reassure your congregation, and all the residents of Blairsville, Georgia, that we'll continue the Baptist witness here in Washington, D.C. by regularly welcoming God (though in my limited experience God has a tendency to show up either way). I am sure you can come up with something appropriate to correct your sign this week—maybe something like: "Oops! We made a mistake! God is, indeed, welcome in Washington, D.C. and in faithful communities all over the world! Thanks be to God!"?
If you ever have occasion to visit our city please know that you and yours are most welcome to join us for worship here at Calvary.
As is God.
Very Sincerely Yours,
Rev. Amy K. Butler Senior Pastor