In my ongoing quest to become a more cultured individual, this week I attended a performance of A Man of No Importance at the Keegan Theater. It's true that I was trying to get more cultured and all that, but it's also true that two amazing colleagues and friends of mine, Deb Gottesman and Buzz Mauro have roles in the play, so I really went initially to support them. (And to seem like I am way more cultured than I really am.) Who knew the play would be such a touching experience?
Buzz plays the role of Alfie Byrne, a bus conductor in Dublin in 1964. In his free time Alfie leads an amateur theater group, and the play recounts his attempts to produce Oscar Wilde's play, Salome, in the parish hall of his church, St. Imelda's. Since I think everyone in DC should go see Buzz and Deb in this play before it ends July 11, I don't want to give too much of the play's story away, but you should know that underlying all the drama surrounding Alfie and the St. Imelda's players, we meet a man who has been unable, his whole entire life, to be honest about who he is. This is the story of his courage and the loving support of the people in his life as he's finally able to be true to himself.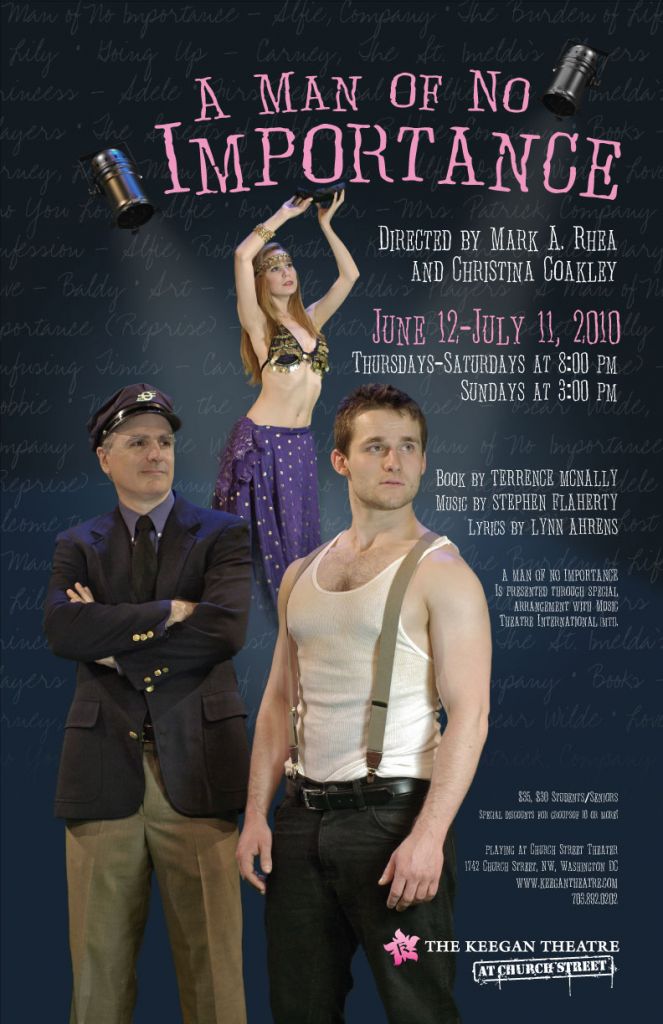 The thing I found to be most moving about this play, and particularly Buzz's performance, was the touching depiction of the many different facets of what it means to take the courageous step of being honest about who you are. Touching universal human themes of living life trying desperately to be something we're not, the cast had me in tears at least twice. And, this is saying something, as I hear stories like this in my office all the time.
The music and choreography are great; the supporting cast wonderful; Buzz's performance outstanding. Not only do I have new admiration for Buzz and Deb and their considerable talent, I am now even more determined to attend the theater on a regular basis . . . I do think, thanks to Deb and Buzz and gang, I emerged that night significantly more cultured than I was before.
Bravo, Buzz and Deb and all the cast of A Man of No Importance! Everybody: get your tickets before it's too late.